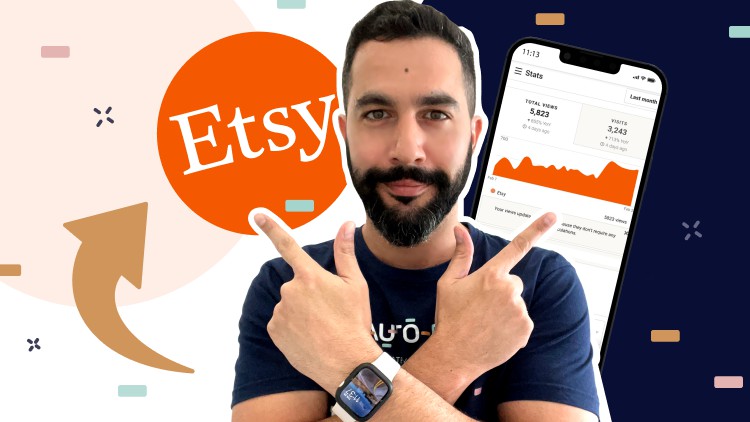 Etsy Full Beginners Guide!
What you will learn
Create an Etsy Seller Account
Working with Etsy shop Manager
Understanding Etsy fees
Finding the right product types for Etsy
Description
Are you looking to start a dropshipping business on Etsy but not sure where to start? You have come to the perfect course!
Our dropshipping pro, Liran Zablo, will guide you through setting up your Etsy store to create a winning strategy to maximize your profits.
With our easy-to-follow instructions and practical tips, you'll be able to navigate the complexities of Etsy and confidently launch and grow your dropshipping business on this eCommerce marketplace in no time!
Who should take the course?
This course is ideal for beginners and experienced sellers who want to start or grow their Etsy dropshipping business.
What will I learn? 
Why Etsy is a great marketplace for dropshipping
Setting up your Etsy seller account, understanding selling fees & using Etsy Shop Manager
What items you can sell on Etsy & conducting product research
How to start selling on Etsy, import products, create listings & set up pricing settings
How to handle product imports, manage returns & refunds
Why should I take the course?
Starting a dropshipping business on Etsy can be a daunting task, especially if you're not unsure of where to begin. Our experienced eCommerce expert will teach you the practical skills and strategies you need to launch and grow a profitable online store on Etsy.
Enroll in our course and let us know how it helped you make bank!
English
language
Content
Introduction
Introduction
Why Etsy
Create An Etsy Seller Account
Etsy Selling Fees
Etsy Shop Manager
What Can You Sell?
Etsy Product Research
Start Selling On Etsy
Importing Our First Product
Create Unique Product Listings
Setting Up Pricing Settings
Easy Product Imports
Etsy Store Policies
How To Handle Returns & Refunds
Recommended Etsy Chrome Extensions
Conclusion