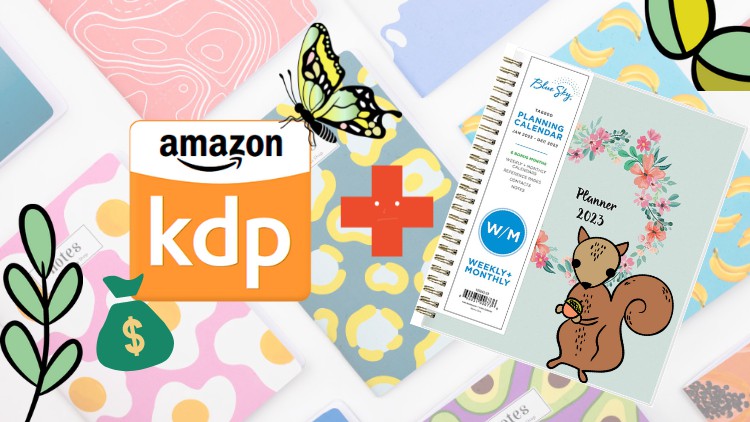 Self Publish Low or No-Content Books On Amazon KDP – Passive Income Online with a ZERO Dollar budget in 2022
What you will learn
Comprehensive hands-on tutorials to create low-content books (Sudokus, Journals, Gift cards, children's coloring books, etc…)
Make money selling low-content books from any location worldwide, and live the digital nomad lifestyle.
Replace your 9 to 5 job earnings by becoming an amazon self published author
This method requires Zero dollar budget. You can start a succesful business with no money
You'll learn how to use free software to publish and sell low-content books online
Description
Create Your Financial Freedom With the Low Content Books on Amazon KDP: Scale Journals, Notebooks, Puzzle books, etc…
(This Method works EVEN IF you've tried to sell low-content books on Amazon KDP before and failed or have never sold a single book in your entire life.)
Did you know that less than 2% of the population was able to break free from a job that they despised last year?
The biggest problem is that everyone you love & respect, including (your friends, family, school teachers, co-workers, etc…) is definitely LYING to you, and most don't even know it!
They would have you BELIEVE that you should …
Work very HARD in school from age 5 – 25+…
Graduate from the "best" university with an overpriced degree (and be indebted for years paying for your student loan)…
Try to get a dream job that you think you'll like but turn out to be CHORE because you hate all the people you work with and don't seem to find ANY spare time to enjoy what you truly LOVE.
Save Money in the Bank, and invest in good insurance after retirement, so you can retire at age 65 when you have little time and ZERO energy left.
Regret not doing the things that you wanted to do on your deathbed.
This sounds extremely sad, doesn't it?
Yet, most people consider themselves privileged to live a boring life like this every day.
You don't need to bind yourself to a life full of misery and suffering.
If you want more out of life, you need to do more; indeed, there is a better way.
Let me introduce you to The Amazing MATRIX Escape Plan.
In this comprehensive, 11-in-1 course, you will acquire the knowledge and EVERY SINGLE tool, template, and resource that YOU need to accomplish your dream of becoming financially independent starting THIS YEAR through…
1. The Step Step to Create KDP Books With No Budget On The World Leading Retailer and Distribution Giant, Amazon
2. Tested Strategies and Tools to Scale Your Low Content Paperback Self-Publishing Online Business to Supplement Income from Your 9 to 5 job.
3. How to Use Software to Scale your Paperbacks and Generate Passive Income every day
4. Improve Your Online Business Brand and Establish An Authority as a Respected Leader in Your Niche
5. How to Start a Succesful Online Book Selling Business Using Amazon Kindle Direct Publishing From Any Location Around The World
6. Sell more Low content Paperback books than ever before! This course Will pay for itself!
7. Learn how to Spy on The Competition To Find Profitable Niches To Make a Lot of Sales
EVEN MORE content not found anywhere else!
What makes (Passive income gen z) credible to teach you this topic?
Unlike online gurus who fake screenshots and have never actually sold books on Amazon, I have sold over $10000 of my private-label products, starting with only $0 and Zero experience.
My Amazon business has enabled me to quit a horrible job that brought me to tears in 2018 to pursue my passion for traveling the world and living life on my terms.
This course can transform your mind and life as you know it, but don't take my word for it!
Read just a few of these raving students.
"I enjoyed every bit of the course; it's pure priceless knowledge. Great kudos to the teacher for this course. You have done very well." – Daodu V.
"I enjoyed this course; you can't afford to miss this course if you truly want to change your life.
Thanks
" – Abdulkareem T.
"Get to work, Very Good Course, Just Follow The Instructions and Boom, Money comes.
" Kehinde P.
"The information was clear and concise This is probably one of the best courses I've enrolled in here Great coach!… Keep up the excellent work.
" – Danso Djan E.
"Well, so far, so good I like the course, and I hope to make money with the knowledge acquired in this course" – Chikere U.
"Great course… It breaks down the steps needed for success in this business, Powerful! I know because I've enrolled in many KDP courses, but this one is very detailed. Highly recommended!
" – Princewill N.
"It is so detailed. Very eye-opening, and I can't wait to start implementing it.
" – Luke precious O.
"Excelente curso para los que queremos llevar este negocio al siguiente nivel
" – Ana Belén Ramírez A.
30-DAY GUARANTEE: If this course doesn't completely change the trajectory of your life, Udemy will refund your entire purchase within 30 days.
You have nothing to lose and so much to gain!
ADD TO CART now and get closer to a more accessible, happier life than ever.
English
language
Content
Introduction
Introduction
Children's prayer journal
Let's create a child prayer journal using Free Canva – Create the book cover-pt1
Let's create a child prayer journal using Free Canva – Create the book cover-pt2
Let's publish the kid journal on KDP
Children's coloring book
Create the book cover for a children coloring book – part 1
Create the book cover for a children coloring book – part 2
Create the book interior for a children coloring book – part 1
Create the book interior for a children coloring book – part 2
Create the book interior for a children coloring book – part 3
Create the book interior for a children coloring book – part 4
Let's publish the coloring book for children – part 5
Marble composition notebook
Let's create a Marble composition paperback cover
Let's download a ready Interior from bookbolt for FREE and upload to KDP
Planner book
Let's create a 2 Year Planner using Canva from Scratch -Create the interior -pt1
Let's create a 2 Year Planner using Canva from Scratch -Create the cover pt2
Let's publish the planner on KDP
Valentine's day gift card
Create a Low content Valentine's Day journal using Creative Fabrica pt1
Create a Low content Valentine's Day journal using Creative Fabrica with pt2
Let's create the Paperback book cover for our valentine's day book pt3
Let's publish the Valentine's day Journal gift card on kdp