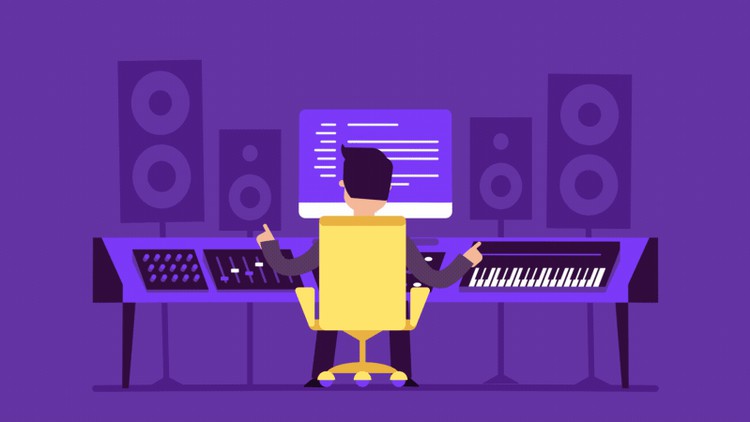 Become a master at using FL Studio | Learn Music Production, Composition & Arrangement | Build 3 Complete Tracks
What you will learn
Create 3 Professional Music Productions in 3 separate genres (House, Techno, Future Bass)
Learn How To Make Music from scratch in FL Studio
Learn Working with FL Studio in a Quick and Easy Way
Learn Music Theory and the Art of Song Writing/Composition
Learn the Art of Mixing and Mastering
Upgrade your EDM production skills to a professional level
Description
Ever wanted to produce Electronic Dance Music?
Start your journey in music production with this complete hands on course.
Learn the fundamentals of music making and build 3 complete tracks from scratch.
Absolutely no prior music production experience necessary!
In this course we cover the process of making electronic music in full – from the core fundamentals of music theory and melody writing, right through to building 3 complete tracks together in 3 different styles (House, Techno & Future Bass).
Many new producers have taken this course and accelerated their careers in music production. Somehave gone on to release music through various labels and play live in large & established venues.
What's Included:
Over 21 hours of video lessons
Comprehensive introduction to FL Studio
Introduction to the core elements of relevant music theory for EDM (Electronic Dance Music)
3 x full song walkthroughs in 3 different genres – House, Techno & Future Bass
3 x sample packs for each track.
All relevant synth presets (Serum) for each track
Go From Beginner EDM Producer to Advanced.
You'll go from beginner to advanced quickly and learn how to be confident in your production skills while enjoying the entire process.
The course is very easy to follow and everything is explained in full detail without being boring or difficult to understand.
How it works – Course Structure:
Introduction to FL Studio
Dive straight in and get to grips with FL Studio – the music production software of choice for some of the biggest EDM producers today! (we're talking Martin Garrix, Porter Robinson & Avicii – RIP).
Music Theory Basics

Don't worry, we won't spend hours and hours in this section. We'll focus on the main core elements that you need to know in order to effectively make consistently good EDM tracks.

Project Walkthrough's

Here is where we will spend the majority of time in this course – building 3 complete tracks together! It will be as if we are in the studio together side by side as we focus on each individual element of building electronic music together.
Course Requirements:
Computer with FL Studio installed
Xfer Records Serum – one of the most popular synths used by many of today's biggest producers

Rent to own plan is available for $9.99 per month on the splice website

Good pair of headphones is strongly recommended
FAQ:
I have no prior musical experience. Is this course for me?

Yes, this course is designed for complete beginners and covers all of the fundamentals of music making, including music theory and project walk throughs from scratch.

What is the format of the course?

The course consists of online videos, split into various modules and classes. The first modules will get you quilkly familiar with the FL Studio software and music theory fundamentals. The following modules will put this into practice by building 3 complete tracks together spanning different genres. All samples & presets in each class are also provided as individual downloads.

I already have another DAW such as Ableton or Logic. Can I still take this course?

If you already have some experience with the workflow of another DAW such as Ableton or Logic, you should be able to adapt to this course as many of the plugins execute in the same way, although will likely look different.

If you are a complete beginner we strongly recommend sticking with FL Studio, as you will find it much easier to follow along in the course.

Are all the samples used royalty free?

Yes! All sounds and samples supplied in this course are royalty free, and yours to use in the future.

What happens once I enrol?

After enrolment you will have full, lifetime access to the course – including all online videos, project files, synth presets and samples.
English
language
Content
Introduction
Welcome & Course Introduction
Introduction to FL Studio
Welcome to FL Studio
The Browser
The Channel Rack
The Piano Roll
Sample View
The Playlist
The Mixer
Summary & Making a Loop
Music Theory for EDM
Introduction to Music Theory for EDM
Rhythm Basics
Notes of the Piano
Octaves
The Perfect Fifth
Being in Key
The Major Scale
The Minor Scale
Thirds
Building Triad Chords
Chord Progressions
Chord Inversions
7th Chords
Adding a Bass Line
Adding a Melody & Leads
Synthesis & Sound Design
How to Install Serum & Sample Packs
How to Install Serum & Sample Packs
Let's Make a House Track
House Project – Introduction & Full Track Play Through
FL Studio Setup & Project Downloads
Adding Vocals & Full Song Structure
Processing Vocals
Verse Chords
Verse Bass & Pads
Adding Foley & Verse FX
Verse Drums
Adding Chorus Drums
Processing Chorus Drums
Drop Bass
Adding Sidechain Compression
Drop Chords
Drop Melody
Drop FX
Drop Vocals
Verse 2
Adding the Break & Build
Drop 2
Outro
Mixing & Automation
Mastering & Export
Let's Make a Techno Track
Techno Project – Introduction & Full Track Play Through
FL Studio Setup & Project Downloads
Drums – Kick & Clap
Drums – Hats
Drums – Percussion 1
Drums – Percussion 2
Gluing the Drums Together
Main Bass
Adding More Bass
Adding Sidechain
Main Lead
Orchestral Elements
Auxiliary Reverb
From Loop to Song 1
From Loop to Song 2
Lead Noise Automation
Adding FX
Bass Automation
Final Mixing
Mastering & Export
Let's Make a Future Bass Track
Future Bass Project – Introduction & Full Track Play Through
FL Studio Setup & Project Downloads
Where to Find Samples
Drums – Kick & Snare
Drums – Hi-Hats
Verse Guitar
Verse Chords
Verse Bass
Verse Pad
Humanizing the Piano
Verse Drums
Adding an Arp
Adding an Intro & Verse FX
Break Section
Making the Build
Saw Bass
Warm Rough Bass
Sub Bass
Sidechaining the Bass
Drop Super Saw
Drop Super Saw High
Additional Super Saw's
Adding Guitar to the Drop
Adding a Pad & Strings to the Drop
Adding Synth FX
Managing CPU Overload
Synth Bus FX & Side Chain
Drop FX
Reverse Reverb
Verse 2
Break & Build 2
Drop 2
The Bridge
Drop 3
Outro
Where to Find a Vocalist
Adding Vocals
Final Mixing
Mastering & Export