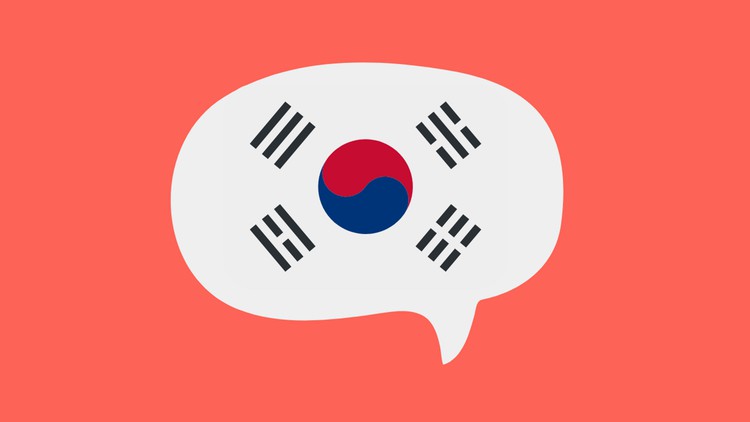 The only brain friendly method to make you speak Korean confidently from the ground up!
What you will learn
Speak Korean with confidence (no doubt or thinking time)
Form complex sentences in Korean
Build your Korean vocabulary effortlessly
Express yourself in Korean using most common words & expressions
Train your brain to think like a Korean speaker
Leverage your knowledge in English vocabulary to apply it to Korean
Description
You may have different reasons to learn Korean… beautiful country, delicious food and heartwarming culture ….you may want to start making sense of what's going on in your favorite k-drama or show without the need of subtitles (that let's be frank are not that well translated). You may be a raving fan of K-pop and let's just say that the Korean wave has been hitting you slowly but surely that you just fell in love with everything relating to South Korea You may be planning to
travel to Korean and you want to gain enough foundation for you to speak confidently and express yourself using most common vocabulary and grammatical structures!
You may have met a Korean lover or family member and now you want to start impressing them with your korean
Whatever your story, you have landed in the right corner of the internet!
I will teach you everything you need to quickly start mastering this beautiful language while sharing with you some cultural tips & tricks!
We will start by learning how to read Korean in just an hour with my mnemonics methods that allows you to recall sounds from stories and examples… which will literally blow your mind!
We will then dive into learning spoken Korean the practical Korean words, grammatical structures and expressions that you will hear everyday in a Korean speaking context!
The fun part is that I bring in my experience as a non native korean speaker! I understand the struggle the confusion but also the mental model we bring from our own spoken languages
Our natural way of learning languages has been be ignored for the longest time by educational institutions and in this course I am inviting you to experience the power of your brain, how it makes sense of language and how it picks it up!
it is built upon a pedagogical method called "Direct Instruction" that makes learning addictive and so much fun!
You will be blown away by your capacity to form sentences, use words and build your Korean vocabulary as you go.
This is the most complete Korean speaking course you can find online that is taking your from Zero to being able to speak your mind in Korean with confidence and fluidity!
This is a speaking course more than a grammar one. It focuses on making you acquire the most commonly used grammatical structures, vocabulary and expressions that you will here in Korean speaking contexts. It is not a watching or listening course it is a DOING course. It prompts you constantly to apply what you just learned and voice the sentences & words being taught right away.
It uses a knowledge scaffolding method where old knowledge is recalled and combined with newer knowledge allowing you to make connections in your brain!
The best part is the course's ground rules. No note-taking, no trying to memorize, no homework or mental homework … just sit back relax and let your brain absorb. The moment you try to remember or force yourself to understand you are creating a tension that is not allowing you to learn. If you are making a mistake or struggling I will remind you that the responsibility to learn is on my shoulders' as your language teacher.
We will use a lot of your preexisting knowledge in English to build your Korean vocabulary and you will be blown away how much Korean you know!
You will get addicted to learning Korean and will start looking forward to learning it!
This course is all you need to speak Korean from the ground up and all you really need is the time to go through each lesson, each prompt and each example with relaxation and excitment!
You are about to embark on a Korean learning journey like never before! So what are you waiting for?
Let's dive together and start speaking Korean!
How does it work?
Within the very first lessons you will start constructing simple phrases by listening and answering prompts for yourself without feeling the tension or stress for writing or memorizing. You will learn through what you already know from English as well as the languages you already speak because you have intuitively already mastered the key pillars and structures to express yourself using language as a medium. You'll advance throughout the course with passion and excitement! You will feel that you have unlocked a superpower!
Why is this teaching method so effective?
Direct instructions is a systematic approach to learning. It uses spaced repetition and positive, positive reinforcement and knowledge scaffolding. I took its principles and applied them to the context of language learning acquisition. Beyond speaking to you, I will be speaking to your brain and engaging it in a way that it will pick up words, expressions and connecting dots. I rely on your short term and long-term memory. By the end of this course, you will have mastered all what you need to speak Korean in various contexts.
I will breaks down Korean into building blocks. I introduce you to new words and expressions in a specific sequence and then I prompt you right a way to reuse them into sentences. By thinking and voicing your answer you will start going from simple to more complex Korean formulations and expressions in a matter of hours. There are key rules for you to make this course a success:
– NO homework
-NO note-taking
-NO additional exercises offline
-NO memorization
English
language
Content
Course Lessons
You are all set to Slay Korean!
Special Learning Tips
Magic Learning Style for Korean
Key Korean Writing Rules
Mastering the Korean Vowels in 10min
Two Interesting Vowels you will relate to
Korean Consonant Demystified Part 1
1. Read Korean for the First Time! – Part 1
Special Consonants – Part 2
Reading like a Pro more complex Korean Blocks
All Korean Characters Recap
Read Korean like a Pro – More Character Blocks