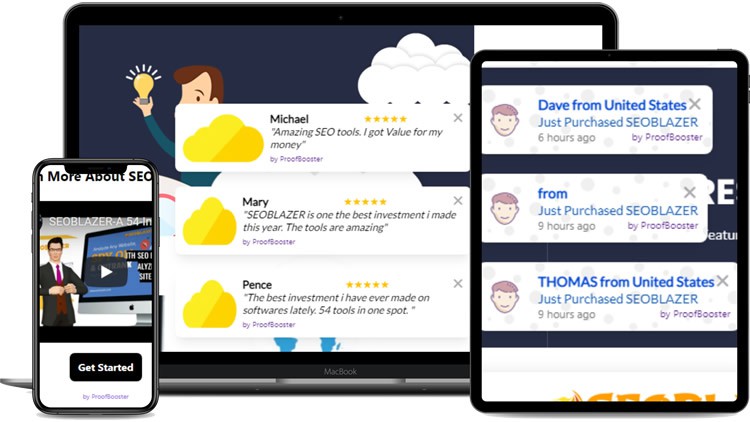 Discover How To Skyrocket Conversions, Grow Your Business With High Converting Marketing Leverage, Called Social Proofs
What you will learn
Understanding The Power Of social Proofs
How To Create Social Proof Notifications On Website
How Make Use Of ProofBooster To Create Social Proof Notifications
How To Create FOMO To Drive Actions
How To Use Social Proof As Sales Trigger
How To Display Live Conversion Activities On Your Website
How To Safe Huge Amount Of Money You Maybe Spending On FOMO Extensions, Plugins or Recurring Software Service
How To Skyrocket Your Sales Conversion Using ProofBooster
Description
Getting quality traffic to offers is not an easy task, but wasting money to acquire traffic and ending up with a poor or low conversion rate is a worse nightmare for any online entrepreneur. You will agree with me.
The customers are getting smarter and wiser. They need extra assurance before making purchases.
Also, online vendors spend tons of dollars on social proof /FOMO plugins/extensions or expensive recurring social proof software services, in order to get more sales.
Now you can change all that with this course: How to Skyrocket Your Conversions with Social Proofs
In this course, How To Skyrocket Your Conversions With Social Proofs, you will discover how to create different types of social proof notifications that skyrocket your conversion by 500%.
You will discover how to skyrocket conversions, grow your business with high converting marketing leverage using the true power of social proof that instantly build trust and increase site conversions by up to 500%!
You will be able to leverages and automates the real power of social proof to instantly increase trust, conversions, and sales on your websites, eCommerce stores, or sales pages.
You will discover how to save tons of money you spend or might spend on FOMO plugins or extensions, for each of your websites.
And how to use the power of social proofs notifications to get more engagements, growth, leads, and conversion with an easy setup that generates amazing results for your business.
You will be able to create and display 14 different social proof notifications on unlimited websites with just one line of code and skyrocket your sales.
Apart from just creating social proofs notifications on your websites, you can also sell social proof creation as a service to your customers and keep all the revenues 100% to yourself.
Also, you will be able to create and display social proof notifications on the following types of websites:
Shopify
WordPress
Zapier
Squarespace
ClickFunnel
Shopify
HTML Sites
and more
What Types Of Social Proofs Can You Create after this course?
Informational
Fully customizable informational message for your site users.
Coupon
The best way to let your users know that you are running discounts or offers.
Live Counter
Show your visitors how many people are on your site to create more trust.
Email Collector
Easily collect emails and generate leads from your users.
Latest Conversion
Establish social proof by displaying your most recent conversions on your site.
You can also generate conversion or sales notifications manually.
Conversions Counter
Establish social proof by showing how many recent conversions you've got.
Video
Easily display a small widget with an informative YouTube video.
Social Share
Let others share your content and generate more traffic for you.
Random Review
Display a random review/testimonial from your clients to create social proof.
Emoji Feedback
An interactive way for your users to give you feedback about your site.
Cookie Notification
Notify your users that you are using cookies on your site.
Score Feedback
The easiest way for your users to give you a score feedback.
Request Collector
Collecting leads has never been easier with the request collector.
Countdown Collector
Create urgency/FOMO with a countdown timer and an input for lead generation.
You Will Also Be Able To Stand Out From The Crowd and Crush Your Competition With this Amazing software.
Why do you need social proof notifications?
98% of visitors leave your website without taking any conversion action,
70% never return because they don't believe you can be trusted.
Social proof is powerful
92% of people will trust a recommendation from a peer. If you're not leveraging social proof on your website right now, then you're leaving money on the table.
So If You Are Ready To Elevate Your conversion Game and Get an Unfair Advantage Over You Competitors, Then, enroll for this course now.
NOW!
Skyrocket conversions, grow your business with high converting marketing leverage using the true power of social proof that instantly build trust and increase site conversions by up to 500%!
Boost trust, build credibility and magnify trust to skyrocket your results.
Save money and replace expensive software.
Attract more customers, sales, and leads with ease.
English
language
Content
Introduction
Introductions
Lectures
What Is ProofBooster?
Overview Of ProofBooster
How Signup For ProofBooster
How To Setup ProofBooster Campaign and Install Pixel Code
How To Remove Branding and White-label Proofbooster As Your Service
How To Create Latest Conversion Notifications
How To Create and Display Live Sales Conversions On Website Using ProofBooster
How To Create Random Reviews Or Testimonial Notifications for Your Websites
How To Collect Email Leads Using ProofBooster Notifications
How Create Notifications To Display Coupon Code and Generate Sales
How Create Notifications To Display Website Visitors To Build Trust
Conclusions
Conclusion How Get ProofBooster Through Backdoor Access