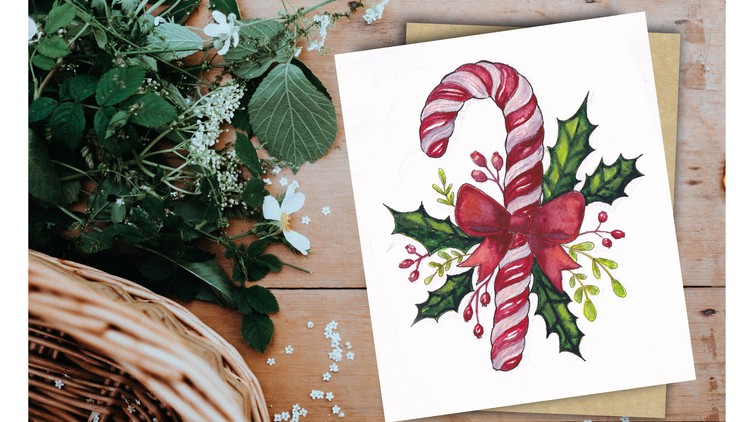 Paint a watercolor Christmas Candy Cane – beginner friendly techniques (free downloadable coloring page included)
What you will learn
How to paint the candy cane decoration from A-Z
The best methods for creating lovely vibrant holly leaves and berries
How to make your painting more lively
Description
Do you want to learn how to paint a Christmas candy cane , but you don't have much experience with watercolors?
Hi, I'm Eliza, the Watercolour Witch.
I'm an illustrator and a watercolor art teacher.
I've taught more than 24000 students around the globe on how to watercolor with ease.
I make art tutorial videos so that you can forget stressing out when it comes to creating your own paintings.
My goal for you is to upgrade your painting skills while having fun. So, in this class not only you will be learning how to paint this Christmas decoration, but I'll be sharing my tips and tricks resources that are designed to support, encourage, and enhance your experience with watercolor.
This class is perfect for Beginners (even if you've never handled a brush before) and Experienced Artists (who can pick up some new techniques).
In the class I'm going to talk about:
– How to paint the candy cane decoration from a-z
-My best methods for creating lovely vibrant holly leaves and berries
-How to make your painting more lively
While in other classes you need to sketch the project yourself, in this beginner-friendly class I included a downloadable line art template, so you can spare yourself from the dissappointment of a messed up line drawing.
See what other Students said about this course:
"I know Christmas is not exactly around the corner as I write this review, but I love festive decorations and this one caught my eye. As in all her classes, Eliza provides the line art for you so you can get started on painting with a minimum of fuss. All along the way, she lets you look over her shoulder while explaining exactly what she is doing and why. I look forward to creating a few of these as gifts and to hang during the holidays."
/Stefani Akins/
"Another great class from Eliza that gets to the point right away, and presents actionable steps explained clearly. This was way easier to do than it looks!"
/Stella Ward/
"Well designed candy cane, very vintage look which I enjoyed. The template was nice to have, so I quickly copied it with my light box. Witch Eliza explained in easy to follow instructions and demonstrating was wonderful. Happy I caught this class, now i have a mini Christmas painting. Looking forward to other classes she teaches. Highly recommend, I'm not a artist but I created a piece of art I like."
/Joan Canning/
"An easy to follow and enjoyable class to the point that I craved for Christmas candy cane. Also, the design would look good as a Christmas card cover." / Genvi P./
"Wonderful class for beginners and beyond. It was so easy to follow and I especially love having the template to download. I also love that it wasn't lengthy and drawn out since I don't have too much time to invest in my paintings. Thank you! "
/G. P./
See, there are many beginners who had already tried out this course before.
There is nothing to risk, here all you need to do is enjoy the painting process!
So it's time to take action!
Grab your brushes and start painting now!
English
language
Content
Introduction
Introduction
Watch this Before You Start Painting
Preparation
Your Art Project – Tips for Painting this Candy Cane
Let's Start Painting!
Tools
Line Art Template
Painting the Shadows
Painting the Leaves
Painting the Berries
Painting the Candy Cane
Painting the Bow
What's Next?
Let's Wrap It Up! & Class Credits
Bonus Lecture