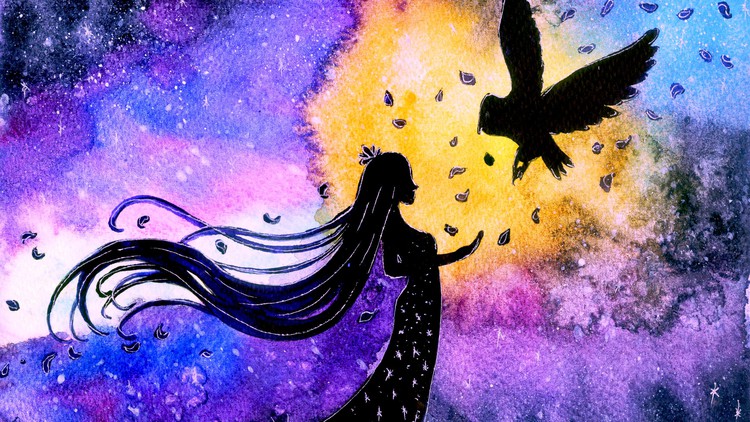 Beginner-friendly Class with free coloring pages to make it even more easier for you to follow along and paint these.
What you will learn
How to create colorful background washes
How to use the Salt Technique with watercolor paints
How to create a watercolor starry night sky with two various methods
How to create a powerful composition for your paintings
How to trace your sketches / line art templates to watercolor paper
Techniques that will make your paintings even more outstanding
Description
Do you want to learn how to paint this silhouette painting with a galaxy sky background, but you don't have much experience with watercolors?
Hi, I'm Eliza, the Watercolor Witch and I now serve more than 30 000 watercolor enthusiastic students all around the globe.
I created this class directly to watercolor beginners. So if you are a newbie watercolorist, don't worry, if you take this class you will have tons of fun with it, moreover I'm here to help if you have any questions.
In the class you are going to learn painting two versions of this painting, so you will have plenty of opportunities to practice these easy techniques.
In the class I'm going to talk about:
– How to create an successful composition for your scene
– How to use watercolor washes to create a lovely gradient watercolor sky backround
– How to paint with the wet-on-wet technique
– And I'll show you how to use salt to create beautiful watercolor textures
While in other classes you need to sketch the project yourself, in this beginner-friendly class I included a downloadable line art template, so you can spare yourself from the dissappointment of a messed up line drawing.
There is nothing to risk, here all you need to do is enjoy the painting process!
Grab your brushes and start painting now!
English
language
Content
Introduction
Introduction
Preparation
Tools
Step-by-Step Process
Composition
Tracing the Line Art Onto The Watercolor Paper
Preparing Your Paper for Watercolor Painting
Let's Paint
Two Different Colored Versions
Version 1 – Green Background
Version 1 – Making the Splatters
Version 2 – Violet Background
Version 2 – Making the Splatters
Painting the Black Silhouettes
Final Touches
Bonus Lecture