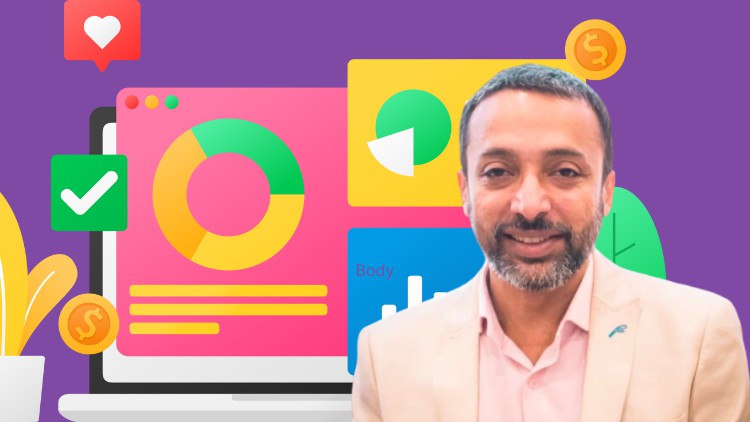 Learn how to design professional dashboards fast using the Excel features and tricks used by top gurus.
What you will learn
Explore differences between Legacy & Dashboard Reporting
Understand Visual Design Principle to be applied to business Dashboards
Discover how to convert your normal calculations data into Dashboard
Learn the key features of Excel which enable you to create well formed Dashboard Reports
Uncover the secret of making your Excel Dashboard dynamic through Slicers
See how to present KPIs in the most intuitive manner
Description
Introducing a practical course for mastering the essentials of "Dashboards using Excel," perfect for those seeking a solid foundation in the subject. This comprehensive course goes beyond standard dashboard creation training by providing participants with access to four professionally designed dashboards tailored to different industries. Explore real-world case studies to understand how various professionals have effectively utilized Excel techniques to solve their challenges.
Throughout this engaging learning experience, you'll acquire hands-on experience and valuable insights from industry professionals who have used Excel to address their unique needs. Our course aims to equip you with the fundamental tools and techniques to create visually appealing and informative dashboards, transforming raw data into actionable insights for informed decision-making.
Enroll now and embark on a learning journey that blends theoretical knowledge and practical applications, providing you with a strong foundation in dashboard creation. This course is ideal for beginners and those looking to enhance their Excel dashboard design skills, offering the confidence to tackle real-world scenarios with ease. Don't miss this opportunity to elevate your understanding of Excel dashboards and unlock new possibilities for personal and professional growth.
The course is distributed in three sections.
* Introduction
* Components for creating a complete dashboard
* Practical hands-on examples of dashboards
During the course only you will learn to create the following dashboards.
* Sales Dashboard
* Budget Dashboard
* Finance Dashboard
* Human Resource Dashboard
We will also share our Faceboook group which have over 22,000 members, where you can share ideas, discuss themes and get answers to your queries.
English
language
Content
Introduction to Dashboard Reports
Introduction to the Course
Understanding Different Types of Dashboard Reports
Typical Business Dashboard Components
Creating your first Dashboard
Introduction To DCD
Connecting to External Data for Dashboard
Different Approaches for Creating Calculation Worksheet
Using ChatGPT for creating your dashboard
Creating a full dashboard
Creating Complete Dashboards
Budget Dashboard – Part 2
Finance Dashboard
Human Resource Dashboard
Custom Formatted Charts using Shapes & Images
Using Hyperlinks to Create a Dashboard