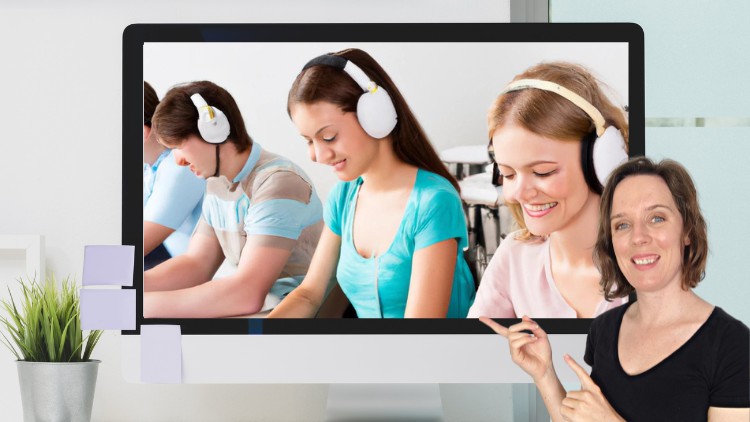 Learn essential strategies and skills to enhance your listening abilities and pass your Cambridge C1 exam
What you will learn
Discover easy and effective exam strategies to find the right answer in your C1 exam
Discover how to identify exam distractors and how to avoid them
Practicing the two main skills needed to pass the C1 exam: Listening for general gist and in detail
Learn and practice essential vocabulary for the C1 listening exam
Learn which information to listen for and which to ignore, this will make it easier to hear the right answer
Find out what grammar & vocabulary will be tested on in the C1 listening exam
Enhance your general and academic listening skills
Description
If you're taking the Cambridge C1 exam and you're finding the Listening Part absolutely impossible or maybe you just don't know what to listen for and which parts to ignore, this course is gonna show you exactly what you need to do to get top marks for Listening and get your C1 certificate!
After teaching the C1 exam since 2014, I know exactly what each listening is testing you on and which skills you MUST improve to pass the test. In this course, I'm going to share with you all of my top secrets for listening and much more!
Course Benefits:
Enhance your listening skills
Understand exactly what to listen to and what to ignore
Learn how to listen for the right answer
Know when to listen for gist and when to listen in detail
Learn vital vocabulary that you'll be tested on
Get expert strategies and tips on listening
Use simple strategies to help you hear the right answer
Discover distractors and how to avoid them
Included in this course you will get:
4 hours of expert lessons and advice
1 interactive presentation – interact in real-time with the slides
100s of exclusive vocabulary flashcards
7 interactive vocabulary games
exam-style audio & questions in almost every lecture
a full practice test for every listening task
This course will not only boost your listening skills but will also help you to build your grammar and vocabulary from B2 to C1 level. By the end of this course, you'll be able to hear the right answers, avoid distractors and go into the C1 exam filled with confidence!
So go ahead and click the ENROLL NOW button and let's get you that C1 certificate! Thanks for enrolling and I'll see you in the course.
Hayley (course tutor)
English
language
Content
Introduction to Cambridge C1 Listening
Welcome and Q&A
Course Overview
Assignments and Resources
Exam Overview
Question Format & Focus
Part 1 – Multiple Choice
Question Format & Focus
Vocabulary #1 – Opinionated Language
Key Skill #1 – Understanding Opinion
Vocabulary #2 – Language of Purpose
Vocabulary #2 – Synonyms of Purpose
Key Skill #2 – Understanding Purpose
Vocabulary #3 – Language of Agreement
Key Skill #3 – Understanding Agreement
Exam Strategy
Common Distractors
Part 2 – Sentence Completion
Question Format & Focus
Vocabulary #1 – Synonyms & Antonyms
Key Skill #1 – Paraphrasing
Key Skill #2 – Listening for & Predicting Specific Information
Key Skill #2 – Practice
Key Skill #3 – Spelling
Exam Strategy
Common Distractors
Sentence Completion – Recap
Part 3 – Multiple Choice
Question Format & Focus
Vocabulary #1 – Reporting Verbs
Key Skill #1 – Understanding Implication
Key Skill #1 – Practice
Vocabulary #2 – Cohesive Devices
Key Skill #2 – Understanding Cohesion & Coherence
Key Skill #2 – Practice
Vocabulary #3 – Language of Attitude
Key Skill #3 – Understanding Attitude
Exam Strategy
Common Distractors
Multiple Choice – Recap
Part 4 – Multiple Matching
Question Format & Focus
Vocabulary #1 – Language of Feelings
Key Skill #1 – Understanding Feelings
Key Skill #2 – Listening for Gist
Exam Strategy + Practice
Common Distractors
Multiple Matching – Recap
Extra Resources
Extra Resources
Exam Advice