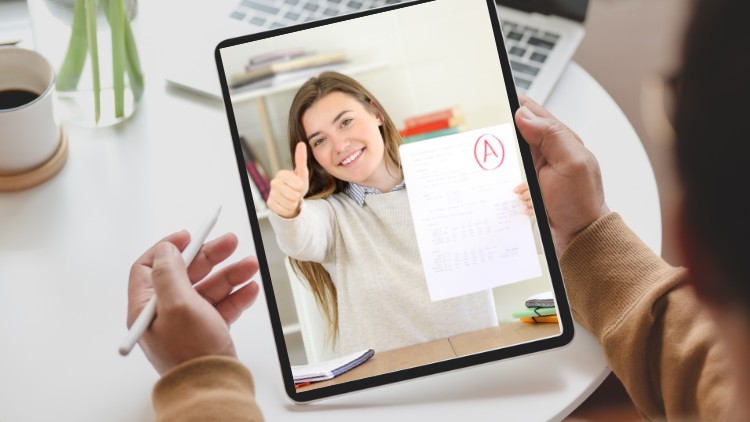 Build your confidence and improve your English fluency to pass your Cambridge C1 exam
What you will learn
Improve your spoken fluency and flow
Feel more confident and fluent in your speaking
Discover exactly what examiners want to hear
Learn to easily use phrasal verbs and idioms
Description
If you're taking the Cambridge C1 Advanced exam and you're worried about the Speaking exam, this course will help you build your confidence, get more fluent, and pass the C1 exam!
After teaching the C1 exam since 2014, I know exactly what the examiners expect to hear from you and how they will grade you. In this course, I'm going to share with you all of my top secrets for speaking like a native and much more!
Course Benefits:
Feel more confident and fluent in your speaking
Enhance your vocabulary by using paraphrases and use synonyms
Improve your fluency and flow
Get real expert feedback on your speaking
Discover exactly what examiners want to hear
Use simple techniques to answer the question concisely
Learn how to easily include phrasal verbs & idioms to get higher marks
Included in this course you will receive:
4 hours of expert lessons and advice
4 interactive speaking assignments
200 phrasal verb & idiom flashcards
4 interactive games
This course will not only boost your speaking skills but will also help you to build your grammar and vocabulary from B2 to C1 level. By the end of this course, you'll be able to easily answer any question you get asked and go into the C1 exam filled with confidence!
So go ahead and click the ENROLL NOW button and let's get you that C1 certificate! Thanks for enrolling and I'll see you in the course.
Hayley (course tutor)
English
language
Content
Course Overview and Marking Criteria
Welcome & Q&A
Course Overview
Exam Overview
Question Format & Focus
Marking Criteria
Watch a REAL Speaking Exam
Mark a REAL Speaking Exam
Speaking Part 1
Speaking Part 1 – Question Format & Focus
Where are you from?
A Simple Structure for Part 1
Phrasal Verbs & Idioms – FAMILY
Phrasal Verbs & Idioms – WORK
Phrasal Verbs & Idioms – HOBBIES
Phrasal Verbs & Idioms – TRAVEL
ASSIGNMENT
Speaking Part 2
Speaking Part 2 – Question Format & Focus
Speaking Part 2 – PRO TIP # 1
Speaking Part 2 – PRO TIP # 2
Speaking Part 2 – PRO TIP # 3
Speaking Part 2 – PRO TIP # 4
Speaking Part 2 – PRO TIP # 5
A Simple Structure for Part 2
GRAMMAR Point 1
GRAMMAR Point 2
GRAMMAR Point 3
Assignment
Speaking Part 3
Speaking Part 3 – Question Format & Focus
A Simple Structure for Part 3
Breaking the Ice
Essential Grammar for Part 3
Interaction
Interaction – Linking Back
A Common Problem
Giving your Opinion
Agreeing & Disagreeing
Asking Questions
ASSIGNMENT – SPEAKNG PART 3
Speaking Part 4
Speaking Part 4 – Question Format & Focus
Linking Expressions
Idioms & Phrasal Verbs
Idioms & Phrasal Verbs – SCIENCE & TECHNOLOGY
Idioms & Phrasal Verbs – HEALTH & FITNESS
Idioms & Phrasal Verbs – THE ENVIRONMENT
Idioms & Phrasal Verbs – EDUCATION
Assignment
Extra Resources
Extra Resources
Courses
Last-Minute Advice