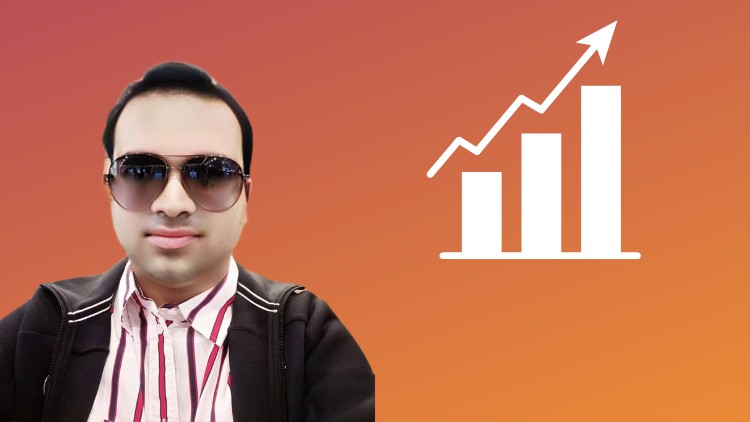 MBA in Artificial Intelligence Digital Marketing: Term 1.7 course that focusses on viral marketing
What you will learn
☑ Be aware of viral marketing strategies in digital marketing for 2021
☑ Learn how to reach out to mass audiences through basic and advanced digital marketing strategies and channels
☑ Know how one can growth-hack any business to get sales enquiries in real-time
☑ Automate the process of cold-calls through the power of artificial intelligence
☑ Know how to attract and retain website visitors through viral marketing growth hacks
☑ Get to know about information on anonymous websites visitors and be aware of tricks to reach out to them
☑ Get to know about a bullet-proof SMTP server to send mass emails
☑ Learn how to automate webinars and make them run on one's website on complete autopilot
☑ Create a free radio channel to promote your brand 24×7 and embed it on your website
Description
Welcome to the seventh course in Term 1 as part of the series "MBA in Artificial Intelligence Digital Marketing".
"A business strategy or technique that utilises existing social networks like Facebook, LinkedIn, Twitter, Quora, Reddit etc. to advertise a product with the sole aim of going viral is termed as viral marketing or viral advertising. Its name refers to how customers distribute knowledge about a product to other individuals as it spreads from one person to another like a viral chain. Viral Marketing is so effective because it generates the interest and desire necessary to create a product or service demand. It is built to produce arousal over nothing. By word of mouth or through online mediums, it builds on itself and is so relevant in all fields of business today. High reputation, low cost, great scope, high productivity and the prospect of continuous promotional changes are the benefits of viral marketing services. The key reasons for viral marketing's broad success are: Socialization and networking have now become much closer to individuals. Social networks are the ideal habitat of this sort of marketing because of their speed and ease of sharing. In recent times, the most popular example is the development of YouTube of emotional, shocking, humorous or unique videos that are then posted on Facebook, Twitter and other platforms."
It's the hope of any marketer to recognise a campaign they've worked hard on as one of the best viral marketing campaigns.
But the sad fact is that no one can foresee whether their campaign will go viral with 100 percent precision. The only people who have true power over the virality of something are consumers and consumers alone.
Here's the big question that is on everyone's mind right now.
Ever thought about why some influencers or even ordinary marketers go viral and become popular, and others don't?
Why some products become a huge success while others simply flop? Why some ideas take off while any other idea fails and fails miserably? 
Ever thought so?
You will think for sure – once you go through this superb course focussed on "Viral Marketing Masterclass (2021 Virality Edition)".
There are some amazing secrets you should know to make your product or company or your services go viral everywhere. This practical – yet holistic course explains the tools, powerful marketers use to get the attention of their target or custom niche' audience in any segment.
You'll learn how to use tools to increase your influence and the power of social networks or email marketing medium to spread information and influence, for that matter. Digital Marketing Legend "Srinidhi Ranganathan" – the top expert in this competitive field – will take you on an amazing journey that you can never forget and each tool that is leveraged & taught in the course, can alter and skyrocket your marketing to the greatest heights of success. Enrol now and let's get taking your marketing to the next level with the power of viral marketing in 2021.
So, get ready and join us to explore secretive tools and strategies.
Your goal or resolution from this moment would be to stay atop the business charts.
English
Language
Content
Kickstarting Viral Marketing in 2020.
Introduction to Viral Marketing MasterClass 2019
Video Redirect Trick
A Bullet-Proof Email Server Awaits
A Bullet-Proof SMS Platform Awaits
Extract Leads in Real-Time
Visitor Identification on your website
Advanced Viral Marketing Concepts in 2020.
Contact Form Automation Tool
Special Tools for automating webinars, phone calls, Blog commenting etc.
Auto-posting on Facebook Groups, Popups Domination and Much More
Bonus Lecture: Take your prize