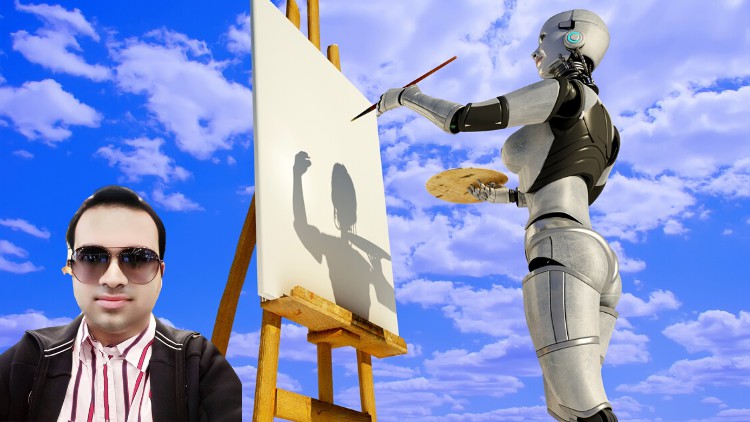 MBA in Creative Arts, Design and Animation: Level 2 – Part 6 course on Artificial Intelligence Photo Colorisation Tools
What you will learn
Convert Black and White Photo to Realistic Color
Remove image background using Artificial Intelligence Technology
Create and change graphics for social media incredibly quick
Learn Image based Machine Learning & Deep Learning Techniques
Learn to use an AI tool for face makeup
Description
Welcome to the sixth course in Level 2 as part of the series "MBA in Creative Arts, Design and Animation".
Colours are a vital part of how stories are told through photography and we know this. Now, it's high time to bring new life to old photos by automatically applying colour to them with the power of Artificial Intelligence (AI) tools.
This 2021 mind-blowing and incredible course focussed on "Artificial Intelligence Photo Colorisation Tools (2021)" created by Digital Marketing Legend "Srinidhi Ranganathan" teaches you how to leverage Deep Learning to the maximum use in order for colourizing Black and white photos. We will also cover a lot of wonderful and unique techniques on removing image backgrounds using specialized graphic design techniques and technologies without the use of complex graphic editing tools like Adobe Photoshop, for that matter.
If you are a graphic artist, designer, or photographer – then this course can deem to change your life completely.
We will focus on image tagging features and recognition features taught nowhere but here. This course also covers the conversion of photos to neural art or paintings. This means that you can convert any image to art using special artistic tools taught here in the tutorial.
At the end of this course, you will be also introduced to an AI-based Selfie app that can do automatic makeup for you using digital technologies. This will be educative, informative and in fact – entertaining.
Thus, this is a completely practical, and hands-on course. There are no PowerPoint presentations used here at all.
Lights ! Camera ! Action ! For all photo editors and artists worldwide, let's start with learning new-age techniques that can revolutionize the photography field.
Why wait?
Enroll now and let's start rolling. You will understand how this course is seriously amazing, as you delve into it.
English
language
Content
Colorizing photos in 2020: A snapshot
Introduction to Colorizing Black and white photos
Background Removal and Addition using Artificial Intelligence
Image Tagging & Scene Recognition Features
Image Tagging Features
Scene Recognition Features
Neural Networks Image Styling & Facial Powered by AI
Convert photos to Art using neural network style parameters
Facial Powered by Artificial Intelligence
Bonus Lecture: Take your prize