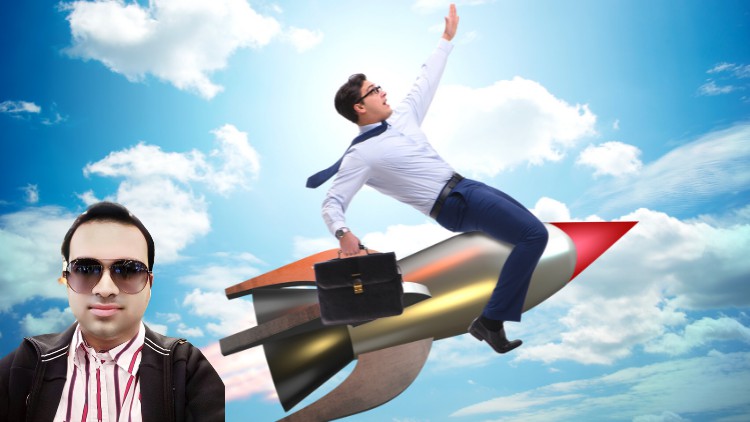 Discover the ultimate traffic source for getting high-quality free traffic to your website, app or YouTube Channel
What you will learn
☑ Create a lead-magnet quick and easy with a free cloud-based online tool called "Attract"
☑ Learn to set-up a growth-hacking campaign with a free cloud-based online digital marketing tool called "Go-Viral"
☑ Execute the viral marketing campaign step-by-step using various innovative methods
☑ Get to know about the "Repeat Loop Spike Traffic Method" to be implemented in the viral marketing campaign
☑ Get to know the practical results of the created growth-hacking campaign live
Description
A grand welcome to you for choosing to learn "Unlimited Free Traffic Generation Course: Master Edition".
Organic search traffic from Google and other search engines are some of the most high-converting traffic you can get. It is considered superior to banner advertisements or social media marketing, nevertheless, it takes a lot of time for the ranking factor to come in handy for the same. The search engines also keep on changing their algorithms very frequently and hence the going gets tough for digital marketers and growth hackers like you. Sometimes even experimenting on different premium or paid digital marketing tools will turn out to be expensive in the long run. This is applicable for even brands or startups who have a low budget for their marketing campaigns and yet they have targets to achieve.
Backlinks from other websites are required to rank your website in search engines. It's also difficult to gain backlinks to product or category sites. If you're writing a blog article, it might also be time-consuming. Making that one rank might take ages – even if you are the best writer out there. So, let's cut that one short too.
Now, talking about something different – what comes to your mind when we talk about 'Traffic Generation?'. Do you think that generating high-quality website traffic at no cost is not possible? You are definitely wrong – for sure and I mean it. Let's look at what this course will teach you in detail and then you can decide for yourself. Also, be aware that you don't need to spend a single cent on getting traffic using the techniques taught here. I only teach tools that work amazingly with live proof showcased.
Get ready to discover viral traffic methods utilizing the power of cloud-based growth hacking tools like "Attract" and "Go-Viral" that will help you take your digital marketing to the next level here. This mind-blowing course is created by me – Digital Marketing Legend "Srinidhi Ranganathan" and I have been leveraging these tools to get a ton of viral traffic to my website, blog, YouTube channel and other social media platforms. Now, you can copy the same exact methods too and kickstart the implementation stuff. You can also use these tricks while working on client-related projects you might have opted for.
Why wait?
If you plant the correct seeds online that eventually bloom into traffic sources, there are different approaches, ideas, and methods to generate a healthy flow of regular traffic to your website, app or YouTube channel.
It's time to boost your traffic and shares by creating viral marketing campaigns using "Go-Viral".
Enrol now and let's start learning this ultimate course.
English
Language
Content
Unlimited Free Traffic Generation Course – The Course
Introduction to Growth Tools – Viral Marketing Tools
Create an irresistible lead-magnet using Attract cloud-tool in minutes
Go-Viral Tutorial – Part 1 Tutorial
Go-Viral Tutorial – Part 2 Tutorial
Go-Viral Tutorial – Part 3 Tutorial