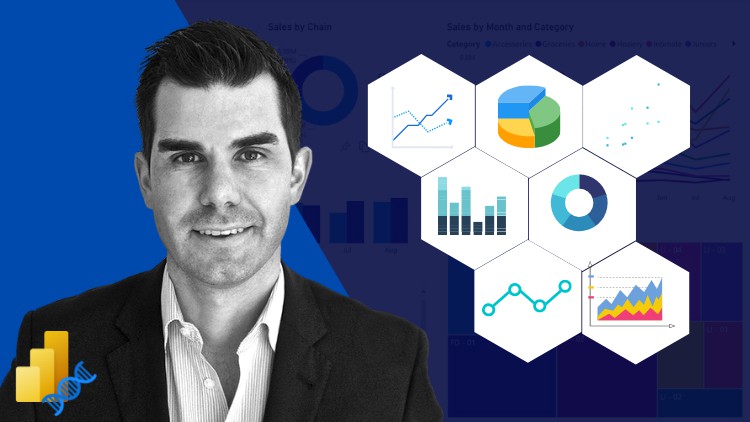 Premium Power BI training for individuals looking to develop their analytical thinking and capabilities
What you will learn
Use advanced DAX for analysis
Develop compelling reports and visualisations
Publish to the Power BI online service
Create dashboards
Use the Q&A feature
Use other online service features
Description
An outline of this training course
This is the second installation to the comprehensive free training course on the introductory concepts of how to use Power BI as an analytical tool. The focus of the course is to step by step work through a real-world scenario so you can understand how data can start from its rawest form and be developed into a compelling analytical solution using Power BI. Power BI is much more than just a visualization tool; it is an analytical engine that can help you find valuable insights that can drive decision making within organizations. This course aims to teach you how you can achieve this yourself through utilizing the key features within the Power BI suite.
***Pre-requisite to this course: Ultimate Beginners Guide to Power BI – Part 1
Details of what you will learn during this course
Learn – how to use Power BI as an analytical engine, turning raw data into unmatched insights
Save – mountains of time by learning how to automate analysis and reporting
Learn – how to look at raw data and then apply Power BI and DAX to find answers
Learn – how to find the insights that make a difference and add value to decision making
Develop – compelling visualizations that showcase insights that will add value to business discussions and actions
What you get with the course
Almost 2 hours of course video content
1x demo data set to practice developing Power BI reports with
1x advanced Power BI model & report (pbix file) showcasing all the examples used during the course
Testimonials
"I found the Ultimate Beginners Guide to Power BI training very educational and wish that I had found this course before I had commenced using Power BI and building my data repository and reports." – Eleanor Simpson
"I have just completed the Ultimate Beginners Guide to Power BI. Having had no previous knowledge, I now feel I could confidently discuss Power BI in a workplace setting. That is empowering. I also know where to come if I ever need more knowledge." – Kathleen Ibbotson
"My experience has been an awesome one. I struggled to get a proper understanding of Power BI concepts in general on my own for quite a long time, but all of these difficulties diminished from the moment I registered for the Ultimate Beginners Guide to Power BI and eventually the Ultimate Beginners Guide to DAX." – Ayuk
Passionate about empowering users of Power BI
"My goal is to teach others that you have almost unlimited analytical power when harnessing all the features in Power BI.
Through training across a number of different mediums, I've reached over 100,000 Power BI users, showing them a range of tips and tricks in Power BI development.
I'm a true believer that Power BI is the future of analysis and know individuals with the right training can now create advanced analytics in a scalable way that can have a real impact in the way insights are found and consumed within organisations."
Sam McKay, CFA – Founder & CEO, Enterprise DNA
English
language
Content
Introduction
Introduction to the Course
DAX Calculations
Advanced DAX
Reports and Visualizations
Visualization Options
Colour and Theme
Custom Visuals
Visualisation Best Practices
Online Service
Publish to Online Service
Natural Language Query
Dashboards and Apps
Distribution Features
Course Wrap Up
How to utilize Enterprise DNA content
Enterprise DNA Membership
Thank you