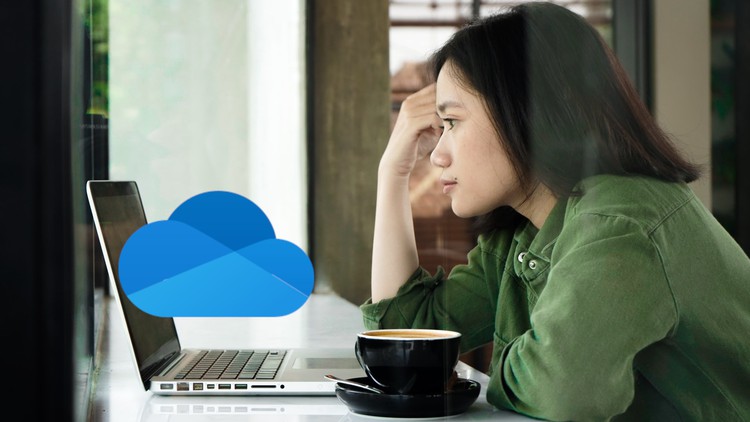 Use OneDrive for Maximum Productivity – You Can Become the Master of One Drive – Enhance Your Office Efficiency
What you will learn
OneDrive Cloud
Free Plans vs Paid Plans
OneDrive Registration
OneDrive Personal Vault
OneDrive PC Backup
OneDrive Desktop App
OneDrive Mobile App
OneDrive Environment
Upload and Download in OneDrivee
File Creation in OneDrive
Sharing and Collaboration File in One Drive
Picture Options
OneDrive Options and Settings
OneDrive Microsoft Word Complete Guide
OneDrive Microsoft Excel Complete Guide
OneDrive Microsoft PowerPoint OneDrive Complete Guide
Microsoft OneNote
Forms Survey in OneDrive
Plain Text
Microsoft Account Settings
Powerful Password Creations
Description
The Complete Microsoft OneDrive Course – Mastering OneDrive: Use OneDrive for Maximum Productivity – You Can Become the Master of One Drive – Enhance Your Office Efficiency
with OneDrive you save your files and photos to OneDrive and access them from any device, anywhere. and guess what? It is totally free. You can use it to improve your life experience because it has all you need. Starting with backup and sync to personal value. (Organized. Protected. Connected.)
Anywhere access, enjoy the freedom to access, edit, and share your files on all your devices, wherever you are. Back up and protect, If you lose your device, you won't lose your files and photos when they're saved in OneDrive. Share and collaborate, Stay connected, share your documents and photos with friends and family, and collaborate in real-time with Office apps.
Features to make life easier and safer. Files on-demand. Access all your OneDrive files in Windows 10 without taking up space on your PC. Document scanning, Use your mobile device to scan and store documents, receipts, business cards, notes, and more in OneDrive. Personal Vault, Store important files, and photos with an added layer of protection in OneDrive Personal Vault.
(resource: Onedrive website)
This course will complete focus on OneDrive to help you get the most out of it. Being productive is the #1 issue that everyone has these days. OneDrive will increase your productivity. But you have to invest something and learn it well and to become great!
';
}});
By taking this The Complete Microsoft OneDrive Course – Mastering OneDrive you will be able to:
Work with OneDrive easily and fastly
Understand everything in OneDrive
Different between free plans and paid plans
Register yourself in Microsoft Account and OneDrive
Backup your files from mobile and pc
Download Desktop App and Mobile Phone App
Files and folder options and creating them
Upload and download files and folder in OneDrive
Share and collaborate files and folder in OneDrive
Change and make OneDrive settings to your favorite
Picture options and tools in OneDrive
Work with Microsoft OneDrive Word
Work with Microsoft OneDrive Excel
Work with Microsoft OneDrive PowerPoint
Create Forms Survey in OneDrive
Note everything in OneNote
Type in Plain text of OneNote
Configure Microsoft Account
Make and type the powerful password for login in and account
So don't hesitate anymore,
Join us now to make new experiences with Microsoft OneDrive in your life!
This Microsoft OneDrive course is ideal for anyone searching for more info on the following: onedrive – one drive – Microsoft one drive – Microsoft – onedrive – onedrive office 365 – onedrive for business – office 365 admin – learn Microsoft one drive – Microsoft 365. Plus, this course will be a great addition to anyone trying to build out their knowledge in the following areas: Microsoft Teams – SharePoint – Microsoft Office 365.
You Can Master OneDrive
The Complete Microsoft OneDrive Course – Mastering OneDrive Promo
Quick Reminder – You Can Ask Me Anytime
Another Quick Reminder
Quick Win – Create a Folder and Rename It
Another Quick Quick Win – Share and Collaborate
What's OneDrive
OneDrive Free and Paid Plans
OneDrive Sign up
OneDrive Personal Vault
OneDrive PC folder Backup
OneDrive Desktop App Download and Installation
OneDrive Mobile App Download and Installation
OneDrive Functions and Interface
Quick Win – Change the View of Displayed Files and Folder
Another Quick Win Create a New Album
Complete OneDrive Environment
Upload and Download in OneDrive
Creating New File and Folder in OneDrive
Selecting Files and Folder in OneDrive
Sharing and collaborating files and folder in OneDrive
Other options in top bar of the files and folder
Other options in top bar of the files and folder part 2
Picture options in OneDrive
Right Click options in onedrive
Personals Valid in OneDrive
Personals Valid Options in OneDrive
Shared Folder in OneDrive
OneDrive settings – storage management
OneDrive Settings (cont.)
Microsoft OneDrive Mobile Version
Microsoft Word OneDrive
Complete Microsoft Word Environment
Ribbon Guide
Menu and Groups Guide
Learn functions and options then projects
Microsoft Word Home Menu Tools
Microsoft Word Home Reviewing and Viewing Mode
Microsoft Word File Menu
Microsoft Word Insert Menu – Page Break and Table
Microsoft Word Insert Picture Menu
Microsoft Word Word Inserting Header and Footer, symbol and emoji
Microsoft Word Layout Menu
Microsoft OneDrive References Menu
Microsoft Word Review Menu
Microsoft Word View and Help
Microsoft Word Project and Tables Practice
Timetable Making in Microsoft Word
Bill System in Microsoft Word
Microsoft Excel OneDrive
Microsoft Excel In OneDrive Environment
Microsoft Excel Home (Part 1)
Microsoft Excel Number Formats
Microsoft Excel Conditional Format
Microsoft Excel Formatting a table
Microsoft One Drive Insert
Microsoft Data, review and view
Microsoft Excel Practice
Salary Table in Microsoft Excel
Salary Table in Microsoft Excel (cont.)
Microsoft PowerPoint OneDrive
Microsoft PowerPoint Environment
Microsoft PowerPoint Insert and Design Menu
Microsoft PowerPoint Insert and Design Menu
Microsoft Power Point Animation and Transition and More
Microsoft PowerPoint Practice
Projects of PowerPoint
Other Apps in OneDrive and Settings
OneNote in OneDrive
Forms Survey in OneDrive
Plain Text in OneDrive
OneDrive Profile Management
Account OneDrive Settings
Create Powerful Password For Your Account
Security Is Everything!!!
Quick Win – Insecurity Is Coming from You and Others
Understand Security Type or Category
Life Savers – You Should Know These
Have Proper Password – Start Securing You Now
Don't Use the Same Password Anymore
Should You Use Longer Password or Complicated!
The Best and Only Solution to Make and Keep Password Un-Crack-Able
Lastpass Setup and Configure
Last-Pass Options Part 1
Last-Pass Options Part 2
Last-Pass Option Part 3
2FA Makes You Even Stronger in Password
Last-Pass & Authy Mobile App
Congratulations You Can Make Stronger Password Now!
Security Is Everything, Keep Secured Your Devices
Security on Your Data and Privacy
Conclusion
Congratulations – You Are Now a Master of OneDrive