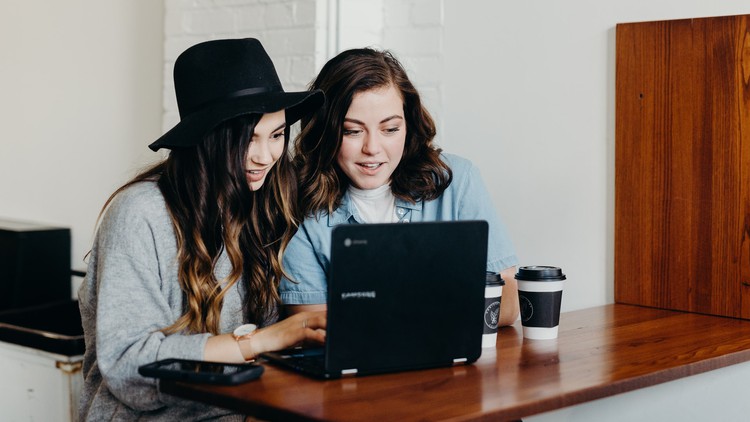 Basic Computer Course – IT Support – Computer Fundamentals – Desktop Support – Basic Computer Skills
What you will learn
Computer Definition
Advantages of Computer
Computer Types Nowdays
Computer Component
The Art of Buying A Computer (In This Way You Learn Complete Basic Concepts of Computer)
Computers Categories in Amazon
Desktop Computers Concepts
All-in-One Computers Concepts
Laptop Computers Concepts
Complete Windows 10 Trainings – You Will Become Windows Master
Windows 10 Installation
Computer Viruses
Anti-Virus Types
Description
The Complete Basic Computer Course: Master Using Computer: Basic Computer Course – Desktop Support – It Support – Computer Basics- Computer Fundamentals – Basic Computer Skills
Understand every concept of computer science and become a master of using it. we all have computers or we are computer students so, in this course, I am focused to help you understand every essential thing you need for the first time because computer basics is the #1 thing you have to learn. Computer concepts are taught in this basic computer course. We will give deeper into input, output, CPU, ram, and storage devices. These concepts will help you to feel easier using a computer. Here is the deal. And these topics will increase your creativity and you become independent in finding the right thing.
I have included a trick for explaining the art of buying a computer so you can understand the advantages of different computer components. This way, it will be easier for you to see the use of each component and make a better purchasing decision next time. Let's start with a quick win.
Today, you have decided to buy a computer. The first question you should ask yourself is, "what do you want to do with a computer? What are your goals?"
';
}});
Windows, windows troubleshooting, and maintenance can be a challenge for many people. I have dedicated time to help you become proficient in this software. It is the system software, so let's be great at using it. we will learn everything about windows 10 (from the login screen to the windows installation process).
By taking this Complete Basic Computer Course: Master Using Computer, you will be able to:

Identify different computer components
Understand the various types of computers available today
Learn how to buy the perfect computer by understanding the standards and features to consider
Familiarize yourself with the components of a desktop computer
Learn about the advantages and disadvantages of all-in-one computers
Understand the concepts of laptop computers
Learn how to install and use Windows 10
Learn how to troubleshoot and maintain Windows 10
Understand computer viruses and how to protect your computer with anti-virus software
Learn about drivers and how they function in a computer system
So don't hesitate anymore,
Join us now to make new experiences today!
This Computer Basics course is ideal for anyone searching for more info on the following: computer basics – basic computer course – computer science – it support – computer – computer course – basic computer skills – computer fundamental – the complete computer basics guide for beginners. Plus, this course will be a great addition to anyone trying to build out their knowledge in the following areas: Windows 10 – Computer Skills – Computer Repair.
The Complete Basic Computer Course: Master Using Computer
The Complete Basic Computer Course: Master Using Computer Promo
Concepts You Need to Know to Master Computer
Quick Win – Difference Between Ram and Rom
Quick Win – Is SDD Better or HDD
Quick Win – How Much Ram Do You Have
Quick Win – How Much Storage Do You Have
What is a Computer
You Need to Know Advantages of Computer
Types of Computer Nowadays
You Need to Know Four Components of Computers
Complete Guide of Purchasing a Laptop
Understand Every Type of Computer
Standard of Buying a Computer
Desktop Computers Components You Need to Know While Buying
All in One Computers Components You Need to Know While Buying
Laptops Components You Need to Know While Buying
Windows, Windows Troubleshooting and Maintenance
Quick Win – Add a Second Keyboard Langauge
Quick Win – how To Have Clean Desktop
Windows 10 Login Screen
Windows 10 Desktop Environment and Interface
Arrange, Sort, Copy Icons and Folder in Desktop
Windows 10 Display Settings
Personalize Your PC in Windows 10
Windows 10 Taskbar Options
Windows 10 Start Menu
This PC options
Folder Options in Windows 10
Windows Explorer of Windows 10
Windows 10 Settings
Windows 10 Display and Settings
Notification and Action center
Focus Assistant
Power & Sleep
Battery, Storage, Power and Multi task
Phone and Network
Devices
Apps
Accounts
Time and Language
Gaming and Ease of Access
Search, Cortana, Privacy and Update
Microsoft Bitlocker
Folder Security
Disk Management
Windows 10 Installation
How to Boot a Windows or Any Operation System
How to Make USB Flash Windows Bootable
Mark Drive C or The Drive You Want to Install Window in First
The Last Step of Windows Installation
Windows 10 Edition and System Type
Microsoft Office
Microsoft Office
Microsoft Word
Microsoft Excel
Microsoft PowerPoint