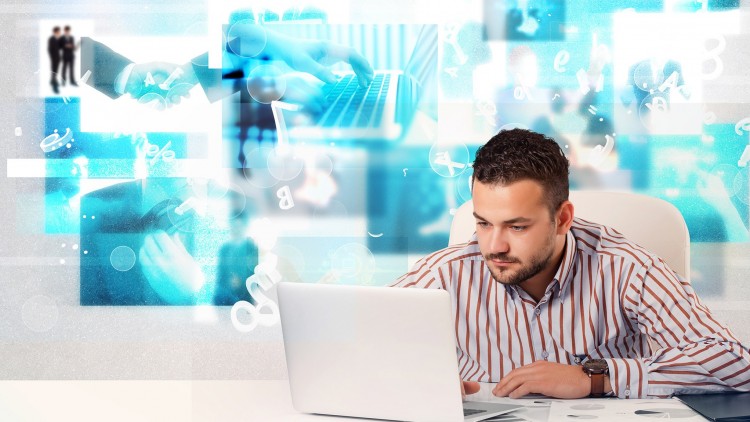 With Sales Skills you can use digital video to sell and market every aspect of your business
What you will learn
Selling more products and services
Creating a simple TV studio
Preparing a production schedule
Getting comfortable on camera
Learning fast, inexpensive techniques for creating video
Description
Sales Skills on video can be your secret advantage. Imagine thousands of people watching your sales presentation every day, through the power of online video. You can spread your sales message, with emotion and confidence, using the force of online video and proper sales skills. Selling through talking head video used to be reserved for Fortune 500 CEOs, US Presidents and Hollywood celebrities. Now, thanks to low-cost video production and distribution, you can use your sales skills to pitch your products and services to a worldwide market on the web.
And you can look and sound great, confident and memorable with enhanced sales skills!
You will learn how to use digital video and YouTube to communicate more effectively to your customers and prospects. Video can be the ultimate "sales" tool when it allows you to be fully responsive to customer/prospect concerns. This course will give you practical how-to tips on how to make simple, information packed videos for your website, YouTube channel, sales proposals, client communication and training tools.
Why waste one more day giving average sales presentations when you could be delivering outstanding, video-based, sales presentations?
There is a 100% Money-Back Guarantee for this sales skills course. And the instructor also provides an enhanced guarantee.
Here is what Udemy students say about this course:
"This is a really good experience in my life! Thanks for your advice." Lahiru Nilmal
"Yeah, really I was opened to some certain things about sales. Your customers need to see you speak to make some sales. It's not about audios all the time. Make a simple video of yourself" Ezeh James Chidubem
This Sales Skills course is ideal for anyone searching for more info on the following: sales – sales training – selling – sales and marketing – saas sales – business development. Plus, this course will be a great addition to anyone trying to build out their knowledge in the following areas: b2b sales – sales funnel – marketing strategy.
English
language
Content
Make Every Sales Pitch Your Best Sales Pitch Using Online Video
Why Today is the perfect Day to Start Selling with Online Video
Please Introduce Yourself
Why Talking Head Video Beats Slick Productions
Secrets to Looking Your Best on Camera
Make Your Website Stand Out and Come Alive
Video Proposals
Assignment: Testing Your Communication To Make Sure It Works
Exciting New Update to this Course
Video Client Communication
Video News Analysis
Video Training
Video Skype Calls
Video Media Pitches
You Must Ask for Criticism to Improve
Conclusion
Course Update! Live Instructor Office Hours are Now Available
Housekeeping Matters
Here is the #1 Tip for Improving Your On-Camera Presentation
7 Steps For Getting the Most Out of this Course
Who is TJ Walker?
Time to Give TJ a Piece of Your Mind
Your Questions Will be Answered Here
Bonus Reading Section
If You Like to Learn by Reading
Media Training A to Z
Media Training Success
1001 Ways to Wow the Media
Secret to Foolproof Presentations
Public Speaking Success
Final Bonus Lecture: Huge Discounts on Other TJ Communications Courses