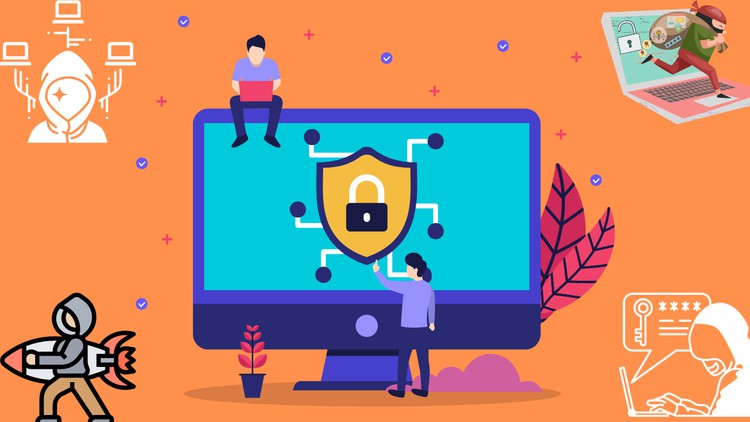 Ultimate Practical Ethical hacking course with a step by step guide to the popular hacking and Pentesting tools
What you will learn
Hacking and bypassing Windows login Passwords
Hacking Wireless Networks with modern tools
Cracking Passwords for word, excel, Zip and Rar Files
Hack Windows with Metasploit Framework
Hack & secure both WiFi & wired networks
How to hack Windows and linux machines over the network
Best cracking and hacking tools on both windows and Kali Linux
Create your own Hacking Lab in a Virtual Environment (Quick and Easy Way)
Install & use Kali Linux – a penetration testing operating system in an easy and efficient manner
How to Install and use Password Cracking tools in Windows Environment
How to Speed up password cracking with GPU based attacks
How to use online free resources to crack word, excel, PowerPoint Passwords
How to Extract Windows passwords from RAM with Mimikatz
How to bypass and reset Windows passwords?
How to scan targets efficiently to gather more information about the target
How to perform vulnerability assessment of a target
Description
*The ultimate Practical Hacking and Pentesting Guide for Beginners, Learn Ethical Hacking + Penetration Testing! Use real techniques by black hat hackers*
Welcome to this comprehensive course on practical hacking and pentesting. In this course, you'll learn techniques and tools to crack windows passwords, recover office (Word, PowerPoint, Excel Passwords), hack wireless networks and practical pentesting techniques to hack your targets over the network. This course assumes you have NO prior knowledge in hacking and cracking, and by the end of it, you'll be at a comfortable level, being able to start with your pentesting journey skilled with the basic toolset
The course is a practical guide and only focuses on the practical stuff leaving out python or other theoretical stuff that you find in other courses to fill up the content. More than 4 hours of practical hacking and pentesting stuff with real-world guides. You'll learn everything by example and practical guides,  so we'll never have any dry boring theoretical lectures.
Each practical lecture is accompanied by a free pdf presentation explaining the attack which can be downloaded and used as a quick reference.
The Quick Breakdown of the content is as follows:-
How to Install Kali Linux in a virtual environment in a quick and easy way.
How to break into Windows passwords.
How to crack wifi passwords.
How to crack office files passwords.
How to hack machines over the network.
The Major Modules include.
1.   Windows Password cracking and bypassing passwords to gain access
After finishing the module, you will also be acquainted with the best free password-cracking tools and techniques that you can implement in your future learning path. We also discuss some services and tools that can help you to speed up the office password-cracking process.
The Quick Breakdown of the content is as follows:-
How to break Windows Passwords.
How to Hack into Windows without cracking passwords.
How to use Hashcat for faster GPU-based Attacks.
How to use  Hashcat from Windows to crack the Passwords.
How to extract passwords from RAM with MimiKatz.
2.   Wifi Hacking
Wifi is everywhere and learning the tools to crack and hack into the wifi is one of the most important skillset in any hackers arsenal.
The quick breakdown of the content is as follows:
How to hack WPA2 wifi networks with old aircrack utility.
How to capture handshakes with Hcxdump tools.
How to crack wifi password with fast GPU based cracked- Hashcat.
How to crack wifi passwords with single command in an automated manner.
How to crack wifi networks from Windows.
What are the best GUI based tools to crack passwords.
3. Office Files (Word, powerpoint, excel) and RAR/ ZIP files password cracking
What about learning to break into the most important and used file types. The module is perfect for it. The Quick Breakdown of the module content is as follows:-
How to password protect word, excel and PowerPoint Files.
How to use John to crack office passwords on Kali Linux.
How to use Hashcat for faster GPU-based Attacks.
How to install John the ripper and Hashcat on Windows.
How to crack office passwords from Windows without Kali Linux.
How to Unlock read-only Excel Files.
How to remove sheet and workbook protection from Excel sheets.
How to remove read-only restriction from Word and PowerPoint files.
How to remove passwords from office documents with free online password recovery service.
How to use Paid tools to crack office passwords.
How to remove passwords from very old word documents with Guaword utility.
4. Practical pentesting and network attacks
In this module, we learn about how to go with practical pentesting and hacking machines over the network The Quick Breakdown of the module content is as follows:-
What is Metasploit and how to hack windows with it.
How to scan the targets to extract maximum information.
How to perform vulnerability assessment of a target with automated tools.
How to extract information from a target, start keylogger and take screenshots of a target after gaining foothold.
How to practice pentesting for free.
We guarantee you this is one of the most comprehensive online course on hacking and pentesting for beginners which is focused on only practical stuff
Notes:
This course is created for educational purposes only and all the attacks are launched in my own lab or against systems that I have permission to test. The instructor is not linked to any tool or service mentioned in the course in any capacity.
English
language
Content
Introduction
Introduction to the Course
Who AM I?
Pre requisites and Lab Setup
Installing Kali Linux on Vmware
Make a bootable Kali Linux USB Drive
Windows Password Cracking and Login bypass
Introduction to the Windows Password Hacking Module
How Passwords are stored on Windows?
Bypassing Windows Passwords with chntpw
Reset Windows Passwords with Kali and chntpw
Bypass Windows online authentication by activating a local Administrator Account
Bypassing Windows Passwords with KonBoot
Bypassing Windows Passwords with Hiren Boot CD
Hack Windows passwords with Windows Boot Disk
Reset Windows passwords with Lazesoft free utility
Cracking Windows Passwords with Ophcrack and Kali
Crack Windows Passwords with Ophcrack on Windows
Cracking Windows password with John
Cracking Windows passwords with Hashcat
Mimikatz RAM password extraction
Review of Password cracking and recovery tools
Hacking Wireless Networks
Introduction to Wifi Hacking
Hacking Wireless Networks with Aircrack Suits
Capturing WPA and WPS-2 Handshakes with Hashcat
Preparing captured Handshakes for Hashcat
Cracking Handshakes with Hashcat
Wifi Cracking purely on Windows
Automatic Wifi Cracking with Wifite
GUI Based Automated Wifi cracking
Password Cracking- Office, PDF, Zip and Rar files
Microsoft Word Password Cracking with John
(Recap) Install Hashcat on Windows
Excel Password Cracking with John and Hashcat
Install John on Windows
Cracking Office Passwords on Window with John
Unlock Read only Excel Files
Remove Sheet and Workbook Protection from Excel Sheets
Unlock Read only Word and PowerPoint Files
Cracking PDF Passwords
Cracking Zip and Rar Passwords
Rar Password cracking with cRARk
Free Online Password Recovery Service
Excel password cracking with Passfab (Paid Tool)
Remove Passwords from Old Word Documents
Pentesting and Network Attacks
Introduction to the Pentesting Module
Important terms used in Pentesting and Hacking
Introduction to Metasploit and Windows 10 Hacking Demonstration
Pentesting Methodology for systematic Pentesting
Setting Up Metasploitable 2 for harcking and Pentesting practice
Scanning Networks and target with Nmap
Vulnerability assessment of a target before hacking
Exploiting the Vulnerability to gain foot hold | Hacking the system
Post Exploitation to access data, record keystrokes and taking screenshots
Practice Hacking and Pentesting | Hack the box cracking MEOW Machine
Bonus – Stuff
Bonus Stuff