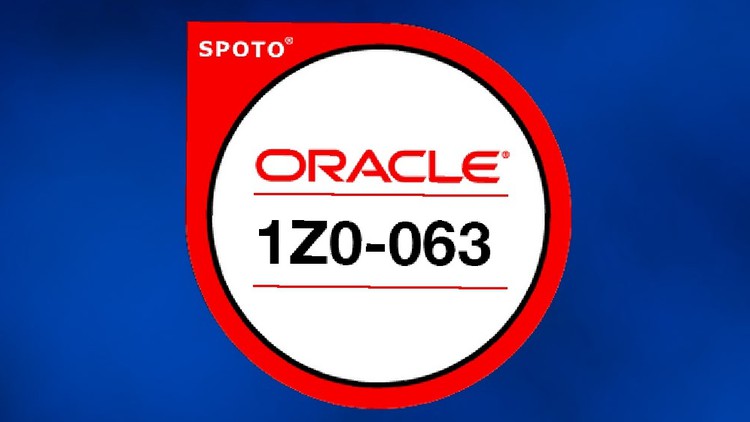 Prepare for your Oracle Database exams with the most relevant questions including explanations
What you will learn
Description
Content

What you will learn
Description
Oracle Database technology is used by the world's leading companies to manage critical business functions, systems and processes. Oracle Database is the number one database in the world. Over 305,000 top companies trust their critical systems to Oracle Database. Oracle Database is the number one embedded database technology. In fact, 97% of Global Fortune 500 companies use Oracle software. Well-trained, highly-skilled database professionals who can manage critical systems are in high demand.
These practice tests are designed by our experts to simulate the real exam format. Here, you will get unlimited access to 6 practice tests with 40 unique questions in each with explications.
The process of becoming Oracle Database certified broadens your knowledge and skills by exposing you to a wide array of important database features, functions and tasks. Oracle Database certification teaches you how to perform complex, hands-on activities through labs, study and practice. Additionally, Oracle certification exams validate your capabilities using real-world, scenario-based questions that assess and challenge your ability to think and perform.
Take your career and salary to the next level with an Oracle Database 12c: Advanced Administration certification!
Oracle Database 12c certifications emphasize the full set of skills that DBAs need in today's competitive marketplace.
You cannot earn an Oracle certification easily so you need to prepare your exam from authentic and valid sources. For excellent preparation, you can follow our practice tests that can help you achieve very high score in the final exam. This is a concisely written guide with to the point information that has been compiled by qualified experts of the field.
– Oracle Data Protection Solutions
– Performing Basic Backup and Recovery
– Configuring for Recoverability
– Using the RMAN Recovery Catalog
– Implementing Backup Strategies
– Configuring RMAN Backup Options and Creating Backup of Non-Database Files
– Using RMAN-Encrypted Backups
– Diagnosing Failures
– Performing Restore and Recovery Operations
– Recovering Files Using RMAN
– Using Oracle Secure Backup
– Using Flashback Technologies
– Using Flashback Database
– Transporting Data
– Duplicating a Database
– Monitoring and Tuning of RMAN Operations
– Managing Security in a CDB and PDBs
– Managing Availability
Exam Structure:
Exam Duration: 150 Minutes
Exam Format: Multiple Choice and Multi-Response Questions
Number of Questions: 77 Questions
Passing Score: 65%
Exam Fee: $300 USD
Who this course is for:
Individuals looking to build a career in Oracle Database 12c
Those interested in passing the Oracle Database 12c exam
Administrator teams who want to learn more about implementing Oracle Database solutions
Content