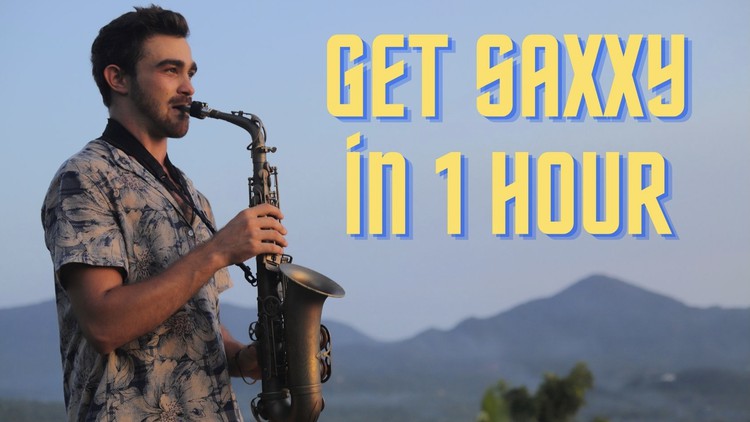 Everything you need to get started on your saxophone journey in a compact crash course with many examples and guidance.
What you will learn
Description
Content

What you will learn
Description
About the instructor:
My name is Arsel and Im the creator of this course!
I was mentored by Miles Davis' bass player Marshall Hawkins and Frank Zappa's saxophonist Paul Carman for 4 year at the age of 14-18 with a scholarship. Then I went to Berklee College of Music, and there I studied saxophone with George Garzone, Frank Tiberi, and Harry Skoler. Now I bring you everything I know in the simplest way possible so you can GetSaxxy as fast and easy as possible!
I put this course together so that you can get to play your saxophone as fast as possible with a clear guidance on what to do. In this course there is only guidance of what you need to get started as a saxophonist so that you can enjoy playing the saxophone as fast and efficiently as possible.
In This Course You Will Learn:
Parts of your saxophone
How to care and use your saxophone correctly.
3 major scales: C, F, G Major
Your First Melody: Pierrot
How to form a correct Embouchure
To get your unique saxophone sound
Play your instrument comfortably and confidently
Basic Music Theory
How To Read Music
Additional exercises, workbook, and PDF…
Its the perfect place to start playing the saxophone:)
Live Saxxy, Get Saxxy!
Content
Introduction
Course Introduction
Meeting Your Saxophone
Module Introduction
Parts of the Saxophone
Setting Up Your Saxophone
Left Hand Placement
Right Hand Placement
Saxophone Posture
Embouchure Tips #1
Packing & Caring For Your Saxophone
Module Recap
First Notes & First Melody
Module Intro
Your First Notes: G/A/B
Your First Song-Pierrot
The Middle C
Notes: Low E/F
Notes: Low D/C
Module Recap
Secrets To a Great Sound on Your Saxophone
Module Intro
The Secret Recipe
Shattering The Common Belief System
How to Get The Saxophone Breath
The BEST Exercise to Form Your Unique Sound
Extra Exercise;)
Module Recap
The Break
Module Intro
Getting Higher
High Notes
Two Octave C Major Scale
Module Recap
The Essentials Of Reading Music
Module Intro
The Cleffs
The Note Names
The Leger Lines
The Staff
The Sharps & Flats
The Key Signatures
The Note & Rest Values
The Time Signatures
Module Recap
Two New Notes & Scales
Module Intro
New Note F#
New Scale: G Major
New Note Bb
New Scale: F Major
Module Recap
Course Recap
Course Recap