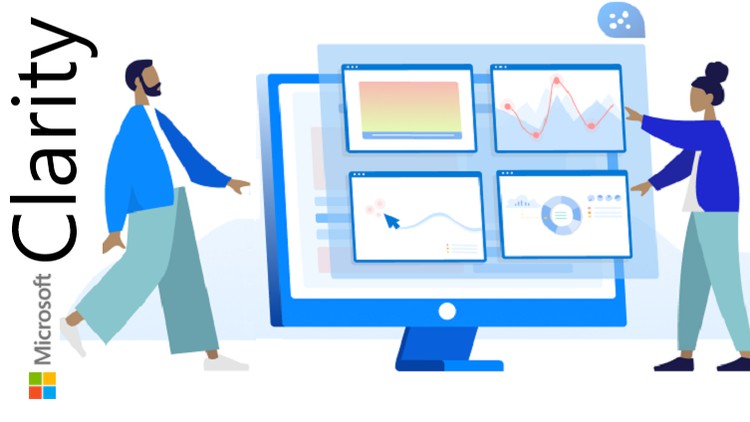 Learn Microsoft's latest new tool – Clarity – & get insights to improve your website experience and increase engagement.
What you will learn
☑ Know about Microsoft's new tool Clarity
☑ Learn how to leverage Clarity metrics as actionable insights for your website
☑ Learn how to Explore Clarity's awesome features like Recordings, Heatmaps etc.
☑ Integrate with Google Analytics and other third party apps
☑ Setup custom tags and Path filters
☑ Understand semantic metrics
Description
This course on Microsoft Clarity will help you learn how to leverage this new FREE tool by Microsoft – that makes you understand the actual user experience and gain actionable insights for your website – some insights that are currently only offered by Clarity – like Recordings, Heatmaps, dead clicks and more !
Top Reasons why you should take this Course :
Currently the only course on Udemy on Microsoft Clarity.
Course covers in detail even the basic step of setting up Clarity on your website.
Each Clarity feature explained in detail LIVE with my own website.
This course is designed keeping in mind the students from all backgrounds – hence we cover everything from setup, basics, and gradually progress towards advanced topics.
This course can be completed over a Weekend.
All Doubts will be answered.
Most Importantly, You will not only learn the Software, but also learn how to understand user behavior and take actions to improve user engagement thus improving your website performance and ranking.
Top reason why you should learn Microsoft Clarity :
Microsoft Clarity is a free-to-use analytics product built to help website owners and managers improve their website experiences by better understanding site visitor behavior using real evidence in form of recordings and heatmaps. So if you are a website owner, or you manage your company's / client's websites, then knowledge of this tool will be a great new addition to your skill set, and you can get certain insights that currently no other tool offers !
A Verifiable Certificate of Completion is presented to all students who undertake this course on Microsoft Clarity.
English
Language
Content
Introduction
Welcome
What is Microsoft Clarity ?
Features of Microsoft Clarity
Use Cases to leverage MS Clarity
See Clarity in Action before Signing Up
Resources
Setting up Clarity
Signing up & Setting Up Clarity
Installing Tracking Code on Third Party Platforms
Google Analytics Integration
Integrating Google Analytics in Microsoft Clarity
MS Clarity Settings
Settings Overview
Managing Team
Adding / Removing Team Members in Clarity
Masking Sensitive Content
How to Mask and Unmask Sensitive Data
Mask By Element
Clarity Project Page
Project Page Overview
Dashboard and Insights
Overview
Features
Dead Clicks
Rage Clicks
Excessive Scrolling
Quickbacks
Javascript Errors
Other Semantic Metrics
Recordings
What is Recordings?
Sessions Panel
Inline Player
Using Filters in Recordings
Heatmaps
Overview
Click Maps
Scroll Maps
How to use Heatmaps to get Insights
Important points regarding Heatmaps
Applying Filters
Introducing Clarity Filters
Basic Filters
Advanced Filters
Congratulations & Next Steps
Congratulations !
Thank you!!