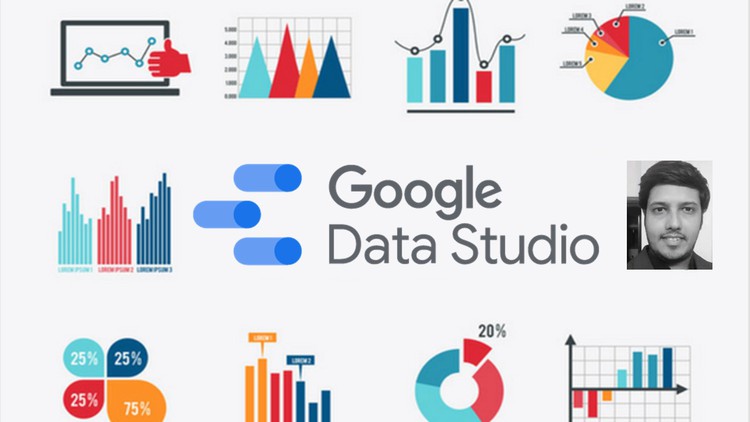 Learn the best Cloud based BI & Data Visualization tool – Google Data Studio – & Create Exceptional Reports in minutes !
What you will learn
Know about Google Data Studio as an Enterprise Level BI tool
How to use Google Data Studio to create Interactive and Beautiful Dashboards
How to connect to various Data Sources with Live Examples
All the Chart Types in Google Data Studio like Bar, Time Series, Geo Maps, Scatter Plots etc and how to configure each of them
Sharing Reports as is, as Customized bookmarks or as Templates
Embedding external content like Websites in your Report, and also embedding your report in your Website with Live Example.
Add Action Controls like Dropdowns, Sliders and other Filter controls in your report to add user interactivity
How to Blend data from different Tables to bring together to create one report
Create Tricky Calculated Fields and Parameters
Advanced Features like REGEX_EXP (Regular Expressions)
Using Community Visualizations and Built in Templates to get your working report ready quickly.
Best Chart Practices to create useful, interactive, feature-rich and beautiful Reports.
Description
This Google Data Studio course will help you to become a Data Visualization Expert and will enhance your skills by offering you comprehensive knowledge, and the required hands-on experience on this widely used Cloud based BI tool, by solving real-time industry-based projects.
Top Reasons why you should learn Google Data Studio :
Google data Studio is the #1 cloud based Free Business Intelligence tool used industry wide.
The demand for BI professionals is on the rise. This is one of the most sought-after profession currently in the lines of Data Science.
There are multiple opportunities across the Globe for everyone with this skill.
Google Data Studio has a small learning curve and you can pick up even advanced concepts very quickly.
There is no Trail or Paid version of this tool. It is absolutely free and available for everyone.
You do not need high configuration computer to learn this BI tool. All you need is any system with internet connectivity.
Top Reasons why you should choose this Course :
This course is designed keeping in mind the students from all backgrounds – hence we cover everything from basics, and gradually progress towards advanced topics.
This course can be completed over a Weekend.
Actual Case Studies and Live Examples of all topics.
All Doubts will be answered.
Most Importantly, Guidance is offered beyond the Tool – You will not only learn the Software, but important Dashboard Design principles. Also, I will share a cheat sheet to quickly find the right chart to use, sources to get public datasets to work on, Getting inspirational ideas, How to make money by using your Google Data Studio Expertise, and even about a Free Google Certification you can obtain.
A Verifiable Certificate of Completion is presented to all students who undertake this Google Data Studio course.
English
language
Content
Introduction
Welcome
What is Google Data Studio ?
Benefits and Limitations of Google Data Studio
Learning Objectives
Pre Requisites for this Course
Resources
Getting Started
Getting Around Google Data Studio
Connecting to Data Sources
Connecting to a Data Source
Managing Data Sources
Sources to get Public Datasets
Introducing Report Canvas
Getting Around Report Canvas
Using the new 'Explorer' Feature
How to use 'Explorer'
Creating and Configuring Various Chart Types
Table Visualization
Special Types of Table Visualizations
Pivot Tables
Scorecards
Bar Charts
Line Charts and Time Series
Combo Charts
Pie and Donut Charts
Bullet Chart
Geo Maps and Google Maps Chart
Sharing Reports
How to Share your Reports
Managing Google Data Studio Reports
Data Blending
Adding Action Controls for User Interaction
Copying Visualization Formatting
Page Level and Report Level Visualizations
Formatting Chart Metrics
Creating Visualization Groups
Embed URL, Videos and Google Forms in your Report
Using Parameters to get User Input
Using Built in Templates and how to create your own Templates
Embedding a Report in Your Website – Live Example
Using Regular Expressions (REGEX)
Working with Community Visualizations
Best Practices to create Reports in Data Studio
Charting Best Practices
How to choose the right Visualization?
Tips to create an effective Report
Congratulations on Completing the Course
Next Steps
Congratulations !