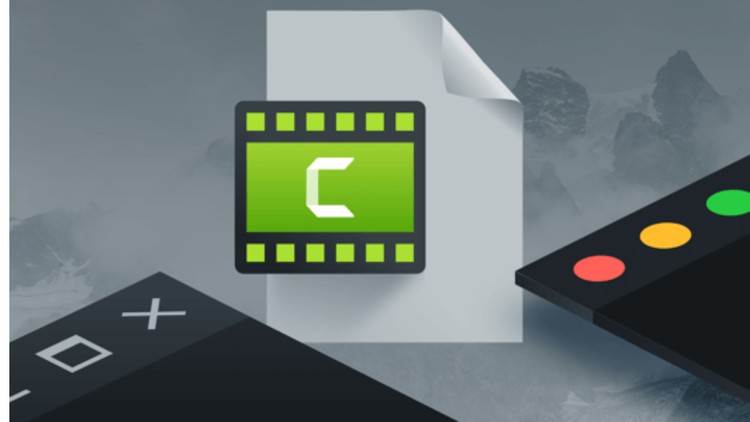 Unlocking Creativity with Camtasia: Mastering Professional Video Editing
What you will learn
How to navigate the Camtasia interface and become familiar with its tools and features.
Essential video editing techniques, including trimming, cutting, and merging clips for seamless storytelling.
Applying captivating transitions, animations, and effects to enhance the visual appeal of your videos.
Incorporating music, voiceovers, and audio effects to elevate the overall quality of your videos.
Mastering screen recording for creating software tutorials, demonstrations, and presentations.
Advanced green screen editing to seamlessly integrate yourself into any backdrop.
Creating eye-catching title sequences and lower thirds to enhance your video's professional look.
Description
Welcome to the ultimate journey of becoming a Camtasia maestro! In "Camtasia Mastery: Create Engaging Videos Like a Pro," we'll equip you with the knowledge and skills to produce captivating videos that leave your audience in awe.
Module 1: Getting started with Camtasia
Dive headfirst into the world of Camtasia with an introduction to the software.
Learn how to purchase and install Camtasia hassle-free.
Familiarize yourself with the Camtasia interface, understanding the canvas and timeline for seamless editing.
Unlock a treasure trove of free and library media assets to elevate your videos.
Module 2: Screen and Video Recording
Master the art of screen recording to capture your software demos, tutorials, and more.
Explore webcam recording to add a personal touch to your content.
Module 3: Video Editing With Camtasia
Weave magic with text by creatively integrating it into your videos.
Trim and slice videos like a pro, eliminating unwanted segments to maintain a seamless flow.
Utilize the crop tool to emphasize critical elements and remove distractions.
Pace your videos effectively using slow motion and speed up techniques.
Bring your content to life by embedding video clips into computer frames.
Safeguard sensitive information by blurring out confidential details.
Add a distinctive touch to your videos with watermarks.
Elevate the mood by syncing music seamlessly with your media assets.
Enhance your storytelling prowess by incorporating images and logos.
Module 4: Animation Effects In Camtasia
Learn to zoom and pan, creating dynamic visual experiences.
Enchant your audience with captivating behaviors animations.
Add professional lower thirds to your videos.
Craft stunning intros and outros for that cinematic feel.
Highlight cursor movements to guide your viewers effortlessly.
Elevate your visuals with advanced color grading techniques.
Module 5: Working With Audio In Camtasia
';
}});
Add a personal touch with voice narrations.
Harness the power of background music to evoke emotions.
Extract audio from video to create versatile content.
Module 6: Animation In Camtasia
Create eye-catching animation intros for your videos.
Breathe life into your text with captivating animations.
Animate images to captivate your audience further.
Explore custom animations for limitless creativity.
Module 7: Green Screen
Step into the world of green screen and unlock boundless possibilities.
Discover inspiring examples of green screen usage.
Module 8: How To Make Interactive Video Using Hotspots
Harness the potential of hotspots to create interactive and engaging videos.
Module 9: How To Use Camtasia With Powerpoint
Combine the power of Camtasia with PowerPoint for a winning presentation.
Module 10: Projects
Test your skills with exciting hands-on projects to reinforce your learning.
Join us on this exhilarating journey to unleash your creativity and become a master of Camtasia. Enroll now and let's embark on a transformational video editing adventure together!
Getting started with Camtasia
Introduction
How to buy and install camtasia
Understanding Camtasia Interface
Overview of Camtasia interface
Understanding canvas and timeline
Free media assets
Library assets
Adding media assets in camtasia
Hands-on Practical Activities & Resources
Screen and Video Recording
Screen recording
Recording your webcam in camtasia
Hands-on Practical Activities
Video Editing With Camtasia
Working with text
Split and delete unwanted video
Using the crop tool
Slow motion and speed up
Putting video clip inside computer frame
Blur out confidential information
Adding watermark
Adding music to media
Adding images and logo in your video clip
Hands-on Practical Activities
Animation Effects In Camtasia
Zoom and pan
Behaviours animation
Lower thirds in Camtasia
Intros and outros
Cursor effects
Color grading
Hands-on Practical Activities
Working With Audio In Camtasia
Voice narration in Camtasia
Adding background music
Converting video to audio
Animation In Camtasia
Animation intro
Text animation
Image animation
Custom animation (more)
Hands-on Practical Activities
Green Screen
Introduction to green screen
Green screen examples
Hands-on Practical Activities
How To Make Interactive Video Using Hotspots
How To Make Interactive Video Using Hotspots
Hands-on Practical Activities
How To Use Camtasia With Powerpoint
How to use Camtasia with powerpoint
How to import powerpoint presentation into camtasia
Hands-on Practical Activities
Practical Projects Examples
How to add quizzes in your video presentations