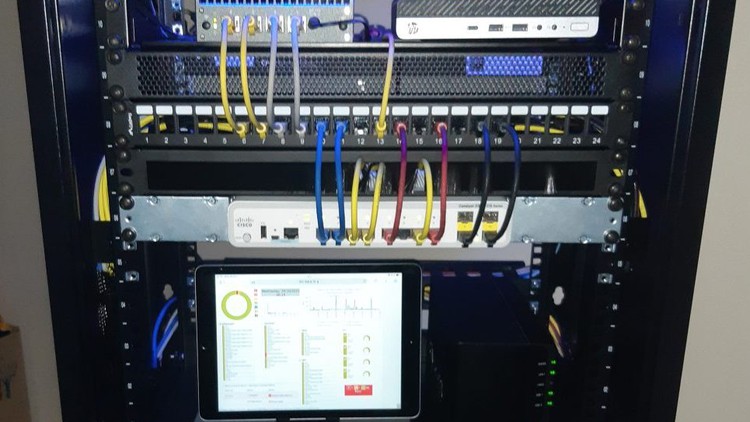 Home Lab Beginners guide. Check out a cool 12U rack with devices such as Cisco, pfSense, PRTG, and Synology
What you will learn
Why and how to build a home rack
Arrange cables and patch cords
Monitor your network
Install pfSense
Description
Home Lab Beginners guide. Check out this course to learn how I built a cool 12U rack at home. Learn how to choose a proper rack, run all the cables, get the best cable organizers, install additional fans and LED lights. Want to learn a bit more about UPS and power? I will show you what UPS I bought, installed, and configured.
This is not just about hardware. I show you my network diagram, a quick overview of pfSense (open source firewall), and a cool monitoring system called PRTG that I display using an old iPAD.
What will you learn?
Unique course that reveals how to start building a network at home
Home lab guides
Cabling and patch cords
Arranging all the cables
pfSense installed on Protectli (a small PC)
Monitoring system using PRTG
A lot of tips and recommendations
High quality videos (FullHD)
Gadgets (fans, LED lights)
UPS and power cables
Perfect cabling
And more….
This is more like a presentation, an idea that you could recreate at home. Devices I have used: pfSense, Synology (for Twingate VPN), Cisco (switch & router), iPAD (monitoring), APC UPS, a lot of cable organizers, patch cords, and effort.
This course is short but cost me a lot of time to create. I hope you will enjoy it!
English
language
Content
Introduction
Intro
What to expect
Presentation
Overview of my 12U rack
Devices
Cabling
Gadgets
Software
Network diagram
Overview of pfSense and PRTG
A bit more about Protectli
Thank you!
Extra Lectures
Installing pfSense using a virtual machine
Basic configuration of pfSense