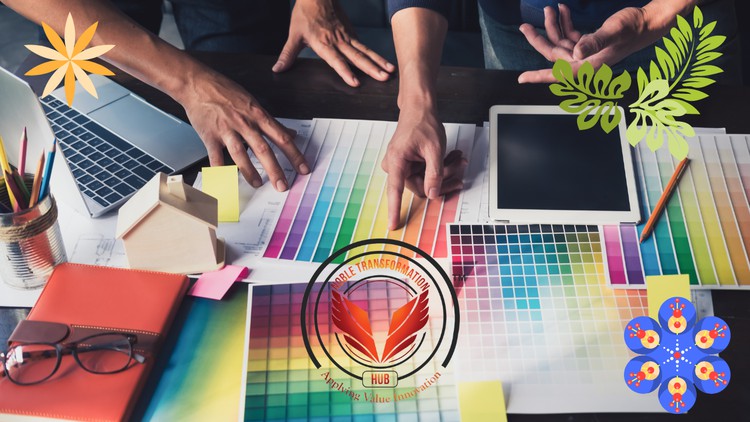 With Real Time Case Study and Case Method
What you will learn
Analysing the study of various graphic design aspect from space management, grid alignment, choosing of typefaces
Choosing of colours and creating characters along with that learning certain laws like
With the elements in the picture how do you take graphic design aspects and apply to your context or text or words in order to make a proper meaning of it
Designing of booklets and how to manage printing option when it comes to seeing like spreads, and fold and creases so as to not lose the content over the crease
Also colour profile matching with CMYK and then RGB has been discussed with the printer before so that we get the exact replica of what we have with a digital
Description
About the Master Class:
This course will comprehensively cover the above printing aspect and make the print comfortably come into a brochure. Also one can learn about the graphic design aspects and more of a staging of text using graphic design elements like space management grid alignment choosing of colours choosing of type faces et cetera. Along with that all the print aspects such as bleeding, borders, boundaries, choosing colours such that everything is being considered in this course.
Design philosophy:
As I used to say in my design courses, that design cannot be learned in the rot learning or Text book way of learning that you do through a chapter wise and remember some formulas that will yield you some solutions. Design is unique and when different people approach the same problems we will get different solutions based on the inputs that designer works on.
So design can be approached in the way of learning through the case studies and by doing action on your own to learn yourself.
Benefits of the Master Class:
Analysing the study of various graphic design aspect from space management, grid alignment, choosing of typefaces, choosing of colours and creating characters along with that learning certain laws like

Gestalt law of psychology,
Heuristics principles of Jakob Nielsen,

With the elements in the picture how do you take graphic design aspects and apply to your context or text or words in order to make a proper meaning of it
How as a beginner one can start seeing the graphic design aspects of typography, colours, space grid management connecting pictures with visual text and creating meaning in it etc.
Designing of booklets and how to manage printing option when it comes to seeing like spreads, and fold and creases so as to not lose the content over the creases and binds
Depth in printing knowledge such as bleeding borders margins and how to bring the graphics within the content so when the print is being made it is clearly within the space what we are planned
And also when it comes to browser making or cover page making it is another skill in which how it should be made cover spreads or cross bridge how to print can be distributed is what is very crucial when it comes to print design those aspects were studied in detail
Also colour profile matching with CMYK and then RGB has been discussed with the printer before so that we get the exact replica of what we have with a digital content. Many designers or nowadays not into hands on printing so they lack the skill when it comes to actual printing of choosing papers of choosing different GSM levels of choosing what colour type of printer they want of choosing inkjet or LaserJet which is comfortable for their own printing methods designers don't take much time to actually work on that
How to work in a project real time when you are given Minimal freedom to work and particularly in a shorter span of time to accomplish some design goals with the creativity that we got and making use of the resources effectively.
English
language
Content
Introduction
Introduction
Why Priniting knowledge important for Designers
Why Priniting knowledge important for Designers
IRA Grass Print Desigin With A Case Study
IRA Grass Print Desigin With A Case Study
Recaping the Learnings
Recaping the Learnings
Conclusion with Class Project
Conclusion with Class Project
Steam Engine to the ICE Fast trains – Evloution
Steam Engine to the ICE Fast trains – Evloution
Shipping Industries in Germany
Shipping Industries in Germany
Dutch Archiecture Inspiration
Dutch Archiecture Inspiration