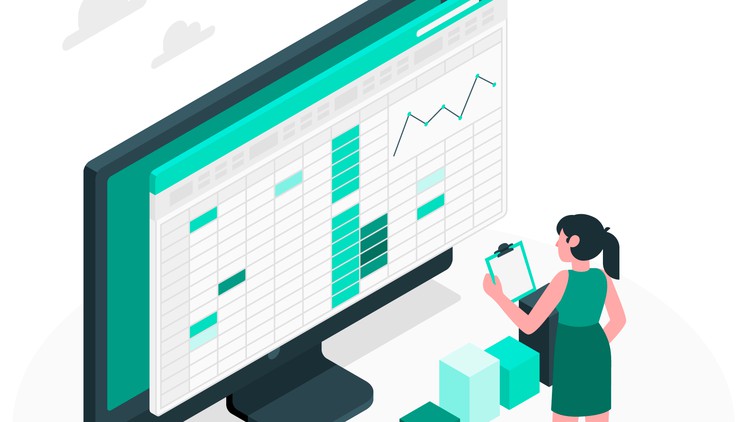 The Best Excel Course For Starters
What you will learn
Managing Excel Workbooks & Worksheets
Working with Excel Data Tools
Writing Basic Excel Aggregator Formulas
Excel Keyboard Shortcuts
Manipulating Cells in Excel
Excel Tips and Tricks
Description
Microsoft Excel Skills, for may Techies is not only an essential skill, but also arguably the best place to start before venturing into the likes of Python, SQL, Power BI/ Tableau or even any other programming Language.
However, most Excel Courses ignore the little and basic essential knowledge areas and that makes Advanced concepts difficult for Excel users along the line.
In this course, Ahmed Oyelowo (Microsoft MVP and Microsoft Certified Trainer) has taught Excel from grounds up. Assuming zero knowledge on the part of the Student.
Ahmed's teaching is simple and concise, with explanations done in layman's terms. His Power BI Course has for long been a Udemy Best Seller and on many occasions remained the Highest Rated course in that category.
This Introduction to Excel Course is the first of the series that will include other courses on Microsoft Excel Formulas, Pivot Tables, Power Query, Excel Charts and Data Visualization, Power Pivot and Macros.
If you are looking to set the right foundation for your Excel knowledge, the impact of which you will continue to gain as you transition to Advanced Excel and diversify into other technologies, then you should take this course.
In this course, you will learn:
Basic Excel Operations including:

Changing Excel Settings
Protecting Excel with Passwords
Navigating between Excel Workbooks and Worksheets

Working with Excel Data including:

Formatting Excel Content
Sorting and Filtering
Different methods for copying and filtering data
Different methods for finding and replacing data
Creating Dropdowns in Excel
Creating Expand and Collapsible buttons in Excel Data Ranges
Separating Texts to different columns

Working with Excel Formulas including

SUM function and Auto Sum Magic
AVERAGE function
MIN and MAX functions
SMALL and LARGE functions
English
language
Content
Introduction & Simple Excel Operations
Introduction
Prerequisites
Excel Knowledge Overview
Understanding the Excel Environment
Changing Settings in Excel Options
Saving and Using Passwords for Excel
Navigating between Excel Worksheets
Navigating between Excel Workbooks
Chapter 1 – Introduction and Basic Excel Quiz
Working with Excel Data (Part 1)
Intro to Copying & Pasting Data in Excel
Pasting with Options
Using the Paste Option Dialog Box
Pasting from the Clip Board Button
Replicating Worksheet data with Move or Copy tool
Intro to Find & Replace in Excel
Find & Replace Options
Find & Replace using * Wild Card
Find & Replace using ? Wild Card
Find & Replace based on Cell Format
Understanding Cells
Increasing Cell Size, Row/Column Height & Width
Understanding Excel Data Types
Dates are treated like Numbers in Excel
Intro to Cell Formatting
Intro to Cell Formatting (2)
Intro to Numbers Formatting
Customizing Numbers Formatting
Behavior of Text and Numbers Formatting
Customizing Date Formats
Cell Formatting Sample
Chapter 2 – Working with Excel Data Part 1
Working with Excel Data (Part 2)
Intro to Data Sorting in Excel
Basic Data Sorting
Sorting Data that has empty rows or columns
A better way to sort
More sorting options
Advanced Sorting options
Intro to Data Filtering in Excel
Clearing Filters & Using Search for Filtering
Filtering data based on rules
Using Advanced Filtering
Freeze Panes
Use Outlines for Expand/Collapsible Buttons
Intro to Autofill and Fill Series
Using Fill Dialog Box
Fill Series with Linear & Growth
Fill Series based on Trends
Using Flash Fill
Intro to Data Validation in Excel
Creating Dropdown Lists in Excel
Text to Different Columns with Delimiters
Text to Columns using Fixed Width
Chapter 3 – Working with Data Part 2
Introduction to Excel Formulas
Introduction to Excel Formulas
Writing simple formulas with primitive values
Introduction to Excel Functions
How to use Functions in Excel
Adding up with SUM function
Using Auto Sum to save time
Using AVERAGE, MIN, MAX, LARGE and SMALL
Chapter 4 – Introduction to Formulas
Wrap up