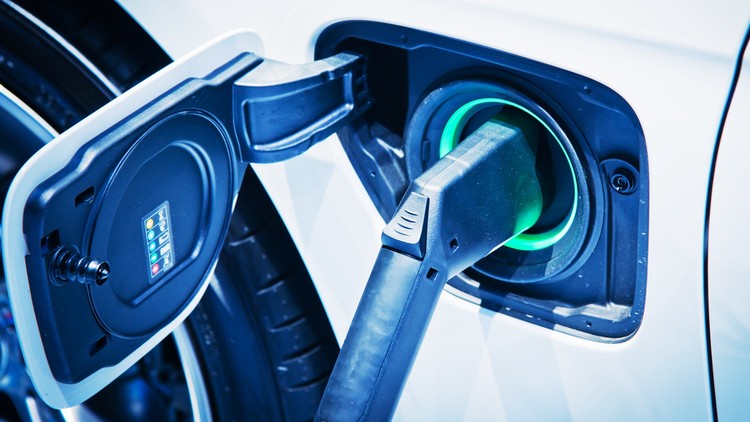 Vehicle Types, Nomenclature, How They Work, Charging, Performance, Cost of Ownership, Features, Benefits, And More…
What you will learn
Learn all about the basics of electric vehicles (EVs) including vehicle types, nomenclature, how they work, charging, performance, cost of ownership, features, and benefits.
Description
What types of electric vehicles (EVs) are there? How do I charge an EV? What is regenerative braking?
These questions and much more are all answered in this educational course that covers everything you need to know about hybrid and electric vehicles. Learn all about the different types of vehicles, charging, benefits, terminology, performance, safety, cost of ownership, and more.  We designed this course to be easy to understand and full of information about the future of the automotive industry.  You'll enjoy this course if you want to learn everything about EVs!
English
language
Content
Introduction
All About the Basics- Electric Vehicles
Privacy Policy
Table of Contents
Initial Assessment
Vehicle Types
Vehicle Types
Internal Combustion Engine (ICE)
Battery Electric Vehicle (BEV)
EV Walkaround
Hybrid Electric Vehicle (HEV)
Plug-in Hybrid Electric Vehicle (PHEV)
Extended-Range Electric Vehicle (EREV or REEV)
Vehicle Types Quiz
Nomenclature
Nomenclature
State of Charge (SOC)
Battery Degradation & State of Health (SOH)
Regenerative Braking
Example Electric Vehicle Window Sticker
Nomenclature Quiz
How an EV Works
How an EV Works
Propulsion
Charging
Charging Port
How an EV Works Quiz
The Battery
The Battery
Specifications
Warranty
Battery Quiz
Charging
Charging
Charging Terms
Level 1 Charger
Level 2 Charger
Level 3 Charger (DC Fast Charger)
Tesla Supercharger
Where to Charge?
Home Charging
Public Charging
Best Charging Practices
Charging Quiz
Cost of Ownership
Cost of Ownership
Cost of Ownership
Cost of Ownership Comparison
Cost of Ownership Quiz
Incentives and Funding
Incentives and Funding
Incentives and Funding
Incentives and Funding Quiz
EV Performance
EV Performance
Performance
EV Acceleration
Performance in Various Scenarios
Best Driving Practices
EV Performance Quiz
EV Features
EV Features
Features
EV Features Quiz
Safety
Safety
Safety
High Voltage Safety
Crash Safety
In the Event of a Crash
Safety Quiz
Benefits
Benefits
Overall EV Benefits
Benefits Quiz
Customer Concerns
Customer Concerns
Typical Electric Vehicle Concerns
Customer Concerns Quiz
Final Test
Final Test
Congratulations!