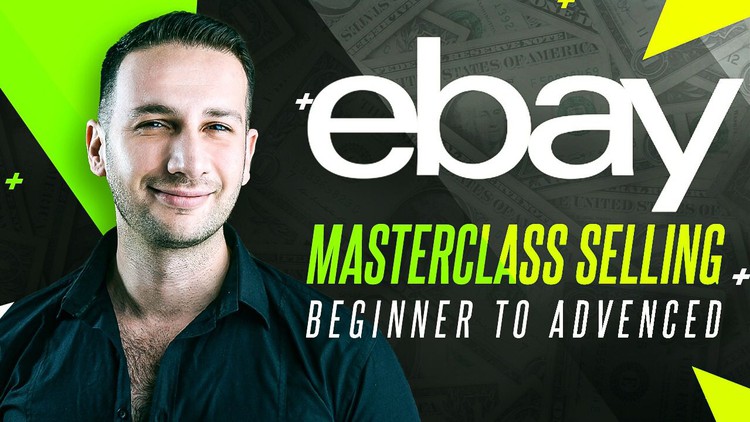 How To DROPSHIP On Ebay As A Beginner
What you will learn
WHAT IS DROPSHIPPING?
HOW TO GET STARTED?
HOW TO FIND THE PRODUCT?
HOW TO LIST?
HOW TO EDIT THE HEADBOARD
HOW TO INSTALL PRODUCT WITH THE SOFTWARE?
HOW TO FIND A PRODUCT AND HOW SHOULD WE ADVANT THE SUCCESS OF PRODUCT SELLERS?
HOW TO GET CASHBACK?
INVENTORY TRACKING, PRODUCT LISTING AND UNDERSTANDING WHAT IS PROHIBITED PRODUCTS
HOW SHOULD YOU FOLLOW YOUR SALES?
WHAT IS A VIRTUAL ASSISTANT?
HOW TO BECOME A VIRTUAL ASSISTANT?
Description
For those who really want to do this job, you can access content that will guide you in this training series about beginner, intermediate and advanced techniques on Ebay.
Brand New Fresh Material For 2021 This Course Has Been Renewed And You Will Be Even More Successful.
If you want to start your own business and be your own boss, take this course. eBay offers the  , if you start by selling your own items and then move on to other products. This course shows you how to start selling on eBay, what basics you need before starting this online business, and what's most important.
Do you want to be your own boss? Do you need additional income? If you want to work part-time flexible hours, you've come to the right place. Welcome to how to start selling on eBay like a Boss. This course is designed to quickly start your eBay business from scratch! If you're a beginner or intermediate, no experience is required if you're in the right place. This course will cover some of the basics and intermediate concepts that will give you an extra edge. You'll learn how to raise limits, watch out for common scams, manage returns, choose the right listing formats, auction against flat pricing, submit items like a pro, which camera to buy to create great photos, and more. More introductions, intermediate and advanced concepts, theory, tips and advice to help you not only get started but also start selling on eBay like a true pro. If you are new to selling online, this course is the right one to teach you how to set up your business on eBay. I have tried to make this lesson as simple and subtle as possible, but as directly to the point as possible. After completing this course, you should be ready to take your sales to the next level and then move on to the more advanced eBay bootcamp or dropshipping course. plus lifetime enrollment as promised by Udemy.
Features
-How to start
-Tips and suggestions
-Creative ways to generate sales
-How to create great lists?
-Increase your sales limits
-Common beginner mistakes
-Calculate profits Q4 sales
– Protection from scams
-What to sell on eBay
That's not all we have in this course we have so much more great content that will take you to a huge list, it's just the highlights!
See you in class
Your Instructor and Coach
English
language
Content
Giriş
Hello and Congratulations
Retail Arbitrage 2022
Retail Arbitrage 2022
How to Start Dropshipping From Scratch
Should You Start A Dropshipping Niche Store Or One Product Store?
How to PROPERLY set up an eBay account in 2022
How To Have Multiple Accounts On eBay eBay Dropship Multiple Accounts Policy
How To Have Multiple Accounts On eBay eBay Dropship Multiple Accounts Policy
Ebay Seller Loans 2022 | How To Get Business Loan No Credit Check For Ebay drop
Attract Your Luck, Good Luck Magnet