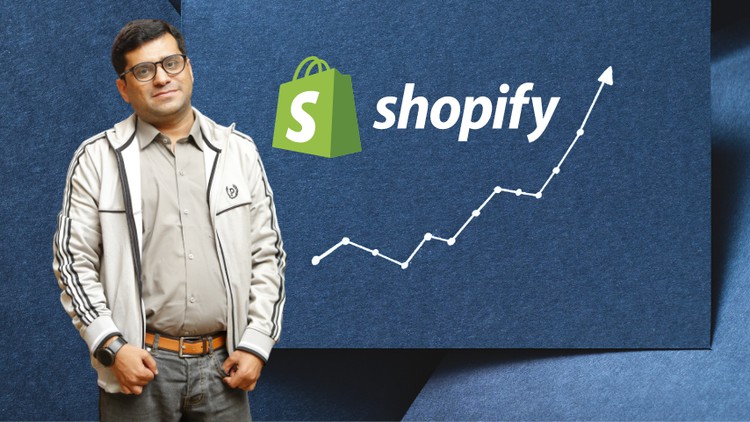 Enroll and Learn about: eCommerce Dropshipping, Selling online Worldwide in low budget and Facebook Ads (in URDU/Hindi)
What you will learn
eCommerce and Dropshipping
Shopify Website Development
Finding Winning Products
Searching Suppliers
Payment methods, i.e. PayPal and Stripe account creation
Managing orders, Return and Refunds
Creating and Running Facebook Ads
Description
Dropshipping with Shopify | Selling online Worldwide, is a premium mastery level course that included content for beginners and intermediate students of e-commerce.
In this course, you will learn about;
The basics of e-commerce; What is eCommerce what are the different modules in e-commerce and how to start an e-commerce business.
What is Shopify Dropshipping; What is Shopify, Why start dropshipping with Shopify, what alternative platform available for dropshipping.
Finding Winning Products; What are the criteria for finding or hunting best-selling winning products for dropshipping, tools, and techniques of finding hot selling, most demanding products with low or medium competition in international marketplaces.
Finding/ Selecting Suppliers; How to and where to find Supplier or how to where to source product for dropshipping particularly in or post-COVID-19 scenario to avoid delay shipping from China.
Designing Shopify Website; How to design a Shopify Website, select, edit the theme, create pages, policies, and navigations.
Managing Orders and Returns; How to manage and fulfill orders and how we can control or manage returns and refunds in dropshipping.
Payment providers; How to create a legit business account on PayPal, Stripe, 2checkout, and Payoneer. (Particularly from Pakistan and/or other developing countries where these services are not available directly).
Marketing Your Business; How to market your dropshipping business, what are FREE ways/resources to market and get customers, and how to use paid marketing options, including influencers marketing and Facebook ads.
That's not All, I'll be updating this course from time to time and will be sharing the latest updates, techniques for finding winning products and growing your dropshipping business and converting it to a Private Lable brand building, and making this business a flippable asset to multiple your wealth.
Let's meet in the course…
Cheers.
Khalid (Khalidgraphy)
Note: course is recorded in URDU (Hindi) language, DON'T Join if you are unable to Understand.
English
language
Content
Introduction
Introduction
Pros and Cons of Drop Shipping with Shopify
Finding Winning Products for Dropshipping
Product Hunting Tools, apps and Websites for Dropshipping
Finding Winning Products for Dropshipping (Practical)
Shopify Website SignUp, Designing pages, Listing Products
Signup on Shopify Website with 14 Days Free Trail
Design a Logo for your Website and Social Media Pages
Designing, Building, editing Shopify Website
Creating Pages, Policies and Navigation Menus on Website
Listing or Importing Products on our Store
Payment Methods/ Processors SignUps
Requirements for Signup on PayPal, Stripe, 2Checkout and other Payment providers
Demo for each payment provider service
Marketing your Products / Dropshipping Business
How we Market our Products or Dropshipping Business
Creating and analyzing Facebook ads Campaign, Understanding Audience and ad sets
More about Facebook ads and reports
Orders, Returns and Refund Management
Orders fulfilment, returns and refund management.