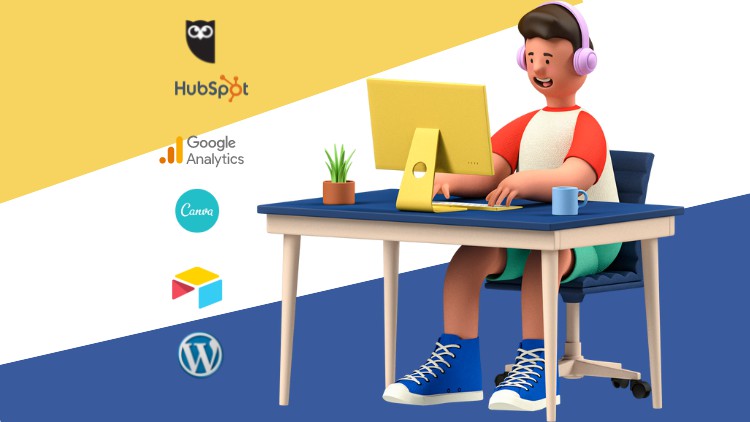 Create a Marketing Campaign from Start to Finish
What you will learn
Chapter 1: How to Develop Digital Marketing Campaign
Chapter 2: How to Create and Prepare Content for Your Campaign
Chapter 3: How to Execute Your Digital Marketing Campaign
Chapter 4: How to Analyze Your Campaign and Performance
Conclusion: Continue to Refine Your Marketing Techniques
Description
The sheer number of tools available to marketing teams today can sometimes feel a little overwhelming. Which tools should you use, when and how should you use them, and what can you do to get the most out of your campaign? In this step-by-step, beginner-friendly course, digital marketing expert Ali Raza Raamay shows you how to create a digital marketing campaign from start to finish, with a practical overview of the most essential tools to get up to speed.
Explore the nuances of building a successful campaign from the ground up, from forming your strategy to content creation and preparation before the launch, through campaign execution, to performance analysis and postlaunch review. Ali R. Raamay is your expert guide, even if you don't have any marketing experience. By the end of this course, you'll be ready to create a leading digital campaign using Airtable, Google Analytics, Hootsuite, Canva, HubSpot, WordPress, and more.
Course Outline: Digital Marketing Tools: Create Marketing Campaign A-Z Guide
Introduction: What you should know before watching this course
Chapter 1: How to Develop Digital Marketing Campaign
Set Marketing Campaign SMART Goals with Airtable.
Determine Campaign Target Market with Google Analytics.
Specify a Budget for Your Digital Marketing Campaign.
Determine Channels and Messaging.
Chapter 2: How to Create and Prepare Content for Your Campaign
Develop a Content Plan in Airtable.
Create Marketing Campaign Content with Canva.
Perform Keyword Research with Ubersuggest.
Prepare Website Landing Pages with WordPress.
Chapter 3: How to Execute Your Digital Marketing Campaign
Run Pay-Per-Click (PPC) Advertising with Google Ads.
Post to Instagram, Twitter, and Facebook with Hootsuite.
Perform Email Marketing With Hubspot.
Find Affiliates and Influencers for Your Campaign.
Chapter 4: How to Analyze Your Campaign and Performance
Add Goal Tracking to Google Analytics.
Review Campaign Performance with Google Analytics.
Reevaluate Your Campaign Goals.
Conclusion: Continue to Refine Your Marketing Techniques
English
language
Content
Introduction
What you should know before watching this course
Chapter 1: How to Develop Digital Marketing Campaign
Set Marketing Campaign SMART Goals with Airtable
Determine Campaign Target Market with Google Analytics
Specify a Budget for Your Digital Marketing Campaign
Determine Channels and Messaging
Chapter 2: How to Create and Prepare Content for Your Campaign
Develop a Content Plan in Airtable
Create Marketing Campaign Content with Canva
Perform Keyword Research with Ubersuggest
Prepare Website Landing Pages with WordPress
Chapter 3: How to Execute Your Digital Marketing Campaign
Run Pay-Per-Click (PPC) Advertising with Google Ads
Post to Instagram, Twitter, and Facebook with Hootsuite
Perform Email Marketing With Hubspot
Find Affiliates and Influencers for Your Campaign
Chapter 4: How to Analyze Your Campaign and Performance
Add Goal Tracking to Google Analytics
Review Campaign Performance with Google Analytics
Reevaluate Your Campaign Goals