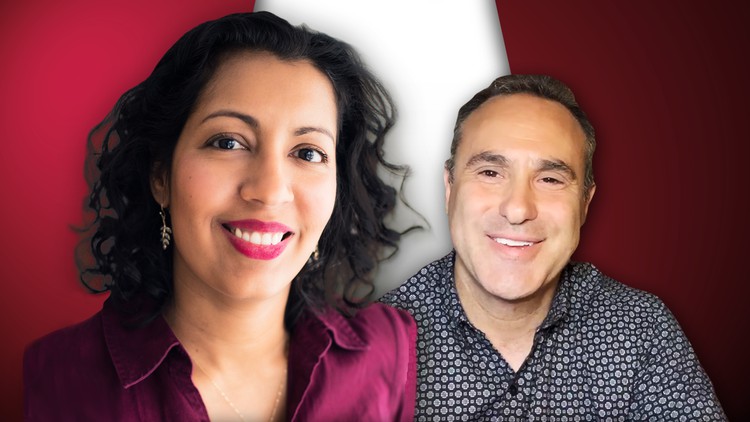 Forbes Contributors Renee Sylvestre-Williams & Matthew Rolnick offer a Comprehensive Guide to Persuasive Copywriting
What you will learn
☑ Discovering your Personal Journey as a Writer
☑ Discovering the Style of Writing that suits your Personality
☑ Keys to an Exceptional Writing Journey
☑ How to become an Exceptional Writer
☑ Keys to Exceptional Writing
☑ Exceptional Writing Deterrents
☑ Persuasive Copywriting Formulas
☑ 20+ Headline Copywriting Formulas
☑ Organizational Copywriting Formulas
☑ Action Copywriting Formulas
☑ Email Copywriting Formulas
☑ Successful Writing Tips from Matthew Rolnick – Forbes Council Member and Columnist
☑ Successful Writing Tips from Renee Sylvestre-Williams – Forbes Contributor & Award Winning Writer
☑ The AIDA: Attention, Interest, Desire, Action Formula
☑ The PAS: Problem, Agitate, Solution Formula
☑ The IDCA: Interest, Desire, Conviction, Action Formula
☑ The ACCA: Awareness, Comprehension, Conviction, Action Formula
☑ The AIDPPC: Attention, Interest, Description, Persuasion, Proof, Close Formula
☑ The AAPPA: Attention, Advantage, Proof, Persuasion, Action Formula
☑ The PPPP: Picture, Promise, Prove, Push Formula
☑ The QUEST: Qualify, Understand, Educate, Stimulate/Sell, Transition Formula
☑ The PASTOR: Problem, Amplify, Story, Transformation, Offer, Response Formula
☑ The FACE: Familiar, Audience, Cost, Education Formula
Description
What has the power to spark revolutions, empower people, express thoughts, emotions, love, hate, and fear, and is only bound by the limits of our imagination? – Words. Words are undoubtedly one of the most powerful tools that mankind possesses. However, mastering the art of articulating thoughts into meaningful written expressions, is no simple undertaking. If done correctly, words can be used as a mechanism of persuasion. Words can be used to further career goals, relationships, business goals, and just about any other facet of life. The focal point of this course is to provide a theoretical and practical guide to the mechanics behind persuasive writing. In other words, writing with a purpose, or intent. One of the most prevalent forms of persuasive writing is found in copywriting. Copywriting is best defined as the usage of written text for the purpose of marketing, sales, or advertising. Well written sales copy, will ultimately persuade a person or group of people to take a particular action.
This course offers a comprehensive guide to persuasive writing. It also aims to inspire your writing journey and identify your purpose as a writer. We start with a theoretical overview of the characteristics of an exceptional writer, including identifying your core strengths and weaknesses. From there we dive into a practical guide to persuasive writing using a number of industry standard copywriting formulas. The instruction will be led by several hands-on exercises and examples that will help solidify the concepts we explore.
With this course, you can learn the writing craft with confidence, as several of the modules are authored by self-published author, and freelance writer – Lissette Maduro. Lissette has an extensive background in writing in the health and wellness space, inspired by her experience working as a family physician and medical advisor. She has also made contributions to the Tech and travel writing arena as she enjoys learning about new developments and is an avid traveler. Lissette holds a Doctor of Medicine Degree from the American University of Integrative Sciences. She also has a B.S. in Medical Technology from Oakwood University.
Another great feature of this course, is that you have an opportunity to gain exclusive insights directly from two Forbes columnists, who participated with YouAccel in a comprehensive Q&A session on content writing and strategy.
The first session is with Renee Sylvestre-Williams of -30- Communications.
Renee is one of the most prolific content strategists in the corporate world, whose client list includes some of the most distinguished brands in North America. This includes Deloitte, American Express, CIBC, Ceridian, Investors' Group, and MD Financial
Equally as impressive as her client list, is her aptitude for steering content direction for multinational media conglomerates like Corus Entertainment, and TC Transcontinental. In her role as managing editor, Renee has provided leadership and strategic direction for major television networks and online publications like Slice Canada, Food Network, HGTV, ELLE Canada, Style At Home, and Canadian Living.
Renee has also been a key contributor for mainstream news publications like Forbes, CBC, The Globe & Mail, Canadian Business, TVO, The Toronto Star, The Toronto Sun, Global News, and Digital Trends.
As a results-driven strategist, Renee has accumulated over 15 years of experience in the realm of digital marketing and content strategy. Her key areas of specialization include strategy and content development for finance brands, targeted towards Gen Y, and millennials.
The second Q&A is conducted with Matthew Rolnick. Matthew is a Forbes council member, and contributing writer.
He is also the VP of sales at Yaymaker, and a former Divisional Sales Manager at Groupon. Yaymaker is best known for its in-venue and live virtual events, where they specialize in corporate team building. To date Yaymaker has hosted over 300,000 events, including paint "nites", game shows, mixology classes, comedians, magicians, cooking classes, ukulele making classes and plant "nites". They also work with celebrities and a wide array of speakers for any topic.
Matthew loves writing business articles on Linkedin and continues to be published in Forbes where he shares insights on expert panels. His insights on copywriting provide tremendous value to aspiring business writers and journalists looking for guidance or mentorship.
The impact that words have on us as individuals and as a collective, is indisputable.
Writing has the power to comfort, heal, motivate and inspire.
Exceptional writing has resuscitated dying dreams, restored abused hope, rebuilt societies and recharted humanity´s course.
This course will assist you in stepping up your writing craft to join the ranks of the next generation of wordsmiths that change the world.
In Persuasive Writing Ft. Two Forbes Contributors & Copywriters:
Theory for Aspiring Writers:

Discover If You're a Writer
What Kind Of Writing Suits Your Personality
Perspectives of The Exceptional Writer
How To Become An Exceptional Writer
Keys to Exceptional Writing
Exceptional Writing Deterrents
Resources (to improve your writing)

Practical Guide to Writing using Proven Copywriting Formulas

20+ Industry Standard Headlining Copywriting Formulas
Organizational Copy Formulas

AIDA, PAS, IDCA, ACCA, AIDPPC, AAPPA, 4P'S, QUEST, AICPBSAWN, PASTOR, FACE

Action Copy Formulas

Including: TPSC, Elements of an Offer, RAD

Emailing Copy Formulas

Report, Data, How-to, Inquiry, Endorsement, This/That

Q&A with two seasoned Forbes writers: Renee Sylvestre-Williams & Matthew Rolnick

The Q&A's are centered around content strategy, copywriting, and general tips on career development for aspiring writers.
With that said, we hope that you're as excited about this course as we are. If you're ready to start your journey in becoming a persuasive writer, hit the enroll button and let's get started!
English
Language
Content
The Personal Journey of Writing
Introduction to the Personal Journey of Writing
Are you a Writer?
You're an Observer of Life
You're Always Analyzing This…and That
You Live to Write Another Day
You Have Doubts
You have an Ongoing Love Affair With Books
You're a Lifelong Collector of Tales
You Need Space
What Defines a Writer
Constancy or Committed
Tenacity and Determination
Hunger and Passion
A Missive or Tenor
What Kind of Writing Suits Your Personality
Introduction to the Kind of Writing Styles that Suit Your Personality
The Closet Writer
The Eternal Writer
The Hesitant Writer
The Innovative Writer
The Inspired Writer
The Literate Writer
The Logical Writer
The Savvy Writer
The Exceptional Writing Journey
Introduction to the Exceptional Writing Journey
Perspectives of the Exceptional Writer
Worst Case Scenario
Don't be a People Pleaser
Writing is for an Audience of One
Writing in your Own Voice is Crucial
Your Own Created Space
Avoid Pretense
How to Become an Exceptional Writer
Introduction to becoming an Exceptional Writer
Importance of Reading
Define your Audience
Get Inspired
Write Daily
Rewrite
Challenge Yourself
Keys to Exceptional Writing
Introduction to the Keys to Exceptional Writing
Don't be Obsessed with Grammar
Conquer the Art of Description
Limit Background Information
Be Relatable
Take Risks
Writing is Telepathic
Be Serious
Set Deadlines
Re-Evaluate Your Work
Feel Good and Be Good
Exceptional Writing Deterrents
Introduction to Exceptional Writing Deterrents
A Lackadaisical Attitude
Feeling Entitled
Romanticizing the Writing Craft
Fearing Marketing
An Unreasonable Timeline
Expecting an 'Easy-Bake' Outline
Writer's Envy
A Need for Approval
Download
Practical Guide to Persuasive Copywriting
Introduction to the Copywriting Sections of the Course
Headlining Copywriting Formulas
Introduction to Headline Copywriting Formulas
"Who Else Wants…" Formula
"The Secret of…" Formula
The "Method, Target and Benefit" Formula
"Little-Known Ways to…" Formula
"Get Rid of [Problem] Once and For All" Formula
"Here's a Quick Way to [Solve a problem]" Formula
"Now You Can Have/Do Something Desirable/Great Circumstance" Formula
The "[Do something] Like [World-class example]" Formula
The "[Have a /Build a]… You Can Be Proud Of" Formula
The "What Everybody Ought to Know About______" Formula
The "[number] [item][persona] Will Love (Hint: [statement])" Formula
The "How To [action] When [statement]: [persona] Edition" Formula
The "[persona]-Friendly Guide To [activity] (statement)" Formula
The "Why I Got [action]: Every [persona] Should Be Aware Of [statement]" Formula
The "[number] Ways To [action] Your [blank] Without Having To.." Formula
The "[number] Signs [action] (Don't Worry: [statement])" Formula
The "[action] For [time] [result]" Formula
The "Even The [persona] Can [action] [statement]" Formula
The "[power word] Your [persona] At [activity] [result]" Formula
The "We [verb] [object]: Here's What We Learned" Formula
Organizational Copywriting Formulas
Introduction to Organizational Copywriting Formulas
The AIDA: Attention, Interest, Desire, Action Formula
The PAS: Problem, Agitate, Solution Formula
The IDCA: Interest, Desire, Conviction, Action Formula
The ACCA: Awareness, Comprehension, Conviction, Action Formula
The AIDPPC: Attention, Interest, Description, Persuasion, Proof, Close Formula
The AAPPA: Attention, Advantage, Proof, Persuasion, Action Formula
The PPPP: Picture, Promise, Prove, Push Formula
The QUEST: Qualify, Understand, Educate, Stimulate/Sell, Transition Formula
The AICPBSAWN Formula
The PASTOR: Problem, Amplify, Story, Transformation, Offer, Response Formula
The FACE: Familiar, Audience, Cost, Education Formula
Action Copywriting Formulas
Introduction to Action Copywriting Formulas
The TPSC: Text, Placement, Size, Color Formula
The Elements Of An Offer Formula
The RAD: Require, Acquire, Desire Formula
The "I Want Button" Formula
The "Get…Formula"
Email Copywriting Formulas
Introduction to Email Copywriting Formulas
The Report Formula
The Data Formula
The How-To Formula
The Inquiry Formula
The Endorsement Formula
The This/That Formula
The Shorty Formula
Q&A with Renee Sylvestre-Williams (Forbes Contributor)
Q&A Introduction to Renee Sylvestre-Williams
Meet Renee
Renee's Hobbies and Interests
The Evolution of Renee's Work Life
Renee's Passion for Writing
Content Strategy as a Career Path
The Implications of SEO and Keywords
How does a Writer go Viral?
Ranking Content in Search Engines
Getting Published
Press Distribution (PR Web, PR Newswire)
Renee's most Memorable Experiences
Renee's Sources of Inspiration
Written vs. Video Content
Thoughts on Paid Advertising
Components of Good Quality Web Content
Deciding on a Topic or Subject
Does Tone Matter?
Are CMS' effective?
Gauging Success
How to Promote Content
Blog Post vs. Article
Content Writing vs. Copywriting
Making Content Unique
What is Writer's Block?
Does Writing Get Repetitive?
Renee's Passion for Reading
What is "Storytelling"?
Mechanics of Strategy
Is Blogging Lucrative?
Renee's Role as a Finance Columnist
Renee's Professional Hurdles
Content Strategy for Big vs. Small Brands
Five Strengths and Weaknesses as a Content Strategist
Handling Feedback and Criticism
Working as Part of a Team vs. Independently
Introvert vs. Extrovert
Finding Inspiration for Content
Renee's Career Aspirations
Advice for Aspiring Writers
Going back in Time
Top Three Content Marketing Strategies for Long-term Growth
Thoughts on Google Trends
Targeting a Global Audience
Ethically Policing Social Media Content
Sparking Curiosity with the First Sentence
Thoughts on Infographics as the new King of Content
Social Media, Email. & SEO for Driving Sales
The Importance of Research before Publishing
Defining a Call-to-Action
Ideal Length for Content
10 Words that Trigger an Emotional Reaction
Importance of Crediting a Source
Q&A with Matthew Rolnick (Forbes Council Member & Columnist)
Q&A Introduction to Matthew Rolnick
Matthew Rolnick: Contributor and Council Member at Forbes
Matthew's role as VP of Sales at Yaymaker
Matthew's main area of Focus as a Content Writer
Hooking your Reader, as a Writer
Defining "Copywriting"
Persuasive Writing Tips for Selling
Examples of Effective Copy
Building an Emotional Connection with the Reader
Defining a "Call-to-Action"
The importance of a Headline and Examples
Tips on writing News Worthy articles
10 Keyword Formulas that Trigger a Response
Writing "Viral" Content
Defining AIDA & Examples
Elements of an Offer with High Conversion Rates
The Effectiveness of Deep Discounts in Copy
Defining Social Proof and Use Cases
The Concept of "Scarcity" & "Urgency" in Copy
Using the "Storytelling" Approach in Copy
The Importance of Building Reader Profiles
Building a Relationship in less than 200 Words
The "PAS" Copywriting Formula – Problem, Agitate, Solution
The "IDCA" Copywriting Formula – Interest, Desire, Conviction, Action
The "ACCA" Copywriting Formula – Awareness, Comprehension, Conviction, Action
The "FAB" Copywriting Formula – Features, Advantages, Benefits
The "4 P's" Copywriting Formula – Promise, Picture, Proof, Push
Additional Writing Tips from Matthew Rolnick