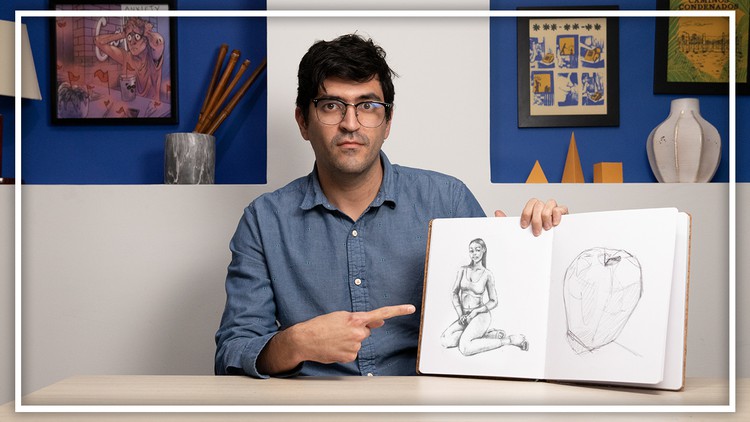 From sketching to human figures and landscapes, anyone can learn how to draw like a pro with this step-by-step course!
What you will learn
How to draw basic shapes
Line variation and it's implementation in different media
Warming exercises
The theory behind you creative choices
How to use organizational lines
How to use a Viewfinder
The basic materials needed for drawing
How to shade a ball
How to draw landscapes
How to draw in toned paper
How to draw a human figure
How to draw characters
The different materials needed for drawing
Description
Learn how to make great drawings!
Unlock all your creativity!
Have you always wanted to draw but you don't know where to start? Are you a designer who wants to improve their illustration skills? Have you been trying to move out of your comfort zone while drawing? Whether you're a casual artist or hoping to make a career out of it, drawing isn't only for the pros. Regardless your level as an artist, your experience or expertise, this is the course for you. You can take your drawing skills to the next level and we're here to teach you how.
In this course you will learn how to draw with an intuitive and flexible method mixing traditional observational techniques with gestural approaches. You will learn that drawing is a matter of observation and relational thinking.
During this course we will have an observational and an intuitive approach, we will begin by learning to observe before moving into rules and proportions. From still life set ups and objects, images and shortcuts, to the basic concepts of observational drawing through organizational line techniques. You will even exercise ideation skills through sketchbook activities, and so much more.
Our instructors have years of experience not only in drawing, but also in teaching, and the expertly crafted syllabus is designed to be easy to follow and thorough. We've even included plenty of examples and sketches for you to study. That's why this is the only drawing course you'll ever need to draw and sketch your own ideas like a pro!
Start drawing today!
After taking this course, you will be able to:
Draw complex objects and three-dimensional elements
Find vanishing points, horizon lines and orthogonal lines in pictures
Play with scale using three objects
Make one point, two-point, three-point and seven-point perspective drawing
Play with contrast levels
Differentiate between foreground, midground and background
English
language
Content
Introduction
Welcome to the Course
Organizational Line
Materials
Getting to Draw
Warming Exercises
Other Methodologies and Contents
Basic Shapes
Measuring
Frame
Gesture
Contour
Blind Colour
Presentation: Implementing Organizational Lines. Main Concepts
Organizational Line: Drawing the First Setup
More is More: Compositions and Organizational Line
Homework: Build a Setup
Comments on Other Artists
Sketchbook Activity: Symbolic Self-Portrait
Sketchbook Activity: Find a Masterwork and Recreate it
Drawing Activity: Enlarge Something Small
Bibliography and Resources
Line Variation
Presentation: Line Variation and its Implementation in Different Media
Gesture Exercise
Sketching and Notes
Implied Shape Exercise
Line Variation Drawing
How Does Depth Work
Sketchbook Activity: Something Hidden
Sketchbook Activity: Negative Space Tearing Paper
Sketchbook Activity: Play with Scale Using Three Objects
Bibliography and Resources
Planar Analysis
Presentation: Why Looking for Planes?
Introduction to Planes and Volumes
Ellipses and Axis
Planar Analysis Drawing: Complex Objects and Three-Dimensional Elements
Sketchbook Activity: Notes from Memory
Using a Viewfinder
A Crumbled Paper
A Piece of Fabric
Bibliography and Resources
Perspective
Presentation: General Concepts
Exercise: Finding the Vanishing Points, Horizon Line and Orthogonal Lines
Exercise: Ellipses and Round Objects in Perspective
Exercise: Perspective Boxes
One Point Perspective Drawing
Two-Point Perspective Drawing
Three-Point Perspective Drawing
Seven-Point Perspective and Intuitive Perspective
Bibliography and Resources
Value
Shading a Ball. General Concepts
Presentation: Contrast and Value
Value Drawing #1
Sketchbook Activity: A place. (Notes on Value and Distance)
Foreground, Midground, Background: Tips on Landscapes
Sketchbook Activity: Value Scales (Dots, Lines, and Pressure)
Toning Paper
Subtractive Drawing
Drawing on Toned Paper
Presentation: Texture and Value
Exercise: Playing with Contrast Levels
Sketchbook Activity: Materials
Sketchbook Activity: Inverted Value
Bibliography and Resources
Intuitive Figures
Human Figure
The Importance of Observation
The Importance of Basic Shapes
Gesture and Human Figure
Volume, Perspective, and Human Figure
Storytelling and Characters
A Head
A Hand
A Foot
A Body
Quick Poses
A Face
Bibliography and Resources
Last Words