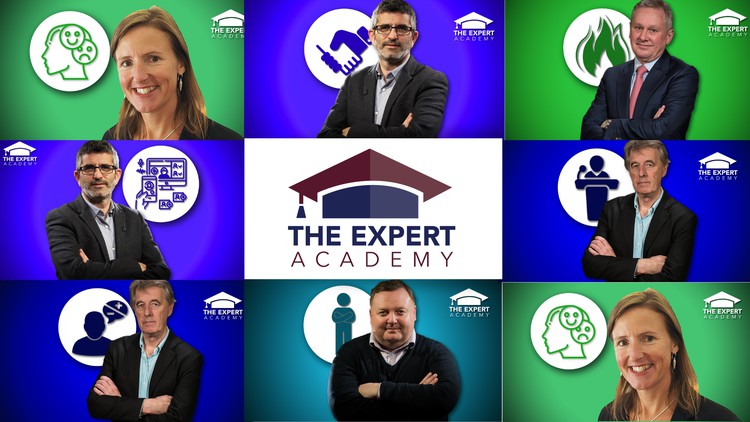 Master Communication Skills: Learn Persuasion, Negotiation, Body Language, Emotional Intelligence & More!
What you will learn
Communication Skills
Persuasion Skills
Influence Skills
Social Skills
Negotiation
Body Language
Emotional Intelligence
Public Speaking
Virtual Communication
Description
THIS COURSE IS TAUGHT BY THE WORLD'S TOP EXPERTS AND IS COMPRISED OF 7 HIGHLY SUCCESSFUL ONLINE COURSES COMBINED INTO 1!
Here's a list of the 7 independent courses being offered:
The Psychology Of Persuasion & Influence (With Phil Hesketh)
Negotiation Skills: Become A Master Of Negotiation (With Gavin Presman)
Body Language & Lie Detection (With Darren Stanton)
Emotional Intelligence (With Jane Sparrow)
Public Speaking (With Alan Stevens)
Difficult Conversations (With Alan Stevens)
Virtual Communication (With Gavin Presman)
AMONG A LONG LIST OF THINGS, HERE IS WHAT YOU ARE GOING TO LEARN:
How to successfully persuade & influence people
Communicate effectively in any situation
Improve your relationships
Professional negotiation skills that make you a smart, confident & effective negotiator
How to keep your thoughts & emotions in check
Understand types of personalities
Boost your confidence
Read body language & detect lies
Make a good first impression
Challenge your limiting beliefs
Become emotionally intelligent
Better understand your emotions and the emotions of others
Manage emotions in yourself and others
Take back control of your life and become the best version of yourself
Deal with difficult people, situations & circumstances effectively
Deliver a great speech
Feel 100% confident & deliver great presentations
Ensure your presentations have the right impact on your audiences
Handle difficult conversations
Handle challenges whilst remaining calm
Connect, communicate & sell successfully using online virtual platforms
Create deep connections
Bring your online meetings to life
…& so much more!
MEET YOUR EXPERTS:
1) Phil Hesketh:
Philip Hesketh is a motivational speaker specialising in persuasion and influence. His keynote talks have inspired thousands of professionals to engage in better relationships with their clients and customers and increase sales.
Philip's whole career history is steeped in Business Development. From Procter & Gamble and Tyne Tees Television, to his own advertising agency; his track record of getting new clients is, to use a client's expression, 'World Class'.
He has learned what clients want and what they don't. He has learned what works and what doesn't. In building a business from zero to £48m he made many, many mistakes. And he claims to have learned more from the mistakes than from the many successful pitches to blue chip companies. His in-house programmes usually form a trilogy over three half days with the focus very much on how to develop relationships and become more persuasive and influential through understanding the whole psychology of why we do what we do.
2) Gavin Presman
Gavin Presman is one of the world's most effective sales and communication trainers, having inspired thousands to commercial success across the globe. He is a best-selling author on Sales and Negotiation and is regularly called upon by many of the world's leading companies such as Microsoft and Twitter to train their sales leaders and teams.
In the UK Gavin is the recipient of 2 highly prized National Training Awards for his work with The Guardian (2005) and Global Media (2010). In 2016 he won Microsoft's coveted "Highest Rated Global Trainer" award. He is the Lead Global Commercial facilitator for The How To Academy, and a fellow of the Global Faculty for Microsoft and Partners In Leadership (PiL).
Gavin's professional mission is to inspire and empower sales leaders and teams to make a difference, in their businesses, their communities and their lives. His partnership with The Expert Academy has produced 3 top-rated Udemy Sales Programmes, and participants value the energy, enthusiasm and experience he brings to the role of virtual training.
Gavin is a Master Trainer and Practitioner of NLP, a graduate of the acclaimed One Thought Academy (Three Principles) as well as a Master Trainer and Partner for Lumina Learnings innovative development tools, which he launched in the UK in 2010. As one of the first cohort of Global VILT (Virtual Instructor-Led Training) instructors for Microsoft in 2016, he has developed a deep understanding of virtual and online learning, which he brings to his role as developer and instructor on The Expert Academy Business programmes. Gavin is also a Founder of Cultivate – the Virtual Pitch, Presentation and Communication Academy.
3) Darren Stanton:
Darren left behind a career as a front line British Police Officer to become a renowned expert on Body Language, Deception Detection, Influence and Persuasion. The media simply call him "The Human Lie Detector".
Darren has made his mark in the public eye assessing some of the world's biggest names in showbiz and politics. These include political heavyweights such as Hilary Clinton, David Cameron, Donald Trump & Tony Blair, whilst his eclectic list of celebrities stretches from the likes of Johnny Depp & Taylor Swift to Katy Perry & Tom Hiddlestone to name just a few.
He is also an accomplished journalist having written articles for the worlds press assessing public figures on their body language.
Darren regularly appears on television, for example BBC's The One Show & ITV's This Morning in the UK . He frequently appears on news channels as diverse as Sky News and Russia Today.
He is widely recognised as a world authority on the subject of body language.
4) Jane Sparrow:
Jane has spent her career working with organisations across the globe to create sustainable high-performance cultures.
She began her career at IBM before holding a variety of senior positions in organisations such as Sony Europe, The Energy Project and MCA (now part of the WPP Group). Founder of the business consultancy The Culture Builders, specialising in transformational change, engagement and sustainable high performance cultures, Jane is passionate about enabling others to perform at their best to achieve organisational and personal goals. Her approach is grounded in the belief that by moving people beyond being simply 'savers' in an organisation and working with them to become 'investors' – people who will put far more in, organisations can unlock their performance potential.
Jane's work enables people to sustain high performance by creating nurturing organisational cultures and engaging people. She delivers high-impact keynotes and workshops, works with leadership teams to shape strategy, coaches board members, and runs high-performance programmes.
Jane is an expert facilitator, consultant, performance coach and impactful speaker that regularly provides her opinions and insight to the global media. Jane's work has also been incorporated into multiple university and business school curriculums, including MBA programmes. She is also one of a number of selected business and policy leaders, academics and influential thinkers who work with business leaders to respond strategically to sustainability challenges, through Cambridge University's Prince of Wales Business and Sustainability programme.
With an interactive, dynamic and inclusive style, always supported by real life examples and practical advice, Jane's keynotes leave audiences feeling both inspired and empowered to act in their own organisations.
5) Alan Stevens:
Alan is a reputation expert who was Past President of the Global Speakers Federation and is the director of MediaCoach. He is also an author and journalist, and both a TV presenter and expert interviewee. He has been speaking remotely since 1998, and created a Facebook group for fellow professionals who wish to speak remotely. It's called, unsurprisingly, Remote Speaking. His clients include politicians, TV presenters and sports stars as well as companies including Virgin, Google, The Beverly Hills Hotel, BMW and Mumm Champagne. The Independent newspaper listed him as "one of the top 10 media experts in the UK".
English
language
Content
7 COMMUNICATION COURSES IN 1
Course #1: The Psychology Of Persuasion & Influence
Course #2: Negotiation Skills: Become A Master Of Negotiation
Course #3: Body Language & Lie Detection
Course #4: Emotional Intelligence
Course #5: Public Speaking
Course #6: Difficult Conversations
Course #7: Virtual Communication
COURSE #1: THE PSYCHOLOGY OF PERSUASION & INFLUENCE
What You Will Learn This Course
Who Is Phil Hesketh?
OUR 7 FUNDAMENTAL PSYCHOLOGICAL DRIVERS
Psychological Drivers: 1 – Love, 2 – Importance & 3 – Belonging
Psychological Drivers: 4 – Belief
Psychological Drivers: 5 – Certainty & Uncertainty
Psychological Drivers: 6 – Need For Growth
Psychological Drivers: 7 – Need For A Place
WHY WE DO WHAT WE DO AND HOW WE FORM OPINIONS
First Impressions ~ How They're Formed And How To Form A Good One
The 'Facts, Feelings And After Effects' Of Every Conversation
How To Get People To Jump Through​ Hoops Like A Dolphin
The Psychological Difference Between Persuasion And Influence
The Importance Of Understanding How People Have Beliefs And How Placebos Work
BODY LANGUAGE: READING & INTERPRETING IT
How To Read Body Language And the 'Tells'
The Difference Between 'Intent' And 'Impact'
How To Work Out What People Really Mean When They Say Certain Things
The Big Difference That Little Words Can Make
How To Tell When People Are Lying And What To Do About It
HOW TO HANDLE DIFFICULT PEOPLE WITH A SMILE
How To Put Things Right When You've Put Things Wrong
The Principles Of Objection Handling
The Importance Of Being Part Of The Solution
Constructive Criticism
How To Handle Difficult Situations During And After The Event
HOW TO KEEP IMPROVING RELATIONSHIPS
How The Roman Empire, The Beatles, And The Titanic Really Failed
How And Why All Relationships & Companies Follow The Same Course
How To Keep Improving Even The Best Relationships
HOW RELATIONSHIPS DEVELOP & HOW TO RELATE TO PEOPLE
How To Develop Trust And How To Measure It
How To Get On With Everyone Better
How To Understand People Better And The Role Of Linear Probing
How To Improve All Your Relationships In The Long Term
CONCLUSION
What We've Covered So Far
Next Steps
COURSE #2: NEGOTIATION SKILLS: BECOME A MASTER OF NEGOTIATION
Welcome & Course Overview
THE PRINCIPLES OF COLLABORATIVE NEGOTIATION
Why Good Negotiation Practice Leads To Better Relationships
Shameless Book Plug
Millie's Cookies Story
Exercise 1: Intentions / Objectives For This Programme
GIVING STRUCTURE TO YOUR NEGOTIATION STRATEGY
Negotiation Is Not…
Distinguishing Negotiation From "Haggling"
The 7 Steps to Negotiation Success
Exercise 2: Giving Structure To Your Negotiations
STEP ONE – PREPARING YOURSELF FOR COLLABORATIVE NEGOTIATION
Preparing Yourself And Your WIN Outcomes
Exercise 3: Securing Commitment To Negotiate
The 4 P's
The Importance Of Personality
We, Then Me
Exercise 4: The 4 P's
STEP TWO – PREPARATION – UNDERSTANDING THE POWER OF VARIABLES
Introduction To Variables
Examples Of Excellent Creativity In Variables
Exercise 5: Understanding The Power Of Variables
Using The WIN Matrix
Exercise 6: Write Your Win Matrix
STEP THREE – UNDERSTANDING YOUR PARTNER'S POINT OF VIEW
Introduction
Example Story: Maps of the World – Dyl's Den
Exercise 7: Stepping Into Your Partner's Shoes
STEP FOUR – DISCUSSING
Introduction: Stating Intentions
Co-Active Listening: Are You Really Listening?
The Power Of Pause
Exercise 8: Using Open Questions
Exercise 9: Going Above And Beyond Their Wildest Dreams
Exercise 10: Socratic Questioning
Exercise 11: Creating A Discussion Agreement Statement
STEP FIVE – PROPOSING
Introduction To The Propose Stage
Exercise 12: Putting Your Proposal Into Writing
STEP SIX – BARGAINING
Introduction
Exercise 13: Creating A Bargaining Agreement Statement
The Power Of Silence
Exercise 14: Developing Your Time-Out Strategy
STEP SEVEN – AGREEING
Introduction
The Written Columbo
Exercise 15: Drafting An "Agreement In Principle"
GETTING YOURSELF OUT OF THE WAY – THE HUMAN OPERATING SYSTEM
Introduction – The Missing Link
Exercise 16: Noticing Your Thinking
What Does This Mean In Your Negotiations?
UNDERSTANDING PERSONALITY
Why Personality?
Introducing The Four Colours
Introducing The 8 Aspects
Inspiration v Discipline Driven
Exercise 17: Teddy Bear
Big Picture v Down To Earth
Exercise 18: Football Club Trip
People Focused v Outcome Focused
Splash App
Exercise 19: Completing Your Own Assessment
Negotiation With Different "Personality-Types"
USING THE SEVEN STEPS AT HOME
Using The Seven Steps At Home
AVOIDING COMMON GAMBITS SOME NEGOTIATORS USE
Nibbling – The Columbo
The Flinch
The Red Herring
Higher Authority
The Reluctant Buyer / Seller
The Best Of A Bad Choice
CONCLUSION – CAN YOU REALLY GET MORE BY GIVING MORE?
Conclusion & Thank You
COURSE #3: BODY LANGUAGE & LIE DETECTION
Introduction
Why Is Body Language Important?
Who is this course for?
What Will I Learn?
UNDERSTANDING THE MIND / BODY LINK
Leakage
Dispelling The Myths
State Management
Introduction To Sensory Acuity And Matching / Mirroring
Pace And Lead
THE BASICS OF BODY LANGUAGE
Posture
Voice And Language
Handshake
Eye Contact
Feet position
Representational Systems
Reading Body Language Over The Phone
Body Language On A Date
Anchoring
Micro-Expressions
DECEPTION DETECTION
Introduction
Types Of Lying
Telltale Signs Of Deception
A Famous Example Of Deception
Top Tips For Detecting Deception
BOOSTING CONFIDENCE & QUESTIONING BELIEFS
Visual Motor Rehearsal
The Framework of Beliefs
COURSE #4: EMOTIONAL INTELLIGENCE
Introduction
WHY EMOTIONS MATTER
Introduction
Using The Feelings Wheel & The Science Of Emotions
YOUR EMOTIONAL BANK STATEMENT
Your Emotional Bank Statement
EXPERIENCING EMOTIONS
Experiencing Your Emotions
THE EMOTIONAL SCALE
The Emotional Scale: Practically Mapping Emotions
YOUR 14 DAY CHALLENGE
Your 14 Day Challenge
EMOTIONS IN EXTREME CIRCUMSTANCES
Managing Emotions In Tough Times
The Emotional Scales During Tough Times
MANAGING EMOTIONS IN ME
Managing Emotions In Me
MANAGING EMOTIONS IN OTHERS
Managing Emotions In Others
COURSE #5: PUBLIC SPEAKING
Introduction
DESIGNING YOUR SPEECH
Assessing Your Audience
Objectives
What Do They Want To Hear?
Deciding Your Outcomes
Starting Your Speech
The Key Opening Statement
Core Message Exercise
The Close
Closing Professionally
Keeping Them Interested
Using Notes
Rehearsing
PREPARATION
Preparing to Speak
Controlling Your Nerves
The Day Before
On the Day
Failsafe Measures
Handling Questions
PRESENTATION AIDS
Presentation Aids
Handouts: What Will They Add?
How Much Information?
Using Graphics
HOW TO PRESENT LIKE A PROFESSIONAL
Speaking like a Professional
Perfect Performing
Keeping to the Point
WIIFM?
CONCLUSION
Summary
Next Steps / Resources
COURSE #6: DIFFICULT CONVERSATIONS
Introduction
Why Are Some Conversations Difficult?
Preparation
Set-Up and Room Layout
How to Start the Conversation
Active Listening and Responding
Ask Open and Supportive Questions
Focus on Facts, Not Personalities
Use of Tone and Body Language
Exploring Alternative Solutions
Handling Challenge
How to Close a Difficult Conversation
Summary – What We've Covered
Thank You and Next Steps
COURSE #7: VIRTUAL COMMUNICATION
Introduction
Actionable Insight
CONNECTING VIRTUALLY
Using Virtual Tools To Connect
The Virtual Difference
Engaging Questions
UNDERSTANDING PERSONALITY
Understanding Personality
Adapting To Different Styles
INTERACTIVE MEETING DESIGN
Interactive Meeting Design
Three Steps To Success
Mastering Your Technology
ENGAGING YOUR AUDIENCE
Engaging Your Audience Through Storytelling
The Say Say Say Structure
Clarity
Using Your Voice
VIRTUAL PITCHING
How To Use Virtual Presentation Skills To Sell
The Agreement Staircase
Handling Questions
Tips From The World Of Improv