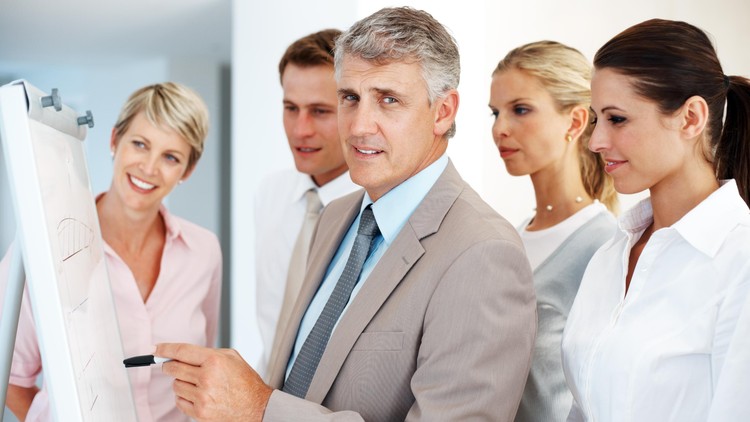 Great Things Happen When Leaders Focus on Communicating to Drive Change
What you will learn
Ace media interviews
Look good on TV
Formulate media messages
Answer questions from reporters
Speak in sound bites
Communicating to drive change
Leadership
Make new changes
Description
Communicating to Drive Change – The Complete Course
Great Things Happen When Leaders Focus on Communicating to Drive Change
Change is going to happen.
It is inevitable. The questions are: what are you going to do about it? How will you react? How will you turn the new circumstances to your advantage?
Take a change in your job status. You've been re-assigned, transferred, promoted, demoted, or the big one: fired. Any of these work changes offers you an opportunity to assess what you are doing and what you really want to explore. Maybe there is an occupation that you've always wanted to try but fear popped up? Perhaps you told yourself, "I'm not qualified" or "I don't have the education, training, or aptitude to be successful." Maybe but it could be just as likely that you have exactly what it takes to succeed in a new career direction.
Or you might be thinking, I'm going to really shake things up. I'm going to start a new business. Risky? Yes. Potentially rewarding? Absolutely.
This course is about the exciting opportunities that change can present.
or example, the course will teach you how to set small, incremental goals to achieve success.
You will learn how to overcome your resistance to change and how to deal with the objections others may have regarding your new way of doing things.
How do you communicate your changes? If you're running a business, you'll need to inform customers about the new direction. The smart business owner will know how to frame the changes in a way that is advantageous to clients and themselves.
Change, even if it's positive can be a tradeoff. For example, if you get a new position that comes with more money, prestige, and power. Others, including those close to you will see you and your circumstances differently. How do you deal with their feelings?
Any change begins with a decision. The economy has changed. Our customers want something different. The cultural is evolving. There are any number of reasons why people decide that they or their business must change. Decisions are about change. In fact, the Wall Street Journal tells us that we make 35,000 decisions a day. Admittedly, a lot of them are insignificant such as what flavor ice cream would you choose. But some decisions or changes could affect the future of our businesses, our income, even our lives. Major decisions should be made by tapping into a wide variety of resources and perhaps people. This entails being open to opinions, data, analysis that my differ from our beliefs.
Sometimes we think we are embracing change but for how long?
Take the example of self-help books. We read them. We get excited. We think something better is going to happen. And maybe for a few weeks, we do change. Until we don't. We start to slip back into our old and familiar patterns. Because the old way we know, the new way not so much.
Same goes for diets. I've read that the average dieter hangs on to their eating plan for six months. And then they revert back to their old ways. Rarely is it a lifetime commitment.
Some other reasons people resist change:
Many changes are a tradeoff. You think that whatever you're going to get in life or work: better job, more money, new life partner or spouse. A new line of work entirely. It may come with higher pay but it may entail more hours at the office. Increased responsibilities like having to hire and fire people. The change sounded good in theory, but the reality could be different.
People might be jealous to your good fortune.
How will others react to your change in your status? You got a promotion at work. More money, fancy title, and a better office. And they may say to themselves, why are they getting all this good stuff, and I'm not? You may have to deal with their jealousy and resentment.
Here's some more of what you're going to learn in How to Turn Change to Your Advantage:
What if no likes the changes that I've made?
How to turn small steps into big changes.
Beware of your blind spots.
How to deal with the changes when you've lost your job.
Strategies when dealing with personal changes. Enhance your Business skill and Communication skills today.
Enroll in this Communicating to Drive Change Course Today
***
Students enrolled in this course will also receive a second course on how to communicate change via the media.
In this "Personal Media Training" course you will receive personalized training, feedback and coaching from TJ Walker, a leading media training coach to CEOs, Presidents of countries, and Prime Ministers. . This is a chance to get expert coaching from one of the true masters of media training, crisis communication, and reputation management. This course is the next best thing to an in-person training workshop, only much less expensive.
Here is what Udemy students say about this course:
delivers the contents in a very engaging manner with clear and concise vocabulary and presentation. My suggestion would be to enrich the course with more practical examples and to create a story connecting the lectures involved in the course. I recommend this course so professionals who need to come out of their comfort zone and really immerse in self-evaluation to become a better manager and to improve himself as well the people he/she manage/leads." Miroslav Panevski
"Great content and really valuable questions to ask. Made me think a lot about my own company goals and what questions I'm currently not asking myself and my team." David Pride
Plus, there's a money-back guarantee. Sound fair enough?
Enroll today!
Please note: this is an Individualized Coaching course conducted by a real person who is speaking and demonstrating communication skills and Media Training Principles. If you are looking for a course with lots of animation, slides, special effects, slick edits, and robotic voices, this course is not for you.
English
language
Content
Introduction
Overview
Answering Your Questions
Media Training Goals
Appearance
How to Look Your Best on TV – Overview
How to Apply Makeup for TV Interviews
How to Sit for TV Interviews
How to Smile for TV Interviews
How to Use Your Eyes During a TV Interview
How to Move Your Head for Video Interviews
Exciting New Update to this Course
How to Move Your Hands for TV Interviews
How to Move Your Body for TV Interviews
How to Sit in Your Chair for TV Interviews
How to Stand for TV Interviews
How to Dress for TV Interviews
Video Record and See Your Improvement
Critiquing On-Camera Appearance
Big Interview Critique
Messaging
How to Frame a Media Message
A Media Message Answers all Basic Questions
Media Messages Must be Interesting to Reporters
Media Messages Must Resonate with Media Audience
Your Media Message Needs to Benefit You
Three is the Perfect Number of Media Messages
Media Messages using a Venn Diagram
Have a Positive Media Message
Add Quantifiable Results to Your Media Message
What Problem are you solving, Media Message
Assignment – Create your own Media Message
Message Critique
Answering Questions
How to Answer Questions in a Media Interview Overview
Answer One Question at a Time
Keep Your Eyes on Your Message Points
Tell Reporters 'I Don't Know'
Do Not Repeat Negative Words from a Reporter
Always Be Moving toward Your Message Points
Give Brief Answers to Tough Questions
Aim for All Three Messages In Every Answer
Re-Write the Reporter's Questions in Media Interviews
Don't Add One more thing at the End of the Interview
Don't try to Control the Interview
Question Critique
Soundbites
What is a Sound Bite Overview
Sound Bites Bold Action Words
Sound Bites Reporters Love Cliches
Sound Bites Emotion
Sound Bites Give Specific Examples
Sound Bites Absolutes
Sound Bites Attacks
Sound Bite Tools Humor
Sound Bite Tools Rhetorical Questions
Sound Bite Tools Analogies
Sound Bite Tools Pop Culture References
Three Easiest Sound Bite Tools
Reflections on Sound Bites
The 5 Outcomes of Every Media Interview
Sound Bite Homework
Sound Bite Practice
Final Interview Practice
Soundbite Critique
Conclusion
Skype Conference
Feedback
Update – You Should Get on the TikTok App Now
Here Is How You Can Get your Certificate of Completion for this Course
Bonus Lecture