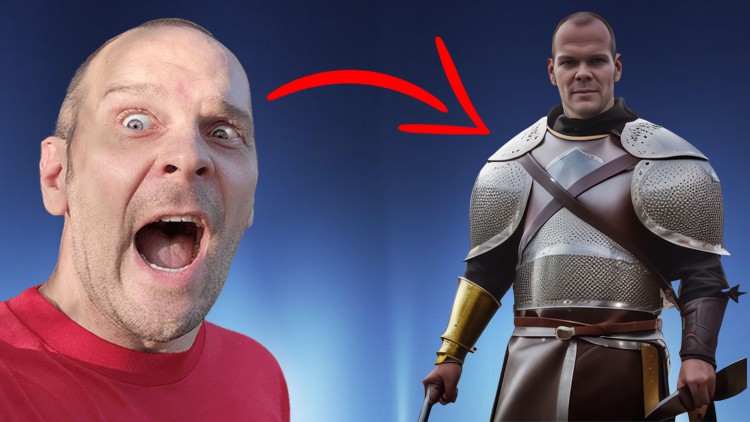 Unleash Your Creativity Through Building a Powerful AI Art Generator, Then Inject Yourself Into The AI Art!
What you will learn
Learn more about AI Art and Image generation.
Learn about the best services out there for AI Image Generating.
Easily create your own AI Art Generator for FREE.
Create AI Images, including AI Images of yourself.
Description
This comprehensive course is designed to provide students with the skills and knowledge needed to build a powerful and free AI art generator for endless images. We'll begin by exploring all the essential aspects of machine learning and AI art, including technology, tools, syntax, prompting, and more. Next, we'll dive deeper into the process of building an AI Art Generator from scratch using neural networks and custom solutions; discovering excellent tools available while comparing paid and free options. After successful completion of these steps, you will learn how to import your own selfie images into your AI Art Generator for limitless visuals!
Throughout this course you will be guided every step of the way towards crafting your own AI Art Generator with ease – one that does not require payment fees or purchase of third-party software. All the while, you can trust in expert instruction on techniques that let you create amazing digital artwork from scratch. By the end of this course you should have a comprehensive understanding on how to construct your own powerful image generator for unlimited images – with absolutely no cost or hassle! So enroll now and take the first step on your journey towards building an incredible AI art experience.
English
language
Content
Introduction to the Course
Introduction to the Course
Introduction to AI & AI Art
What Is AI Art?
Why Would I Use AI Art?
The History Of Artificial Intelligence
A Brief History Of AI Art
How AI Art Can Save You A Lot Of Time, Money, Or Work
The Art Of AI Art Prompts And Prompting For Art
Intro: What are prompts and why are they useful in AI Art creation?
The Anatomy of a Prompt
Prompting Resources
Phraser Prompt Helper
Chibi Studio Prompt Helper
Promptomania Prompt Builder
Searching Others' AI Art
Intro: Why Search Through Other People's AI Art Creations?
Searching Lexica
Hugging Face Community
Searching DeviantArt
Searching Hotpot Gallery
CF Spark Community Feed
ArtHub.ai
Paid Software For Creating AI Art
Introduction to Paid Software
Jasper Art from jasper.ai
Synthesis Vision
DeviantArt – Dreamup
ClosersCopy
Nichess
Ready to Go Software And Tools For Creating AI Art
Introduction to Free Software
Midjourney
Dall-E
Canva
Lensa For Self Images
Stable Diffusion Demo Sites
Freeway ML
Runway ML
And The List Goes On! – Phygital Library
Build Your Own AI Image Generator And Use It As Much As You Want
Introduction To Creating Your Own AI Image Generator
NMKD Stable Diffusion GUI
Stable Diffusion UI
InvokeAI
Stable Diffusion on Google Colab
Using Your Own Images To Seed
Introduction To Putting Yourself Or Others Into Your AI Artworks
Gather Self Pics and Resize
Launching the Software and Training Self Model
How To ReUse Your Model
Using Your Self-Model In NMKD GUI Locally
Advanced Techniques For Finishing Your Artwork
Introduction to Finishing Your Images
Upscaling Your Artwork With Photoshop
RECOMMENDED – Upscaling with UpscalePics
Inpainting
Outpainting
Remove Background with Photoshop
Remove Background with Canva
Remove Background with Romoval.ai
Remove Background with Erase.bg
Making Money With AI Art Creation
Introduction To Making Money
Fiverr Thumbnail Creation Gigs
What is Print On Demand?
Create Custom Silly Pictures With Your Customer In Them
Red Bubble
Amazon Merch
Printful