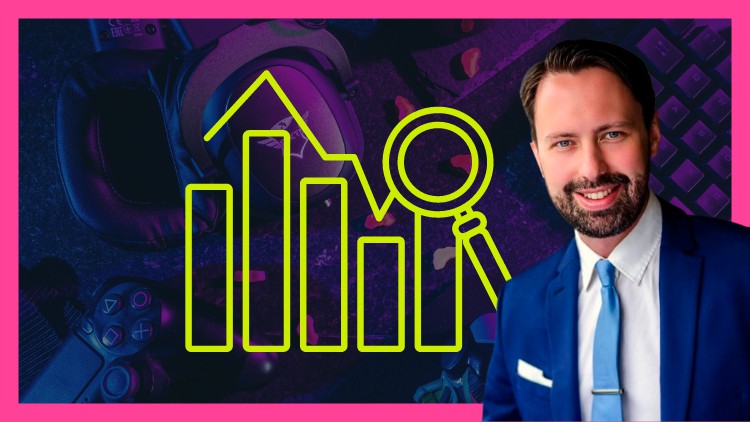 Product Marketing Strategy : Marketing New Product : Product to Market : Product Promotion : New Product Launch Strategy
What you will learn
☑ Potentially Get Hired As A Product Marketing Manager
☑ How To Launch A New Product
☑ Product marketing strategy
☑ Product Marketing Psychology
☑ Marketing & Lead Generation
Description
Learn from an experienced Silicon Valley PMM with a top MBA
Learn how to become a product marketing manager from someone with years of experience in product marketing at small, medium, and large software companies including Sony. Your lead instructor received his MBA from the top marketing school in the U.S. and works in the epicenter of product marketing in San Francisco.
New! Free access to the top-rated book Become a Product Marketing Manager (PDF version)
New! Product Marketing Calendar Template (Excel)
1-Page Product Marketing Plan Template + 1-Page Competitive Analysis Template (Word)
Marketing strategy, tactics, and execution
Interview skills to land a six-figure product marketing position
Day-to-day operational skills
Hard skills in quantitative marketing analytics and software
Soft skills to succeed in the office and get promoted
#product #marketing #strategy #promotion #launch #manager
English
Language
Content
Product Marketing Strategy
Product Launch – Strategy
Target Market
PART 1 : Competitive Analysis
PART 2 : Competitive Analysis
PART 3 : Competitive Analysis – Marketing Strategy & Tactics
Customer Captivity
Value Proposition
Product lifecycle decisions
Managing Cannibalization
Profit
Product Promotion – Marketing Messaging
Making Marketing Go Viral
PART 1 : Messaging in App
PART 2 : Messaging in App
PART 3 : Messaging in App
Important Skills
Calendar Management
Pricing Tactics
Presentations
Career
Various Marketing Roles
Marketing Schools
Working with Product Managers and Designers
Salaries
Interview Etiquette
Print out description
Pause before you speak
Interview in the morning
1-on-1 Interviews
Accept food or drink
Be likeable
Be very careful when asked your opinion
Bring a pen and paper
Bring a calculator
Don't try to impress then
Don't be cocky
Don't be too energetic
Don't bother bringing your resume
Don't discuss your flaws
Don't frown
Don't interrupt
Sit still and upright
Don't lie
Don't speak slowly
Energy levels
Expect changes
Eye contact differences between the sexes
Follow the interviewer's lead
Glassdoor
Hand gestures
Interview process
The Interviewer is on your side
Laughing
Mimic body language
Practice
Remember Names
Wear a dress shirt
Speak little
Speak hypothetically
The Interviewer Matters More
Some interviews are pointless
Tie your answers back to the company
Toastmasters
Advertising Strategies
Three Groups to Focus on
Advertising Focus
Advertising Large vs. Small
Advertising Methods and Costs
Accounting
Companies that don't Benefit from Mass Advertising
Hard to convince
Creative Strategies
Direct-Response Advertising
Evaluating AD Plan from a High Level
Segmentation Limitations
Robinhood
Timing your advertising budget
Budgeting
Branding
The 4Ps
Brands are not Competitive Advantages
Brand Architecture
Brand Design
Brand Design Example
Brand Extensions
Brand Naming
Brand Sounds
Brand Sounds Example
Branding is more important in some context than others
Your Brand's Motto / Slogan
A Point of Confusion
Research, Metrics, and Advertising
Customer Value Proposition
Changing a Brand
Quantitative Marketing Analytics
Price Sensitivity
AB and multivariate testing
Share of Voice
Share of Wallet
Product Features
Calculating value propositions
PART 1 : Optimal Media Mix
PART 2 : Optimal Media Mix
Notes
Customer Lifetime Value
Different Customer Personas
Diminishing Returns
Segmentation
Who will buy from you
What to ask before you collect data
Trends
Churn Rate
Choosing a target segment
Surveys
Identifying most profitable customers
E-Commerce
Predicting
Market share
Seasonality
Two issues
Purchase Intent
Brand Awareness
Advanced Growth Marketing
Growth is often bad for business
Three ways to grow a business
When Growth is necessary
Where does Growth come from?
Sources of Growth : The Marketing Perspective
PART 1 – The Two Types of to Look for Growth
PART 2 – The Two Types of to Look for Growth
PART 1 : Getting Customers
PART 2 : Getting Customers
Riding a Wave is Easier Than Creating a Wave
Growth relies on Having a Clear Financial Goal
Growth Happens in Small Pockets
Measure Demand for Your Product Before You Create It
Growth Hacking a Product Launch
The Early Stages of Growth
How High-level Marketing Decisions Drive Growth
What if you're First to Market?
The Customer Decision Journey
The Measurement Myth
The Optimal Media Mix
Soft Skills
How People will Evaluate You
Interpersonal Skills and Communication Barriers
Ask open-ended questions
Assertiveness
Candor
Commitments
Communicate frequently
Dealing with stress
Encourage everyone to talk
Engaging with new people
Eye contact
Generosity
Giving critical feedback
How do you react in stressful situations?
Listen
Mixed signals
Phone calls
Power
Powerful people
Praise publicly
Silence is your friend
Task-oriented vs. people-oriented
Soft skills tips
PART 1 : Writing E-mails
PART 2 : Writing E-mails
PPC Advertising
Introduction to PPC Advertising
Where PPC Fits Into the Marketing Plan
Where PPC Fits Into the Marketing Calendar
Where PPC Fits Into the Marketing Budget
High-level Advertising Considerations
LinkedIn's Amazing Ability
Landing Page Best Practices
Landing Page Software
Facebook PPC
Save a Lot of Money Using Exact Keywords
Save a Lot of Money with Negative Keywords and Avoiding Partners
Boost Your Ranking and Lower Your Cost
The PPC Tactical Hierarchy
Use Free AD Extensions
The Magical Plus Sign
The Power of Bing Search Engine
Twitter PPC
Advertising through YouTube
Banner ADS on Google Display Network
ADS that Follow Customers
PPC's Key Advantages
BuySellADS
What's Fiverr.com?
Additional Notes
Marketing's Measurement Myth
Evaluating Advertisements
Marketing Automation
Automated Messaging
PART 1 : Limitations
PART 2 : Limitations
Automated Personalizations
PART 1 : The Marketing "Funnels"
PART 2 : The Marketing "Funnels"
Campaign Automation
Hubspot's Marketing Automation
Automated Messaging Using Marketo
Marketing Automation Using Pardot
Marketing Automation Using Salesforce Marketing Cloud
Marketing Automation Using Eloqua Oracle
Increase Conversions by using Automatic Chatbots
Email Marketing Automation with MailChimp
E-Commerce Marketing Automation in MailChimp
Segmentation
Advertising Using Google AdWords
Iterable Unified Omni-Channel Engagement
E-mail Automation Using Drip and AWeber