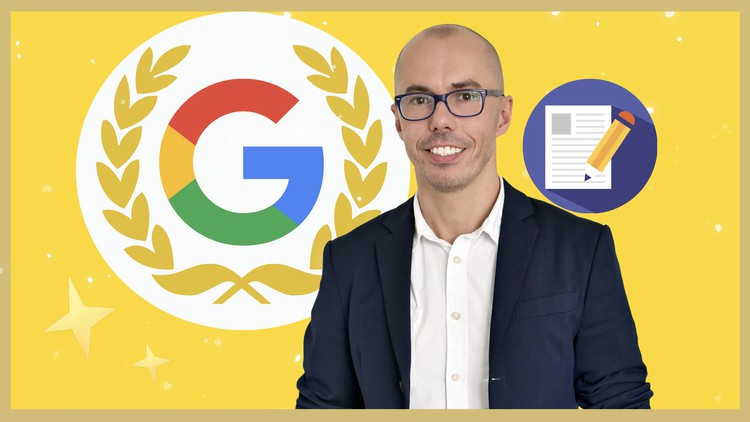 Best of Copywriting: HQ Animated Explainers, 46 Content Marketing Templates, Interactive Quizzes & Writing Assignments.
What you'll learn
This How to Ecommerce Content Marketing, & SEO Guide for Ecommerce Contains Every Essential Type of Example you'll Need to Get Started as a Marketing Expert.

Discover what you Need to Do & Why with Easy Step by Step Template Guidance. Then Save Hours of Time by Quickly Tweaking them so they Fit your Needs Exactly.

Learn how to Create Content that Persuades, Attracts, and Converts with our Expert Templates for Ecommerce that you Customise to Suit your own Products.

Learn Persuasive SEO Copywriting Techniques to Hook Potential Customers Fast. Build Trust & Get to that Sale. Benefit from Pro Content Creation Templates.

Write Perfect Landing Page Copy. Craft High Performing YouTube Descriptions. Create Traffic-Generating Twitter, LinkedIn, Instagram & Facebook Ads that Sell.

Every Piece of Content you'll Ever Need to Sell your Products Effectively Online. Super Enjoyable HQ Animated Course with HQ Voice Over, Quizzes & Assignments.

Get 46 Professional Copywriting Templates you can Customise – and Quickly Create high Converting Email Marketing, Landing Pages, Instagram Ads, and more…

Sell your Products Online. Make your Content the Golden Key to Getting more Traffic & Conversions. Understand the AIDA & FOMO Copywriting PRO Strategies.
Requirements
Suitable for Complete Content Marketing Novices – if you are Eager to Learn and are willing to put our Techniques into Practice – We can Quickly Take you from Beginner to Pro.

An Internet Connection. No Previous Knowledge of Content Marketing is Required at all, only determination and a hunger to learn. We will teach you the rest.
Description
Our Best of Copywriting Course with 23 Hands-On Templates for Ecommerce & 23 Professional General Templates, Interactive Quizzes & Enjoyable Writing Assignments Making Learning Easy & Fun. This How to Ecommerce Copywriting, & SEO Guide for Ecommerce Contains Every Essential Type of Example you'll Need to Get Started as a Marketing Expert. Discover what you Need to Do & Why with Easy Step by Step Template Guidance. Then Save Hours of Time by Quickly Tweaking them so they Fit your Needs Exactly.
Hi there and welcome to our most exciting online marketing content yet!
Copywriting Is Not That Hard to Learn
All you have to do is be willing to allocate the necessary time and effort to learn the various Copywriting concepts. It takes 1-3 weeks to learn the basics of Copywriting.
Join Over 700,000+ Satisfied Students and Enjoy the Easiest Way to Go From Beginner to Pro:
1. Animations With Interactive Quizzes – We've made learning fun and organic – with animated explainers and 700+ Questions so you learn quickly and retain what you learn!
2. Practical Screen Recordings with Step-by-step Explanations – Watch as I show you exactly how to do it – then immediately apply the knowledge. Plus, get proven success Blueprints you can follow – for every key topic I cover.
3. Careers & Freelancing Kickstart Guide – Discover how to start using your new skillset to make money. Land your first job in Digital Marketing or begin a thriving freelance business.
Create a Bond With Your Customers
Quality copy is an essential ingredient in creating a bond with your customers, both in initially gaining their trust and later in sustaining their loyal patronage. We live in an era of sound bites and 140 character messages, but good writing still matters when it comes to marketing your business. Some would argue it's more important than ever in today's competitive landscape, especially with the burgeoning role of social media.
Good Copywriting Is Invisible
Well-written copy delivers your message without attracting attention to the mechanics of your sentences. If you've ever read a poorly-written copy, you know the opposite occurs. You find you're not focused on the message but rather the awkwardness of the statement or the careless choice of words. It slows your reading pace and distracts you from the ideas you're trying to convey.
What Constitutes Good Writing?
Readers want you to get to the point. They're busy. They have other media competing for their attention. Make it easy and enjoyable for them to glide through your paragraphs. Good writing is simple. It's easy to understand. It lacks unnecessary complexity. The vocabulary is varied but not pretentious. Why choose a fancy, multi-syllabic word when a shorter one will do (i.e. use vs. utilize, often vs. oftentimes)? Weed out extra words to improve clarity. Get rid of redundancies, cliches and fluff. Delete energy-sapping words like: very, really, just, quite and rather. What makes writing even more interesting than its style is its substance. Focus on content over craft. Deliver your message in its purest form. Your content will pack more power and inspire a greater response.
The Art of Persuasion Begins With Good Copy
Think of your copy–whether for an ad, brochure or website–as your secret salesperson. Its job, much like a salesperson's, is to persuade the reader to buy your product or service. Be sure it will make a favorable impression, one that is consistent with your branding. In today's media-rich world, there's no shortage of messages competing for your customers' attention. You don't want to lose out because your copy is ineffective.
What Skills Do You Need to have an Effective Copywriter?
Of course, you need copywriting skills but beyond that you need to know how to sell. You can be the best copywriter in the world but if you're ineffective at selling, you won't succeed. You also need to understand how businesses operate. How do they make money? What is their business model? Who is their competition? How do they market their products or services? Those are all basic questions that you'll be considering for each new client you get and the answers will help inform your copywriting for that client. In addition to those skills, you need to have a desire to learn. So much of copywriting involves research and learning about your clients and their industries. If you're not naturally curious, you'll struggle as a copywriter.
Why You Need Our Copywriting & Content Marketing Course:
When you enrol, you'll get Instant access to powerhouse Copywriting techniques that have been proven to deliver.
Learn the Psychology Of Persuasion – Understand the 3 essential stages of the customer journey to purchase – and how to angle ALL your content to move prospects smoothly to the sale. This is the Golden Key to selling more and selling faster – and when you enrol, We'll share it with you.
Learn Copywriting – Persuasive Copywriting Techniques to hook potential customers fast, build trust and get to that sale! Pro content creation templates for every occasion from Twitter posts to Email newsletters, sales letters, and blogs.
Learn Content Marketing – Learn how to get your content in front of the right people – and how to rev up its engagement rate – so you get more Leads, Sales, Comments, & Shares.
Learn Content Creation – Content creation templates and guides for every type of e-commerce, marketing, and social media. Create high-performance email newsletters, Twitter & Facebook posts, Facebook Ads, Messenger Ads, LinkedIn Ads & more…
Learn Outreach – Easy-to-follow PR Template, plus templates for reaching out to influencers on social media.
From Beginner to Pro:
We have created this course specifically to take novices with no knowledge of Copywriting & Content Creation – and turn them into Content Marketing Masters.
It Will Help You:
Become an expert content creator with the power to persuade. – Learn how to create high converting content that gets you more leads, subscribes, and sales with templates and walkthrough guides created by a copywriting pro.
Land your dream job in marketing – with my practical marketing careers guide. I show you how to land that first gig, break down your industry options, and give you guidance if you want to go it alone as a freelancer.
Every piece of content you'll EVER need to sell your products effectively online
If you have an e-commerce store, or want to sell your products anywhere online, then your content will be the golden key to getting more traffic and conversions. When you're not an experienced copywriter, it can be tricky to know where to begin – so we've created our essential ecommerce template collection to help you make more online sales.
In this highly practical guide, you'll get 28 templates all tailored to help you sell online. Write perfect Landing page copy, craft high performing YouTube descriptions, and create traffic-generating Twitter and Facebook ads that SELL.
This is the ONLY guide you'll require to start selling online as it contains every example template, you'll need to get started on your ecommerce journey.
Whether you want to create high conversion landing pages, reach out to influencers to get more publicity, or send email marketing that converts – our easy-to-follow templates will help simplify your task.
We've put 100% into creating this resource for you so you can save time, money, and hours spent pulling out your hair trying to create content!
With our essential ecommerce marketing templates, you get:
PRO Ecommerce Templates for social media – promote your products more effectively with Facebook, Twitter Instagram, LinkedIn, and YouTube!!
High converting Landing page and product description templates – plus get a Perfect Press Release template to snag more coverage for your product launches
Email marketing templates that SELL – handle one of the most important aspects of ecommerce marketing – email – quickly and effectively!!
Outreach templates – get influencers to promote your products and snap up popular guest blog spots
Plus: Essential tips to promote your Ecommerce products on Twitter, Facebook, Instagram and more!!!
What is Ecommerce Marketing?
Ecommerce Marketing is aimed at attracting organic traffic and persuading browsers to convert to buyers that purchase from your online store. It relies on using content like email marketing to landing pages, and social media promotion to build buzz about your brand and promote and sell your products.
Having a solid ecommerce strategy in place helps you win more customers and drive greater consumer loyalty. If you create powerful and persuasive marketing campaigns, more people will hear about and connect with your brand, boosting your sales, followers, and customer conversions.
We've created a selection of the most essential ecommerce marketing templates tailored for promoting physical ecommerce products. Whether you're selling soaps or sneakers, you can quickly customise these tried and tested blueprints to suit your own needs and can use them to attract and convert more custom.
This How to Ecommerce Content Marketing, & Copywriting Guide for Ecommerce Contains Every Essential Type of Example You'll Need to Get Started as an Online Marketing Expert:
Subscriber welcome email template
Time limited subscriber only email offer
Sales letter template for ecommerce products
Landing Page template for ecommerce
Product description template for ecommerce
Sample Instagram Ecommerce Engagement Post
Sample Instagram Product Showcase Post
Sample Instagram Ecommerce Ad
Ultimate Facebook Ad template for ecommerce
Super Short Facebook Ad to Boost ecommerce traffic
Facebook promotional ecommerce post
Sample LinkedIn Ad Template
Incentive to purchase website pop up reminder template
Email reminder to purchase template
The Ecommerce Product Comparison
Guest blog outreach template
Influencer outreach template
Twitter Ad to push traffic to your online store
Twitter Post to boost engagement & sign ups
YouTube Channel Description Template
YouTube Video DescriptionTemplate
Press Release template for your product launch
Ecommerce Copywriting Guide
Learn how to create content that persuades, attracts, and converts with our expert templates that you customise to suit your own products.
Discover what you need to do and WHY with easy step by step templates – then save hours of time by quickly tweaking them so they fit your needs exactly.
We've developed this course to offer you practical, workable ways to achieve ecommerce SEO copywriting success, so you can quickly and easily get ranked on Google and boost your bottom line.
Inside you'll find…
Practical content marketing templates for ecommerce website copy – learn what goes where and WHY
Easy step by steps to finding GREAT KEYWORDS – for your homepage, product pages, about pages and product descriptions
Checklists you can run through – to steer you to Ecommerce copywriting success
Strategy tip lists you can follow – improve your Ecommerce copywriting approach
Technical SEO tips to help boost your website's Google ranking – so you Sell More!
SEO – the Key to your Ecommerce Strategy
SEO is essential for Ecommerce and it will be the founding launchpad for the success of all your campaigns. It's such a crucial element because without a good SEO strategy, no one knows you exist, and they can't find you in Google Search.
Google Search is still the No 1 way people search for – and discover new products and services, so your SEO focus needs to be focused on ranking well on this platform. Once customers find you in Google, and click through to visit your website landing page, or ecommerce store, you need to present them with website content that persuades them that you are the best option.
Optimising your website copy allows you to maximise your chances of getting found by ready-to-spend consumers without the expense of paid-for ads. It's definitely not something to overlook, and in this guide you'll find a number of practical templates you can easily tweak, to help you present visitors with the perfect content.
If you put in just a little effort AND use the blueprints and the strategies outlined in this guide, you should soon start seeing an improvement in your approach to ecommerce SEO.
Are you ready to get started on your ecommerce journey to success and more sales?
Great, then let's dive into our first topic – what is ecommerce SEO and why do you need it?
When you Enrol, You Also Get:
Course Materials And Tuition Worth At Least $2.700 – you get it all – for a tiny fraction of the cost!!
46 Copywriting Templates you can easily customise for your e-commerce business
Handy PDF & MP3 packed with useful and Free Extra Resources you can download from our Resource Centre
Interactive Quizzes & Writing Assignments
Lifetime access & Lifetime updates
Udemy certificate of completion – ready for download
30-day money back guaranteed by Udemy
Fast & friendly support in the Q&A section – ask me a question anytime
We wish you every success and can't wait to welcome you on board.
Yours,
Ing. Tomas Moravek, Internet Efficiency Awarded Digital Marketing Expert
Beck Robertson, NCTJ Qualified Journalist and Copywriter with over 12 Years' Experience
& Team
Who this course is for:
For You.
B2B, B2C, Entrepreneurs, Start-ups, Marketers, Influencers, Facebook Admins, Facebook Editors, Social Media Marketers, Facebook Marketers, Content Creators, Creatives, Copywriters, Graphic Designers, Advertisers, Real Estate Agents, Job Seekers, Local Businesses, Website Owners, Website Admins, SEO Help Seekers, SEO Content Creators, Website Creators, Bloggers, Etc.
English
language