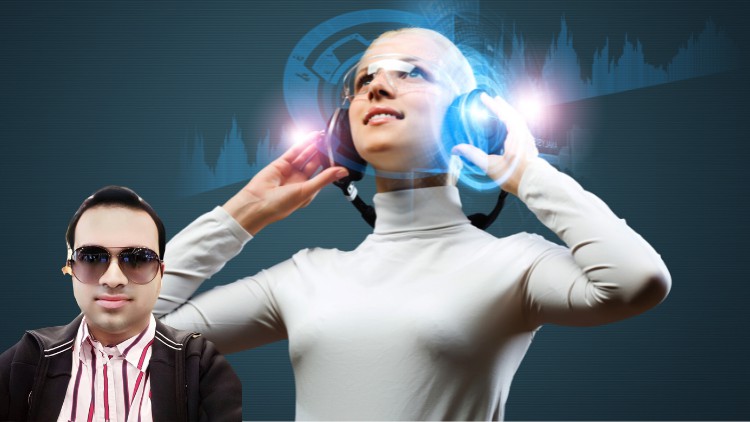 MBA in Creative Arts, Design and Animation: Level 1 – Part 8 course on artificial intelligence audio book creation tools
What you will learn
Write an article on any topic with using AI for Research
Convert the text to audiobook in the fastest way possible
Convert audio to video in minutes with AI
Perform Visual Effects (VFX) for the video in minutes for the intro
Clone your voice in minutes
Description
Welcome to the eighth course in the series "MBA in Creative Arts, Design and Animation" – Artificial Intelligence Powered Audio Book Creation
If you know Siri, Cortana from Microsoft, Denise from Nextos, Alexa from Amazon or those handy voice GPS directions on smartphones, then congrats! You're already acquainted with TTS. This course will just help you bridge the gap through an ocean of knowledge with the power of Artificial intelligence based TTS tools.
Text to speech, abbreviated as TTS, is a synthesis of speech that transforms text into voice output. Text to speech systems was first developed to help the visually impaired by providing the user with a spoken voice created by a machine that would "read" text.
Text to speech enables content owners to adapt in terms of how they communicate with the content to the specific needs and desires of each user.
Businesses, Organizations, and Publishers that utilize TTS (Text to Speech) technology benefit from:
Enhanced customer experience
Effective branding
Global market penetration
Optimized development and maintenance
More autonomy for the digital content owner
Saved time and also, money
Easier implementation with Internet of Things (IoT)
Word-of-mouth marketing
Increased web presence across markets
Enhanced employee performance
This is a mind-blowing and unbelievable new course on Text-to-Speech (TTS) software that you'll never forget. Text-to-Speech takes the written text and transforms it into speech, for that matter. This incredible technology offers several benefits to cater to the needs of consumers, businesses, personal users and educational institutions. Be it a business looking for your next competitive edge or a personal learning student looking to learn a new language or to find your new voice, Text-to-Speech software can be implemented in a variety of ways to help you achieve your goals and get your desired content.
Artificial Intelligence AudioBook Creation will help you research on content using AI, convert them into audio (obviously, a bot can breathe, before speaking a sentence) and later convert them into video podcasts (vlogs) for that matter – all with the power of using Artificial Intelligence – all using various AI tools available on the web.
The use of Artificial Intelligence (AI) in Audiobook creation is a must to know about – as this has the technology to change the world of education, all together. You can also use this tech to go ahead in creating Private Label Rights (PLR) audiobooks to upload on portals like YouTube, Vimeo or Dailymotion etc. One more advanced technology discussed in the course covers the secret technique of "Voice Cloning" that allows you to clone your voice forever. So, what are you waiting for? The power of Artificial Intelligence for TTS awaits you, to the core.
TTS gives a larger number of people, access to your content, such as those with difficulties in literacy, learning disabilities, reduced vision and language learning. It also opens doors to anyone else in need of easy ways to access digital content. Artificial Intelligence usage in TTS goes a long way to play an important role in the creation process of TTS based Audiobooks.
Enroll now, get started today and evoke the brilliance of Artificial Intelligence usage of TTS (text to speech) and be wow'ed like you never have been. This is the time for AI to rule the audiobook universe and beyond.
English
language
Content
Research, Development & Audio Conversion: Phase 1 (Artificial Intelligence)
Introduction to using Artificial Intelligence for Content Development Research
Overview of remixing PLR content
Converting text to speech using a special TTS tool
One more bonus tool to convert text to speech
Converting the audio received from TTS Reader to mp3
Video Conversion Essentials: Phase 2 (Artificial Intelligence)
Conversion of MP3 to a high quality video podcast
Adding VFX to our video using cloud VFX tool and Voice Cloning Secrets
Convert Full Documents to Audio in 1 Click
Bonus Lecture: Take your prize