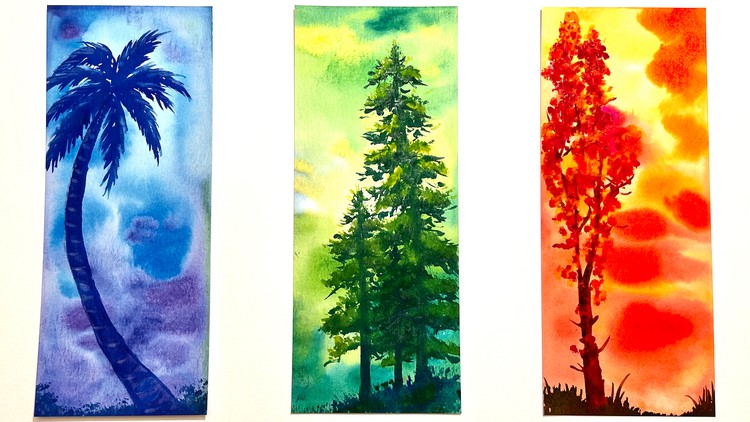 Learn to paint watercolor trilogy of trees
What you will learn
Learn basic watercolor skills
Learn color theory and know how to blend colors harmoniously
Learn about layout and structure of art work
Produce a piece of trilogy of watercolor trees
Description
Hello dear friends, welcome to my class. Today, In this class, we will learn to paint a trilogy of trees in watercolor. I will show you step by step the creative process, discuss the choice of color as well as reflect and critique the finished piece.
The class is real time recording, no speed up or time lapse, so you see exactly how colors react and mingle with each other. Oftentimes, they are unpredictable, which adds the fun and mystery of watercolor. We learn to accept and follow the call of creativity. We work around the flow and let our brushes dance with the colors. Let's paint and discover together.
In this class, we will learn to paint three kinds of trees, palm tree, pine tree and poplar tree respectively with detailed and real time explanation and reflection.
Please feel free to use your own art supplier. For your reference, here are the materials that I use in this class:
Watercolor: Crayola 16 Semi-Moist Oval Pans Watercolor Set with Brush
Watercolor paper: Canson 100510941 XL Series Watercolor Pad, 1 Pack, Multicolor
Watercolor brushes, You will need at least a large soft hair brush, such as watercolor size 10 up and a small outline brush of size 4.
English
language
Content
Introduction
Introduction
Background
Blue and green background
Paint red background
Paint trees
Paint palm tree
Paint pine trees
Paint another pine tree
Paint poplar tree
Critiques of the paintings
Thank you for watching
Thank you for watching