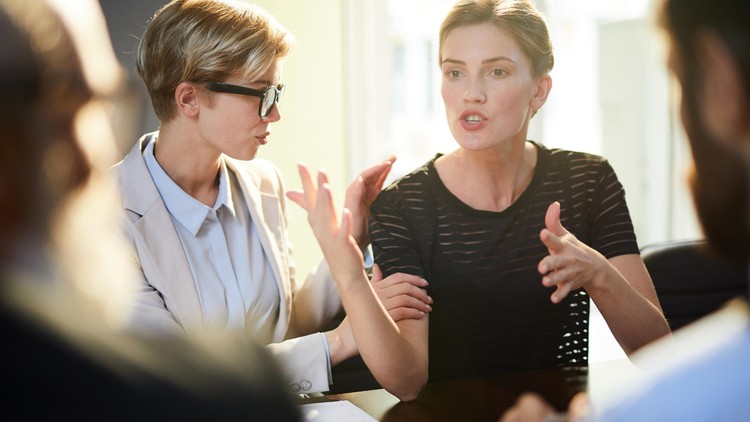 You can speak with confidence and authority. Your voice does not have to undercut your message. Get Voice Training Now
What you will learn
Improve the quality of your voice
Speak with Confidence
Talk in a Conversational Manner
Remove self-consciousness in your own voice
Description
Voice Training. Imagine yourself speaking with confidence, knowing that you sound authoritative, interesting and interested. You can speak with conviction, every time you open your mouth.
How to Improve Your Voice
In this voice training class, you will receive instructions on who to diagnosis problems with your voice and how to solve them. Many vocal problems stem from nervousness. Once you can eliminate nervousness when speaking, your voice problems can be solved. TJ Walker has coached thousands of executives around the world to speak effectively and with confidence.
Please note, this course is NOT for anyone with a severe neurological voice problem.
Imagine being able to use your voice with confidence. Wouldn't it be nice to know that every time you speak, people would focus on your ideas and not your voice?
In this How to Improve Your Voice course you will learn the following:
* How to speak with more energy
* How to sound more conversational
';
}});
* How to avoid the most common problems of sounding boring and monotone
This course is delivered primarily through spoken lectures. Because the skill you are learning is speaking related, it only makes sense that you learn through speaking.
The skill you will learn in this class is not primarily theoretical or academic. It is a skill that requires physical habits. That is why you will be asked to take part in numerous exercises where you record yourself speaking on video or audio, and then watching or listening to yourself. Learning presentation skills is like learning how to ride a bicycle. You simply have to do it numerous times and work past the wobbling and falling off parts until you get it right.
This course contains numerous video lectures plus several bonus books for your training library.
TJ Walker has been coaching and training people on their presentation skills for 30 years. Now, through the power of Udemy's online platform, he is able to give you the same high-quality training that he gives in person to CEOs, Fortune 500 executives, and Presidents of countries. Only you can now receive the training at a tiny fraction of the normal fee for in-person training.
How long this voice training course takes is up to you. The longest part of the course involves you speaking on video or audio, critiquing yourself, and doing it over until you like it. But if you get to the point where you love how you look and sound when you present it will be well worth the time spent. And having this skill will save you time for all future presentations in your life.
You can begin improving your presentation skills right now. You may have an opportunity to speak out as soon as tomorrow, so why waste another day worried that your presentation skills or your voice are not up to high standards. Please enroll today.
This Voice Training course is ideal for anyone searching for more info on the following: voice training – deep voice – singing – vocal training – voiceover – voice modulation – opera – deep voice training. Plus, this course will be a great addition to anyone trying to build out their knowledge in the following areas: singing – voice-over – voice acting – public speaking.
You Can Learn to Love Your Voice
The Real Key to Using Your Vocal Instrument
You already Have a Better Voice Than These People
Please Introduce Yourself
Learn the Biggest Secret to finding the Strengths and Weaknesses of Your Voice
Problems With Voices and How to Deal With Them
Diagnosis of Your Own Voice
Exciting New Update to this Course
Feedback from Others
Defining Your Exact Problems
Listen to Natural Conversation
Solutions
Practice Again and Record
Don't Lower Your Voice
Practice on Video
Other Techniques
Housekeeping Issues
Who is TJ Walker?
Your Questions Will Be Answered Here, In Video
Update – You Should Get on the TikTok App Now
Conclusion
Conclusion
Time to Give TJ a Piece of Your Mind
Here Is How You Can Get your Certificate of Completion for this Course
Bonus Lecture