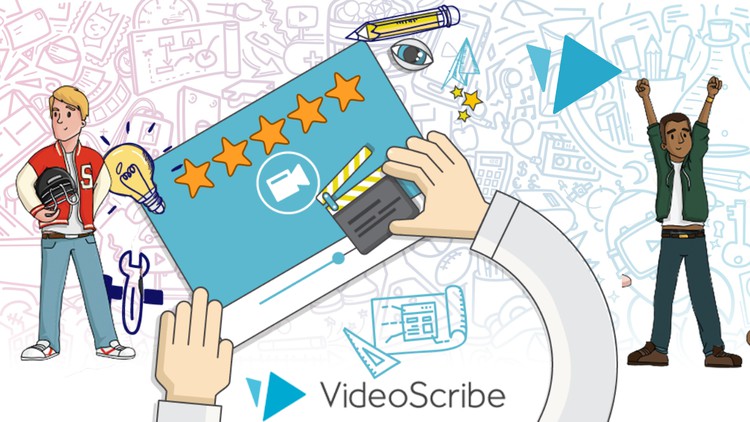 High quality professional Sparkol Videoscribe whiteboard video animations. Videoscribe training videos for beginners
What you will learn
Students will understand how to use Videoscribe
Students will be able to tell captivating stories using Videoscribe
Students will be able to create an engaging whiteboard animation
Students will be able to tell stories visually using whiteboard animations
Students will understand the workflow of Videoscribe
Description
Welcome to our Videoscribe Whiteboard Animations: MasterClass With Project course!
This course is designed for VideoScribe v3.7, to ensure you are using the most up-to-date version we recommend updating your app from your Sparkol account page.
My name is Chetan Pujari. I've been creating videos and teaching courses on how to get the most out of VideoScribe for over 5 years.
In this course, I've captured our top hints and tips so you can quickly learn how easy it is to create engaging whiteboard animation videos using VideoScribe.
Videoscribe is the most used program for creating whiteboard animations because of its intuitiveness, image library, and low cost.
Whether you are an artist or have no drawing skills, this course will teach you how to create captivating whiteboard animations! Videoscribe includes thousands of already created image files to use in your whiteboard animation videos!
But you can start YouTube without all of this. No need for this fancy stuff. You can start YouTube with whiteboard animation. Plenty of whiteboard animation software out there. I will use Videoscribe in this series. Videoscribe is a premium software, so if you are interested make sure you purchased this. Otherwise, this series might not helpful for you.
In this course you will learn how to:
Use Sparkol Videoscribe software
Create whiteboard animations from scratch
Import your own images into Videoscribe
Use thousands of already created images that come with Videoscribe
Develop your creative storytelling abilities
How to incorporate music into your animations
Step by step instructions on how to create your own video animation
Who this course is for:
Anyone interested in Videoscribe
Anyone interested in creating Whiteboard Animations
Anyone who is creative and a storyteller
Anyone who creates videos
English
language
Content
Basic skills
Download and install video scribe
All the basic's of VideoScribe
user preferences
Adding Images & Project 1
Project 2 : Convert story into VideoScribe
Project 3
Image properties
Import and add own images
How to add text in videoscribe
TEXT PROPERTIES
Camera position
Project 4 and Project 5
Chart and chart properties
Change background in VideoScribe
Add and import music
How to add voiceover in VideoScribe
save file
Export Download Scribe
Intermediate skills
Drawing Without Hand Leaving The Screen
Fix elements in videoscribe
Move in, fead in and out effect
Morph effect
Rotation using morph
scale up/down
Advance skills
How I make my videos?
Basics of video editing for beginners in Filmora X
Quick Start
Remove background noise in audacity