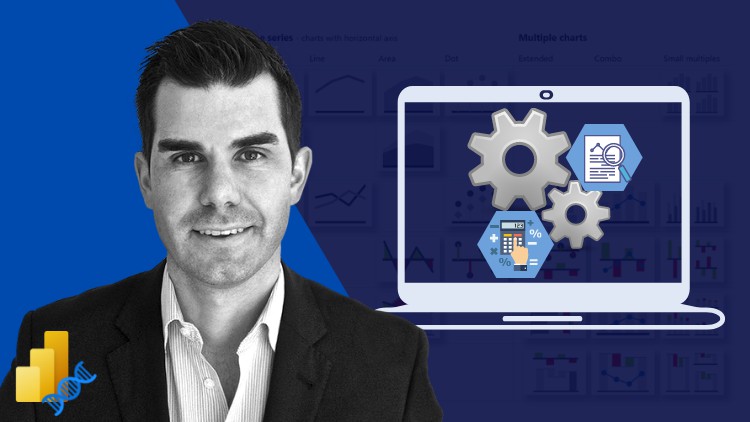 Learn about DAX calculations in Power BI and how to put it into practice when developing Power BI models
What you will learn
Learn how to use DAX formula with Power BI
Learn when and where to use DAX functions
Utilise some of the great features built into the DAX formula bar
Use the data model in combination with DAX formula
Description
An outline of this training course
This is the first part of the Ultimate Beginner's Guide to DAX course. This has been created to give you an introductory understanding of DAX, which is the formula language inside of Power BI. DAX is the true analytical power behind Power BI. If learnt well you can complete some incredible analysis that historically has been quite difficult to achieve with existing tools (like excel). The training covers some theory behind DAX that is important to understand and learn very well before you move on to more advanced formula and using complex analytical techniques.
Details of what you will learn during this course
Learn – what DAX is and why you need to learn it when using Power BI
Learn – the basics of DAX calculations
Understand – formula syntax, writing comments & variables
Review – how the data model and DAX calculations work together
What you get with the course
1 hour of course videos
Demo data set to practice DAX formula with
Power BI file (pbix file) resource showcasing all the examples used during the course
Here are the specifics for the course
Learn how to:
Use DAX formula with Power BI
When and where to use DAX functions
Utilise some of the great features built into the DAX formula bar
Use the data model in combination with DAX formula
Testimonials
"After I have completed yet another course from Enterprise DNA member section, I'm more than convinced that this is an essential platform to go to with any questions regarding DAX or M or, simply to advance my BI skills."- Rafal Maslanka
"Sam identifies core DAX concepts and explains the fundamentals clearly and succinctly. The examples he presents demonstrate the theory well. I have much more appreciation and knowledge now to approach DAX from a filters perspective. Thanks Sam, I learnt so much in this course. I am looking forward to delving deeper into DAX with more of your courses, as part of my membership." – Helen
"I had zero knowledge of Power BI. I just returned to work from my parental leave, and I was assigned onto Power BI project in my company. I took the online course from Enterprise DNA and watched some YouTube videos on DAX formulas, etc. Within 2.5 weeks, I built some dashboards and presented to the management team. They were impressed and love how agile and powerful Power BI is! Thanks Enterprise DNA for the courses and the templates available in the membership portal. They are really useful!" – Lany Noviyani
For a list of all courses available through Enterprise DNA, you may visit our site.
English
language
Content
Introduction
Data & resource downloads
Course Intro
What is DAX and why do you need to learn it?
A review of the data scenario
Setting up your Power BI model
Understanding the basics of DAX
Measures vs Calculated Columns
Simple aggregations
Formula syntax, comments, variables
Main difference between DAX & Excel formulas
Reviewing the data model
How the data model and DAX work together