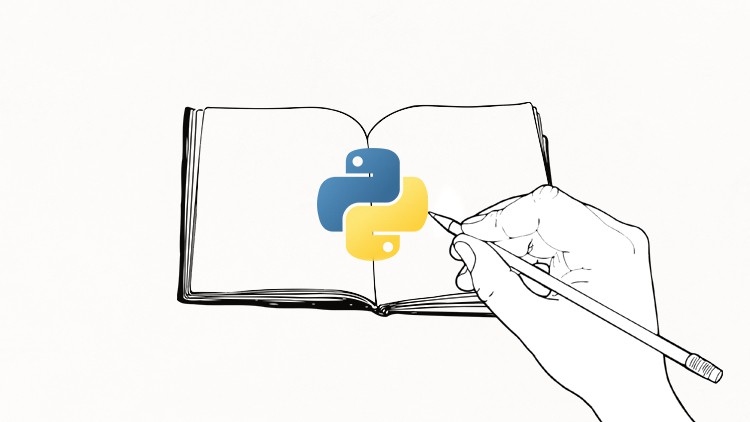 Python Programming Notes Made Easy: Learn by changing values and solving exercise
What you will learn
Learn Python fundamentals, including syntax, data types, control structures, and functions.
Deepen knowledge in advanced topics such as object-oriented programming, data structures, and modules.
Gain practical experience by working on real-world projects.
Develop effective note-taking skills for Python programming concepts.
Learn how to share programming notes effectively and efficiently.
Build problem-solving skills through working on coding challenges and exercises.
Description
The Ultimate Python Notes is a comprehensive course designed to help you master Python programming from beginner to advanced levels. Whether you're starting from scratch or looking to deepen your skills, this course will provide you with everything you need to know about Python programming in a NOTABLE WAY!
This course goes beyond traditional lectures and includes practical coding exercises, projects, and coding challenges to help you gain hands-on experience. In addition to learning Python programming, you'll also learn effective note-taking skills that will help you retain and share your knowledge with others.
The course also includes optional content related to using Raspberry Pi for IoT projects, making it ideal for students interested in IoT applications. By the end of the course, you'll have a comprehensive set of Python programming notes that you can use for reference and share with your colleagues.
Whether you're a student, a professional looking to improve your skills, or someone interested in the field of programming, The Ultimate Python Notes is the perfect course to take your Python programming skills to the next level.
This course is consistently updating and more notes will be available in future.
Currently, the course contains 170+ notes!
Some of the available projects are related to specific python fields such as
CyberSecurity
Data Science
API
English
language
Content
Introduction
Course Introduction
Overview
Installing Python
Before We Get Started
Installing Python
IDE Installation and Adding Python Package
Python Basics – Straight Forward Information
Python Basics – Before Downloading the Notes
Python From CMD and Terminal
Print in Python
Mathematical Operations in Python
Data Type in Python
Comments in Python
Arrays in Python
For Loop in Python
While Loop Python
If and Else in Python
Functions in Python
User Input in Python
Pre-build Functions in Python
You are now Ready
Downloadable File – Beginner Level Notes
Beginner Section Overview
Beginner Level – Table Of Content
Beginner Level Folder
Exercises and Solutions
Download File – Intermediate Level Notes
Intermediate Section Overview
Intermediate Level – Table Of Content
Intermediate Level Folder
Exercises and Solutions
Advanced Python Projects
Advanced Section Overview
Projects – Table Of Content
API Projects
Cybersecurity Projects
GUI Projects
Data Science Projects
IoT Projects
Bonus
Coding Exercise #1
Coding Exercise #2
Solutions – Downloadable File