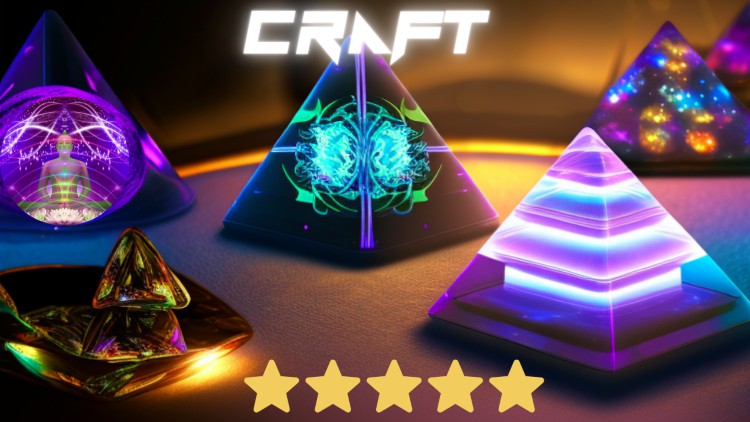 Discover the potential that you have to create beautiful gems.
What you will learn
Orgone energy a brief story about orgonites.
All tools that its necessary to build unique crafts orgonite and normal crafts. you will be able to make pyramids, anklets, pendants, rings, bracelets, etc.
Materials and accessories recommended. mistakes to avoid, tools, precautions.
Video tutorials, PDF ebooks and documents to watch and read.
Description
Are you ready to unleash your creativity and create breathtaking, one-of-a-kind Orgonite crafts that will elevate your home decor to the next level? Our complete step-by-step course will guide you through the magical process of working with resin, crystals, and metals to create stunning pyramids, rings, earrings, and so much more!
This is not just a course, it's an opportunity to tap into the power of Orgonite and transform your life. These gemstones have vibration frequencies that can shape stimulate, interlock with your individual's earth energy field, realign or amplify human psychic through directing vibration energy. Imagine being able to bring light and color to your overall aura and physical body with the beautiful creations you will learn to make in this course!
The Ultimate Craft Design Course, you'll learn everything from the basics to advanced techniques, and with the included video tutorials, PDFs available for download, you'll be able to craft like a pro in no time. Create unique and powerful pyramids with vibrant colors and different types of crystal quartz, fashion earrings with vibrant colors and different designs, beautiful powerful pendants, accessories, anklets, different ideas to decorate your home with pyramids, illuminating your bedroom with warm comforting light to relax and meditate with different geometric pyramids designs.
Don't miss out on this once-in-a-lifetime opportunity to master the art of Orgonite crafting and elevate your home decor to new heights. Sign up for our course now and start creating beautiful, unique pieces that will leave your friends and family in awe. Don't let this opportunity slip away, join now and start making beautiful crafts to decorate your home and improve your energy field.
English
language
Content
Introduction, welcome students.
Introduction, more details about the course.
Orgone energy, What is Orgonite ? In this section you can find PDF files.
A basic information about the story behind the Orgonite.
Materials necessary to build crafts. Important notice about necessary care.
Materials part 1.
Materials part 2.
Pyramids, how to start to build pyramids, unique design.
Pyramids lesson 1.
Pyramid lesson 2.
Pyramid lesson 3. different molds, ideas to build a pyramid.
Pyramid lesson 4, four pyramids with different colours.
Pyramid lesson 5, how to fix your pyramid if its necessary.
Pendants, craft collection. beautiful and unique gemstones.
Pendants lesson 1.
Pendant lesson 2.
Pendant lesson 3.
Jewerly section, bracelet, earrings craft. rings.
Earrings, bracelet craft ideas.
UV resin. lesson video tutorial.
UV resin lesson.
UV resin lesson 1.
UV resin lesson 2.
Conclusion, results, special message for my students.
Ideas, my results, and conclusion.
Quiz
Wich resin i recomended to make pyramids for decoration ?