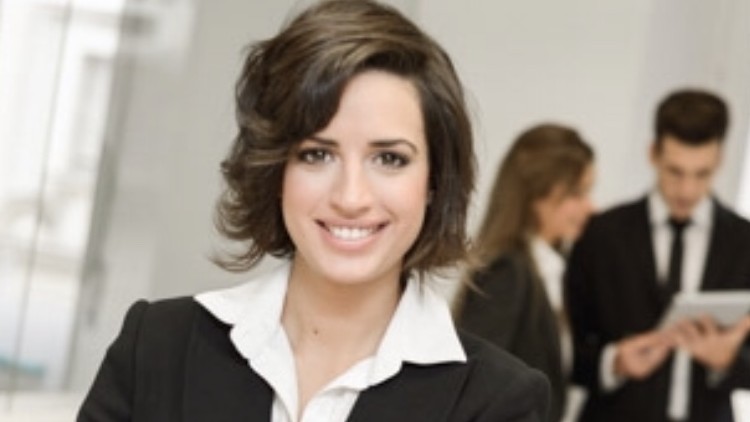 Video Production – Building Confidence on Camera for Video Marketing – Filmmaking – Videography – Cinematography
What you will learn
Produce video with professional looking talk head segments
Speak effectively on camera
Produce video, TV, movies, and online content with compelling so-camera performances
Master the non-technical aspects of video production
Direct professional and non-professional on-camera talent
Be able to direct and produce yourself for your own on-camera videos
Description
Video production. There are thousands of online video production courses, so why should you enroll in this one? This is the longest, most comprehensive, and most in depth video production course in the world on the specific niche of how to make human beings come across their best when they are speaking on video.
The missing ingredient in so many video productions is having a compelling, interesting, engaging human being speaking. So many courses on video production get lost in the details of lighting, editing software, and the latest technology with video cameras. Of course, all of those things are important, but if all you do is focus on the technology you can still end up with the boring, lifeless, and uninteresting video.
If you are only going to take one video production course, then this should not be your course. But if you're serious about producing high-quality video then you should take this course in addition to others that cover all the basics of the technical aspects of video production. Frequently, great video production features compelling human beings speaking on camera. If all you do is obsess over lighting, graphics and animation you're doomed to create a mediocre video.
If you are creating videos for online courses, YouTube channels, Facebook pages, email marketing, website content, etc. then you are likely featuring yourself or somebody else speaking on camera. You need to know how to make that person come across great. Because if you have great lighting, great editing and beautiful fonts, none of that matters if the person speaking on video seems flat, or bored, or boring, or uninteresting, or low energy, or bland.
If your video production is going to be high-quality then you need to know how to direct talent speaking on camera, even if you are your own talent. This course is longer and more in depth on the subject of directing talent and than any other video production course on this platform.
Message from the instructor: "I've been producing videos with experts, politicians, CEOs, and business leaders around the world for more than 30 years. Most people are simply not great at speaking in a convincing way in front of a video camera. They must be directed, coached, and advised in a certain way to make them look and sound their best. In this course, I share with you all the secrets I've learned from coaching more than 10,000 executives before their media and on camera experiences." TJ Walker
Please note: this course is not designed for video producers who are exclusively focused on cartoons, animation, special effects, and pure image-based video productions.
This course is meant to supplement at least one other course of your choosing that covers all the technical aspects of video production.
Technicians, editors, and production assistants are increasingly seen as a commodity in today's worldwide video production employment marketplace. If you want your video production skills to really stand out and for you to be seen as a first class producer then you need to know how to be a great director and to bring out the most compelling presentations from anyone speaking on camera in your video production. This course will teach you how.
Here is what Udemy students say about this course:
"Full of great information, without the fluff. Great instructor, and great presentation." David Lee
"Direct, well-organized, motivated facilitator, great course!" Brenda Newby
"Lessons are short but packed with information. This course covers much more topics than I expected. Lectures are interesting to watch, easy to understand and all of them could be used to improve any video with talking heads. Great course!" Tihon Sergeenko
If you are ready to bring your video production skills up to a whole new advanced level, then enroll in this course right now.
This Video Production course is ideal for anyone searching for more info on the following: filmmaking – video production – video – cinematography – film making – content creation – video editing – intro to basic video creation – videography. Plus, this course will be a great addition to anyone trying to build out their knowledge in the following areas: video editing – adobe premiere – video marketing.
English
language
Content
Produce Great Talking Head Videos Quickly and Effectively
Quick Wins! This Tip Will Solve the #1 Problem In Most Talking Head Videos
Here Is How You Cure the 2nd Biggest Problem When Producing Talk Head Videos
Attention Producers and Directors – This Will Add Years Back to Your Life
Watch This Video To See If This Course Is Designed for You
Eat With the Talent To Make Your Production Go Smoother
Do THIS In Case the First Video Takes Are Awful!
Tips to Make On-Camera Talent Feel Less Nervous
Here Is How To Get The Most Out Of This Course
Assignment: Testing Your Communication Skill To Make Sure It Works
Exciting New Update to this Course
It Seems Like a Good Idea To Memorize the Script, But It Is NOT
Overcome Challenges When Working With Professional Spokespersons
How To Direct Children In Video Productions To Get Great Results
Producing Videos with Politicians and Candidates To Bring Out Their Best
The Ultimate Challenge: Directing Yourself In Videos
Read The Mind Of Your On Camera Talent to get the Most from the Video Production
The Homework Assignment You Will Hate Now But Will Love Later
The Right Kind of Hands-On Production
Course Update! Live Instructor Office Hours are Now Available
Good Fundamentals In a Talk Head Video Can Trump Special Effects and Glitz
Here Is How to Use Cue Cards Effectively
Directing the Voice-over for Your Video Production
Don't Let Your Script Detract From Your Mission
Here Is How You Write Scripts for the Ear, Not for the Eye
Managing Your Expectations for Your Final Video Production
What Works Best On Live TV Can Work Best for Your Video Production
Getting The Most Out Of Non-Professional Communicators
Looking At Your Production Goals Beyond the Script
Forget the Book Deals to Make You Famous. Now It's Becoming a video Star First
This Is How You Or Your Talent Will Look The Best On Camera
Overview of How to Coach and Direct On-Camera Talent
Sell the Message by Selling the Messenger
Sit Like This to Look Your Best – Confidence on Camera
Here Is Where to Look On Camera
Never Look Bored or Scared Again
Move Like a Seasoned TV Pro
Never Let the Seat Swallow You Up
Standing In Front of the Camera With the Greatest of Ease
Dressing for TV and Video Success
Your Turn to Be On Camera
Makeup for Your Video Production
Here is Why You Need Makeup
Makeup Tips Just for Women
Makeup Tips Just For Men
Preparing Your Own Makeup Routine
Establishing Your Makeup System
Assessment Form to Help You Grade Yourself and Others
Here Is the Form I use To Assess Clients' Video Skills
Assessment form
Posture
Eye Contact
Clothing
Hair
Face Movement
Head Movement
Gestures
Body Movement
Voice Volume
Energy
Proper Breathing
Variation in Tone
Pauses
Speaking Speed
Confident
Comfortable
In The Moment
Verbal Tics
Easy to Understand
Enthusiastic
Engaging
Worthwhile Message
Simple Messages
Examples
Stories
Simple Words
Sentence Structure Variation
Biz Speak and Fillers
Frequently Asked Video Production Questions
What Do I Do With My Hands?
What Do You Do If You Hate Your Voice?
Do I Have a Face for TV or Radio?
Why Do You Hate Teleprompters?
What is the difference Between YouTube and Facebook Video?
Why Does Skype Video Look so Bad?
What Is the Best Video Editing Software?
How Did You Get To Be So Smooth and Professional On Camera?
What Are Little Distractions People Make?
Should You Wear Glasses During an On-Camera Interview?
Should You Take a Beta-Blocker, Drink Alcohol or Use Marijuana Before Interviews
What Is the Best Way to Speak Into a Microphone?
Are You Born With Great Media Skills Or Are They Learned?
What Is the Best Way to Dress for a Video Appearance?
Overview on How To Leverage Simple Video Production Into Prime Time Network TV
Should I Take Acting Classes?
Producing Your Own Talk Head Videos To Promote Your Business
How to Produce Your Own Simple Talk Head Videos
Anything You Can Type You Can Now Speak on Video
The Video Advantage In All Your Proposals – Quick Win!
Hype Versus Reality – Why Most People Never Create Simple Video
Mastering the Human Side Of Looking and Sounding Your Best on Video
Your Proposals will Stand Head and Shoulders Above Your Competitors
Your Clients Will Find You Their Most Responsive Partner Ever
Your Website Can Be Video-Centric
Now You Can Answer Frequently Asked Questions Just Once!
Talk Your Customers Through Your Whole Business Process
Have an Even Greater Presence on YouTube
Speak Your Thought Leadership
Your Exciting Video Newsletters Will Outshine Text Newsletters
Your Client Video Testimonials Will Prove Your Credibility Beyond a Doubt
Facebook Live Will Never Scare You Again
Project Your Best Face on Skype and Zoom
Deliver Keynote Speeches Without Ever Leaving Home
Supercharge Your Public Relations Efforts With Video
The Crisis Communications Secret Weapon
Drastically Reduce Your Time Training Employees and Others
The Best Way To Eliminate Verbal Tics, Uh's, and Um's From Your Video Production
The Fewer Verbal Tics The Better
Master the Quickest, Easiest Way to Eliminate Verbal Tics
Now You Know Where the Tics Come From
You Are Not Alone
Hit the Pin, Not the Sand Trap
Don't Let the Ding A Ling Get You
Eliminating the Source of Your Speaking Discomfort Once and For All
Appear More Confident By Using Smaller Words
You Will Avoid the Data Dump Blues
Never Worry About Remembering Again
The Number 1 Tip for Eliminating Nerves
A Focus Group To Make You Better
How To Use a TelePrompter Effectively
The Teleprompter Can Be Your Best Friend Or Your Worst Video Production Enemy
Learn the Secret to Communicating Effectively Using a Teleprompter
Video Benchmark
Learn How to Make Self-Corrections So That You Always Look Great
Master the 4 Key Elements That will Make Your Teleprompter Use Seem Effortless
The Perfect Speaking Speed for You
Alter Your Volume
Move Your Head
Sometimes You Must Pause
All 4 Together
Use 2 Prompter Screens In a Way that Nobody Will Notice
Full Speech Practice
Politician Role Models
TV Role Models
Potential Disasters
Reasons Not to Use a Teleprompter
Secrets from Reagan
Conclusion to TelePrompTer Section
Bringing Out The Best Voice for Your Video Production
Overview of Solving Voice Problems and Voice Insecurities
The Real Key to Using Your Vocal Instrument
You already Have a Better Voice Than These People
Learn the Biggest Secret to finding the Strengths and Weaknesses of Your Voice
Diagnosis of Your Own Voice
Feedback from Others
Defining Your Exact Problems
Listen to Natural Conversation
Practice Again and Record
Don't Lower Your Voice
Practice on Video
Other Techniques
Conclusion for this Voice Section
The Best Movies and the Best Video Productions Always Contain Great Stories
Great Stories Will Improve Any and Every Video Production
Quick Win! Here is Where to Find Great Stories
If You Aren't a Natural Born Storyteller, You Need to Watch This
The Only Thing Every Great Speaker Has In Common
The Secret to Creating Great Stories
The Difference Between Storytelling for Professionals v Theatrical Performers
The Elements of Story Creation
Assembling the Basic Build Blocks of Your Stories
The Real Reason We Are Telling These Stories Is…
Your Characters will Come ALIVE
Even Deeper Character Development
You Can Be the Star of Your Own Show
Here is Where All the Action Takes Place
Why Nobody Wants to Hear About Your Happy Family
Dialogue will Bring Your Stories to Life
Sharing Feelings IS Professional
Lights! Action! (And no Camera)
Put the Audience On Their Edge of Their Seats
It's OK Not to Love Storytelling
Surprise!
End with a Bang!
Tie Your Message to Your Story
Extra Ingredients for A Spicy Story
Adding Fun and Humor to Your Talking Head video Productions
Having the Most Fun Possible in Your Story
Make Fun of Yourself
You Aren't Jerry Seinfeld
Your Comedy Laboratory
Your Worst Moments Are Comedy Gold
Don't Seem Like You Are Trying Too Hard
Avoiding the Hack
Showing the Fun
Your Humorous Voice
The Funny Self-Talker
The Bottom Line on Humor
Your Humorous Story
The Best Way to Monetize Simple Talking Head Video Today – Online Courses
Start Monetizing Your Simple Talking Head video Production Today – Online Course
Quick Wins! The Secret To Creating Longer Courses In Less Time
The Secret About 'Passive' Income Bestselling Instructors Don't Like to Admit
A Bestselling Course Is the Only Option for You If You…
Here Is How You Don't Waste Time On Things That Don't Matter
Don't Create a Nice Course, Create a Bestselling Course
Make More Course Content In Less Time
Udemy's Marketplace Insights Won't Help You Unless You Figure Out What to NOT Do
The Bestselling Udemy Formula That Works for Me -Might or Might Not Work for You
Instant Feedback to Make Your Udemy Course Better Now!
Why Everything You think You Know About People's Attention Spans Is Wrong
Those Pesky Student Questions are Actually Gold!
Don't Make a Great Information Product, Create a Transformational Experience
You MUST Appreciate the Differences Between Live In-Person Vs Online Training
You Are NOT Conducting a Semester Long College Class
This Is How You Make Your Lecture Titles Sing and Sell
A Great Problem to Have, But Still a Problem
Great Ways to Waste Massive Amounts of Time (Instead of Making More Courses)
Here Is Why Your Course Is NOT Currently a Bestseller
Focus On What Really Matters to Students, Not Trivial Nonsense
1 Plus 1 Plus 1 Plus 1 Does Not add Up to 4
Position Your Courses for Businesses As Well As Individuals
You Must Master Your Medium Of Online Video
The Ultimate Gimmick for Marketing Your Online Course Into a Bestseller
The Launch Date for Your Next Course Is…
Develop An Entire Product Line of Great Courses
Bestsellers Must Literally Be Better Than the Other Courses In Their Category
Bad Reviews Can Fuel Your Way to a Bestseller
Remind Yourself That No One Review Matters
Follow Your Passion…Unless It Leads to a Dead End
Digital, Passive, Blah, Blah, You Still Need to Deliver Great Customer Service
The Daily Clean Slate
Constantly Improve Your Course Production Process
Develop the Mindset of a Software Developer
Get a Personalized Critique Of Your Promo Video and First Lecture Right Here
Online Students Don't Have to Settle for a Bad, Boring Instructor
There Are No Gatekeepers to Publishing, But There are Gatekeepers to Bestsellers
One Instructor's Path to the Bestseller Lists
Immerse Yourself In Your Medium
Sacrifice Short Term Cash for Long Term Gain
Not all Bestsellers are Equal
Don't Forget To Share Written Documents With Your Students
This Isn't Netflix. Create An Intense Learning Experience for Your Students
Nobody Likes Homework, But Homework Is Essential
Constant Improvement for Every Aspect Of Your Online Course Business
Recycling Content In Courses Is Environmentally and financially Correct
Your Future As a Bestselling Udemy Instructor – Conclusion
How to Create Simple Yet Effective Video Productions for Live Speeches Via Skype
Simple Video Productions for Skype Videos and Speeches
This is How You Will Communicate on Skype, Google Hangouts, Etc
Tricks for Look Good on Camera – Presentation Skills
Become a Total Professional by Doing These Things
Here is How to Truly Engage Your Audience
Technology for Interaction – Presentation Skills
The Ethical Way of Cheating
This is How Long Your Presentation Should Be
Video Versus Slides
Final Thoughts on Skype and Online Video Productions
Produce Your Own Simple Talk Show or Video Clips
Overview of Produce Your Own Simple Talk Show or Video Clips
Secrets of Talk Show Hosting
Creating the Best Format for a Show for You
Learning from Your Role Models
How to Get to Be a Talk Show Host
Focus on Guests
Good Guest versus Good Host
Become a Master of the Teleprompter
Final Thoughts On Talk Show Hosting
Bonus Videos – Simple Talking Head Videos I've Produced To Help My Business
Simple Talking Head Video That Shows Up Number 1 on YouTube for "Media Training"
Another Simple Talking Head Video I Use To Build Thought Leadership
A Good Audio Podcast Can Also Be Turned Into Video Content – Here's An Example
Audio Turned To video Won't Win TV Awards, But Good Content Is Still Valuable
Bonus Reading Materials to Help With On-Camera Presence
6 Presentation Skills Books To Help with On-Camera Performance
You Are Now Ready To Produce Great Talking Head Video
It's Not Too Late to Ask Me Questions!
How to Make Every Video Production Better Through Feedback
Congratulations! You Are Now Ready to Make Great Talking Head Video Productions
Final Bonus Lecture re Future Courses and Learning Opportunities
Bonus After Class Section – TJ Demonstrating the Simple Story Telling Process
Demonstration Time
A Masterclass in Storytelling
Presenting the WRONG Way to the Media
Clintonian Eye Contact
My Zombie Client
Teaching Clients NOT to Act
Surrounded by Machine Guns!
The Crying Beauty Pageant Winner
You Never Have to Lurk In the Shadows Again
The Fluttering Bird Flying to Nowhere
'I Can't do This' Becomes 'I Can Do This'
My First Time on TV as 'The Fonz'
Speaking To a Small Audience of 5,000 People
My Worst Presentation Ever!
I Was The Skunk At the Party
Fearlessness Is Often the Best PR Tool
King for a Day
TJ And the Cat Lady
Why Did You Wear That Ugly Tie
Less Is More
The Missing Link
A Nobel Experience
The Fetal Position
On My Hands And Knees Begging!
Yes, My Stint on Reality TV
Brought Down to Earth
My Stagecoach to Pumpkin Moment
Me and Ben Affleck
Pre-YouTube Days Driving to One TV Station At a Time
Familiarity Breeds Contempt
Ups and Downs and Ups and Downs
The Least Listened To Talk Show Host Ever
Nothing Beats a Good Gimmick
Sometimes, Experience Just Means You Are Old
Some Media Stars Are Approachable
You Will Never Guess One Early Role Model
Waiting Til the Last Minute Is Always a Bad Idea
Treated Like a King…And a Mark
A Complete and Total Meltdown
There Is Always Time for Anything Important
Me and Mr. Rogers in '68
Presenters Don't Get Paid What They Are Worth, They Get Paid What They Ask For
Nobody Knows Anything
Riveted…On a Dairy Farm
The World's Worst Vacuum Cleaner Salesman
The Wrong Fit
The Lowest Arena for Presentation Skills
Presentation Skills On Video Will Sell You
Showing Up On Time and Avoiding Drama
It Can't Get Any Worse Than This
Diamonds And Gold for You!
Larry King's Public Speaking Secret
A Story I Don't Tell Anywhere Else But Here
The Best Worst Presentation I Ever Saw
And The Winner of The Worst Dressed Award Is…
This Superstar Is So Happy To See Me
Going Into a Talking Career By Being Told 'Don't Talk'
My First and Favorite Motivational Speaker
Some People Just Watch To Hear You Present For The Entertainment
Cult Leaders Have Great Presentation Skills
TJ the Carnival Barker!
The Show Must Go On