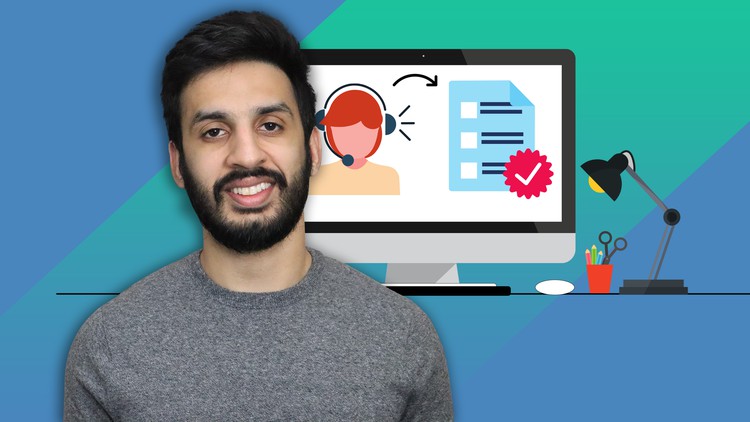 Aquire the Right Skills Required to Become an Accurate and Efficient Transcriber and Begin Your Transcription Career
What you will learn
You will learn to use the best most efficient software
You will understand the entire transcription process from start to finish
You will land your first job as a transcriptionist
You will learn to create the perfect resume
You will learn how to be on the lookout for potential scams
You will be able to pass transcription exams with ease
You will gain the skills to transcribe with high accuracy
You will improve your typing speed
Description
if you're looking to land a job as a transcriptionist, you're going to need the right set of skills, this means being able to type quickly and accurately, distinguishing between accents, proofreading files and much more. Transcription services are required by companies worldwide, and that's why the demand for YOU as a Transcriptionist is extremely HIGH. This full course is the best way to tap into this increasing demand.
Practice while you learn!
This course includes tons of practice files so you can follow along and actually learn by doing.
By the end of this course, you'll have completed several different types of transcription files to help build your confidence.
I'll teach you both clean and strict verbatim, but this course will focus most on clean verbatim as that's what most companies require (strict verbatim is more for legal transcription). Keep in mind that I'm not a medical transcriptionist and this is NOT a medical transcription course but rather a general transcription course.
What makes me qualified to teach you?
My name is khaqan, and I'm a professional transcriptionist with over 4 years of experience in the field. I'm also a top instructor here on Udemy with over 25,000 students and hundreds of 5-star reviews like these:
Thanks a lot! Great explanation and helpful assignments! Perfect!
– Dina Yemutbayeva
Very good and informative course especially for a "newbie ". I love the step by step demonstrations. Very happy that I took the course. I can't wait to start putting it into practice now…so excited!
– Aryamala Poonsammy
When on many courses, you can't find a mentor when you need help, Khaqan really went through practical steps and helped me out when I needed him! Thanks for the great course and support!
– John
I Loved This Course And Thanks For Explaining All Details❤❤
– Bhimsen Shrestha
My Promise to You
I'll be here for you every step of the way. If you have any questions about the course content or anything related to this topic, you can always post a question in the course or send me a direct message.
I want to make sure this is the best Transcription course, so if there is any way I can improve this course, just tell me, and I'll make it happen.
What's this Transcription course all about?
In this Transcription Masterclass course, you'll not only learn all the skills required to become a qualified transcriptionist but also how you can land a job by creating the perfect resume and passing difficult transcription exams.
This course will cover everything you need to know to start transcribing, including:
You will learn to use the best most efficient software
You will understand the entire transcription process from start to finish
You will learn how to be on the lookout for potential scams
You will learn to create the perfect resume
You will be able to pass transcription exams with ease
You will gain the skills to transcribe with high accuracy
You will improve your typing speed
Learn from someone who has worked in the industry for over 4 years, who has picked the best tips and tricks to transcribe quickly and accurately and has helped hundreds of students land their first job as a transcriptionist.
I've included several practice files so you can apply the knowledge the has been taught while simultaneously preparing yourself for transcription exams.
By the end of this course, your confidence as a transcriptionist will be through the roof. You'll have a solid understanding of the entire transcription process so you can begin your career as a Transcriptionist.
Go ahead and click the enroll button, and I'll see you in lesson 1!
Cheers,
Khaqan
English
language
Content
Introduction
What Is Transcription
Fastest Way to Transcribe Audio!!
Learning The Software
Downloading Audio Player
Getting Familiar With The Audio Player
Complete Transcription Process
Do Not Skip This Section
Clean vs Full Verbatim
The Complete Transcription Process
Transcribing Clean and Full Verbatim (might rerecord)
CASY STUDY Transcribe Live Audio File
Proofreading Transcription
Handling Difficult Files
Dealing With Hard to Hear Audio
Assignment For Removing Background Noise
Increase Your Earning Potential
Improve Your Typing Speed Today!!
Test Your Grammer Skills
Increase Your Hiring Odds!
Points To Mention In Your Resume (If You Have Experience)
Sample Resume!
ACTION ITEM: Getting Your First Transcription Job
Indications of a Scam
Best Places To Work
Pass The Transcription Exam
Getting Hired!!
Attempting Grammar and Style Portion (Exam)
Transcription Guidelines
Attempting The Transcription Portion (Exam)