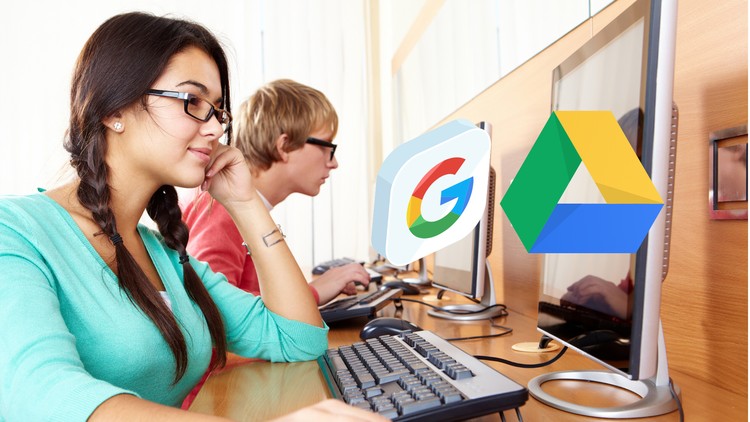 Use Google Drive for Maximum Productivity – You Can Become the Master of Google Suite – Enhance Your Office Efficiency
What you will learn
☑ Understand how to use Google Drive to increase efficiency and productivity
☑ Create and edit documents efficiently using all editing tools
☑ Design compelling and visually-appealing presentations
☑ Create spreadsheets to organize, navigate through, and calculate data
☑ Create and analyze forms and/or quizzes to collect responses and/or feedback
Description
Welcome to The Complete Google Drive Course. This course will teach you to understand how to use and become familiar with the storage and productivity component of Google Suite: Google Drive and Google Apps.
Google Drive is a safe and secure online file storage service that allows for easy collaboration and sharing. It is compatible with all types of files, ranging from PDFs to images to videos. Unlike its competitors, Google Drive offers up to 15 GB of free storage and a variety of online tools. One of its biggest features is its ability for multiple people to simultaneously work and collaborate on a project together. It encompasses four integrated applications: Google Docs, Google Slides, Google Sheets, and Google Forms.
Google Docs is a document management and editing tool. Docs allow you to create, edit, and update any documents. Docs is highly compatible, allowing you to choose from several file formats to download from. Google Drive's document editing tool is easy to learn with the understanding of any basic word processor, but it offers much more to allow more experienced users to create complex and intricate documents.
Google Slides focuses on designing visually-appealing presentations for both a professional and casual setting. When compared to Microsoft Powerpoint, Slides offers the benefit of simplicity. With its various templates and themes, Slides can be as simple as plugging text into the provided text boxes. However, you can take your presentation one step further by adding in customizations. By inserting images, animations, transitions, charts, and diagrams you can amaze your audience! Take advantage of Google Drive's presentation tool the next time you give a demonstration or lecture.
Google Sheets is a spreadsheets program that lets you create and format spreadsheets. Sheets allow you to organize your data by creating intricate charts and tables. When dealing with large amounts of data, you can create and edit formulas to perform calculations on your data, like you would with a calculator. Businesses should look to take advantage of the many collaborative tools Sheets provide along with its options for privacy. Learning the syntax of Sheets can lead to complex formulas that perform calculations on an innumerable amount of data. Google Drive's tools allow you to navigate through your spreadsheets and data with efficiency.
Google Forms walks you through the production and distribution of surveys and questionnaires. If you are a teacher or tutor, you can also convert these ordinary forms into quizzes. While Forms may not be as easily accessible as the other Google Drive tools, it is still a useful system to understand. You can create surveys, quickly collect, and analyze responses and information all in one application.
Google Drive and its four integrated Google Apps are powerful tools that help increase productivity and efficiency. In addition to that, this course will also help you improve your organization, collaboration, and communication skills. Some of the many things that you can accomplish on Google Drive include:
Updating your resume (Google Docs)
Presenting a consulting proposal (Google Slides)
Creating an analytics dashboard (Google Sheets)
Distributing an event registration form (Google Forms)
Working on a project with your co-workers from the comfort of your own home (Google Apps)
Enroll to learn about the service that amassed more than a billion users!
English
Language
Content
Become a Master of Google Drive
Promo Video The Complete Google Drive Course – Mastering Google Drive
Your Google Drive Questions Answered Here
Google Drive
Google Drive Introduction & Benefits
Google Account Signup
Google Drive Interface
Google Drive Functions
Compatibility with Gmail
Google Drive Quiz
Google Docs
Google Docs Introduction
Creating a New Document
Setting up a Document
Editing a Document
Formatting a Document
Inserting Charts, Images, etc.
Collaboration
Final Tools, Printing, Downloading
Google Docs Quiz
Google Slides
Google Slides Introduction
Presentation Setup, Themes & Layouts
Master View
All Things Text
All Things Visuals & Sounds
All Things Objects
Diagrams & Links
All Things Formatting
Animations & Transitions
Presentation & Sharing
Google Slides Quiz
Google Sheets
Google Sheets Introduction
Creating a New Sheet
Editing a Spreadsheet
Organizing Data
Formulas, Functions, and Cell References
Creating Charts: Bar Graphs, Pie Charts, and Line Charts
Collaboration: Sharing and Protecting Data
Uploading, Printing, and Downloading
Google Sheets Quiz
Google Forms
Google Forms Introduction
Form Setup
All Things Questions Part 1: Adding & Editing Questions
All Things Questions Part 2: Question Types
Sections
Themes & Fonts
Transforming Forms Into Quizzes
Settings
Preview, Sending & Sharing
Collecting & Analyzing Responds
Google Forms Quiz
Conclusion to Good Drive Mastery Course
You're Almost There!
Google Drive Improves Because Of Feedback and Iteration
Congratulations! You Are Now a Master of Google Drive