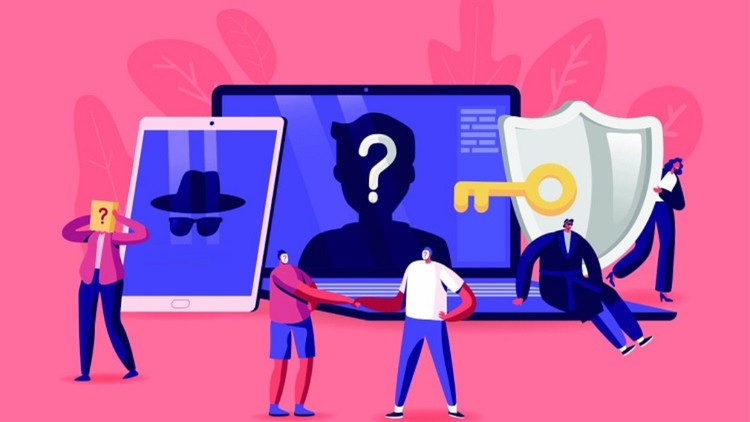 Anonymity guide for beginners. Learn VPN, Tor, OPSEC & much more!
What you will learn
Description
Content

What you will learn
Description
Anonymity, the basic definition of this term is "being without a name." Simply understood someone is anonymous if his/her identity is not known. It's not always true not all the hackers keep themselves anonymous. There are basically two types of hackers:
1 Black Hat/Unethical Hackers
2 Ethical hackers
Ethical hackers don't really keep themselves anonymous even they work in offices for the companies, they work for the good. Whereas Unethical hackers are not really hackers they are Scammers who try to manipulate and take advantage of the people, firms and Government. Now as they mostly do illegal work they have to hide themselves.
Now take in note that Group Like Anonymous, says that they are ethical hackers though in government terms they do illegal works so they have to hide themselves from the government agencies.
In this course you will learn how to become anonymous using below tools and techniques,
1. Tor: Tor Browser prevents someone watching your connection from knowing what websites you visit. The Tor Browser is a web broswer that anonymizes your web traffic using the Tor network, making it easy to protect your identity online.
2. Vpns: VPN stands for "Virtual Private Network" and describes the opportunity to establish a protected network connection when using public networks. It will encrypt your connection
3. Proxy: A proxy server is a system or router that provides a gateway between users and the internet for anonymity
4. Opsec:OPSEC (operations security) is a security and risk management process and strategy that classifies information, then determines what is required to protect identity
5. Kali Linux: This is a linux based os and mostly used for hacking
This course will teach you theory and also practical knowledge of becoming anonymous online! See you inside.
Content
Course Introduction
Course Introduction – Part 1
Course Introduction – Part 2
Using Tor Browser For Anonymity
Why TOR?
Basics Of Tor Browser
Using Tor Browser For Anonymity [demonstration]
VPN and OPSEC For Anonymous Browsing
VPN – part 1
VPN – part 2
OPSEC For Cyber Security
Setting Up: Our Own VPN Server
Our Own Vpn Server – Part 1
Our Own Vpn Server – Part 2
Using Proxy For Anonymity [Free]
Proxy Uses Learn Practically