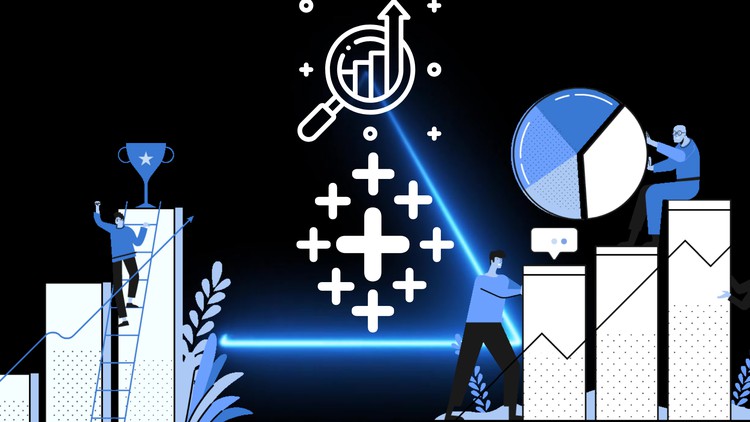 Tableau-2022 is designed to teach Tableau (a power BI tool empowering organizations to make the most of their data)
What you will learn
What is Tableau and its Applications, Careers in Tableau
Tableau Desktop Installation
Tableau Products and their Use Cases
Data Sources and Data types in Tableau
Measures and Dimensions, Data Representation in Tableau (Continuous/Discrete)
Exploring Tableau Desktop UI
Using Tableau Dashboards for Solving Data Analysis Problems
Types of Functions
Using Functions to Create Calculated Fields
Parameters
Joins
Filters and Types of Data Source Connection (Live/Extract)
Sets
Generated Fields
Highlighting Actions in Tableau
Understanding Data Visualization and its Importance
Plotting Bar Charts, Text tables and Tree Maps In Tableau
Plotting Line Charts, Box Plots and Area Charts In Tableau
Plotting Bullet Graphs, Bubble Charts and Scatter Plot In Tableau
Waterfall Chart and Funnel Chart
Geometric Visualizations (Maps)
Defining Story and the Difference between Story and a Dashboard in Tableau
Creating your First Story
Use Case: Exploring the World Indicators Accelerator
Publishing Your Workbook on Tableau Online
Testing Your Tableau Skills
Description
This course is primarily designed to teach Tableau (A power BI tool and a visual analytics platform transforming the way we use data to solve problems—empowering people and organizations to make the most of their data) and to train you to be a Tableau Developer.
It comprises of Introduction to Tableau, its basics (Measures and Dimensions, Loading Data, loading workbooks, Navigating through Tableau, Tableau Desktop GUI, Drag-Drop feature), Tableau Desktop Installation guide, connecting Data Sources to Tableau, Reference lines, trend lines, forecasting, filtering, sorting, aggregation, creating calculated fields, worksheets and formatting your visualizations, creating compelling visualizations Tableau, scatter plots, Date-time, symbol maps, dual-axis graphs, and geometric visualizations (Map Visualizations), Creating and Navigating a Business story, Building your first interactive and Beautiful Dashboard using Tableau, in-course exercises, etc.
Tableau doesn't require you to know how to program or code, it can be easily used by any non-programmer to convey business stories to anybody like the company's stakeholders, investors, etc.
Anybody can easily learn Tableau through this course which acts like a step-by-step tutorial for the same hence anybody could opt for this course like Beginners curious about Data Science, Anyone who wants to learn Tableau, Visualizations and Dashboards using Tableau, Tableau Desktop Specialist, Data Visualization, Tableau Certified Data Analyst, Business Intelligence, Data Mining, Business Analytics, Python Developer curious about Data science, etc.
English
language
Content
Introduction to Tableau
Course Overview
What is Tableau and its Applications, Careers in Tableau
Tableau Desktop Installation Guide
Tableau Products and their Use Cases
Tableau Basics
Data Sources and Data types in Tableau
Measures and Dimensions, Data Representation in Tableau (Continuous/Discrete)
Exploring Tableau Desktop UI
Using Tableau Dashboards for Solving Data Analysis Problems
Diving Deep into Tableau
Types of Functions
Using Functions to Create Calculated Fields
Parameters
Joins
Filters and Types of Data Source Connection (Live/Extract)
Sets
Generated Fields
Highlighting Actions in Tableau
Visualizations In Tableau
Understanding Data Visualization and its Importance
Plotting Bar Charts, Text tables and Tree Maps In Tableau
Plotting Line Charts, Box Plots and Area Charts In Tableau
Plotting Bullet Graphs, Bubble Charts and Scatter Plot In Tableau
Waterfall Chart
Funnel Chart
Geometric Visualizations (Maps)
Complex Dashboards and Story Telling in Tableau
Defining Story and the Difference between Story and a Dashboard in Tableau
Creating your First Story
Use Case: Exploring the World Indicators Accelerator
Publishing Your Workbook on Tableau Online
Publishing Your Workbook on Tableau Online
Test Your Tableau Skills
Guide to the Game
The Final Project
Final Project