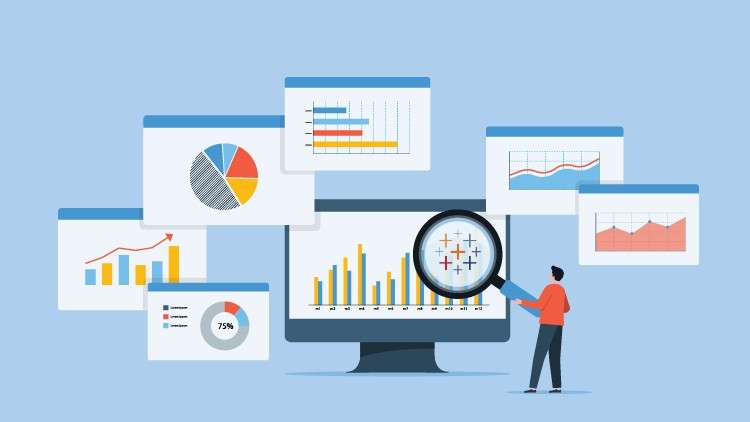 Master Tableau in Data Science by solving real life analytical problems.
What you will learn
Overview of Tableau and its capabilities.
Connecting to various data sources, such as Excel, databases, and web data connectors.
Creating basic charts and graphs, including bar charts, line charts, scatter plots, and pie charts.
Building interactive dashboards that combine multiple visualizations into a single view.
Description
The goal for this Tableau Fundamentals course aims to provide students with the fundamental know-how and abilities needed to master data visualisation using Tableau, one of the top business intelligence tools. This course will equip you to produce engaging visualisations and draw insightful conclusions from your data, whether they're a data analyst, business professional, and aspiring data scientist.
Course Objectives:
Understand the fundamentals of data visualization and its importance in decision-making.
Master the Tableau user interface and workspace.
Learn how to connect Tableau to various data sources, including databases, spreadsheets, and web data connectors.
Create basic to advanced visualizations, including bar charts, line graphs, scatter plots, and more.
Explore data analytics techniques using Tableau, such as sorting, filtering, and grouping.
Apply best practices for designing effective dashboards and stories.
Utilize calculated fields and parameters to enhance data analysis.
Understand advanced features like forecasting, trend analysis, and geographic mapping.
Collaborate and share Tableau visualizations with team members.
Gain hands-on experience through real-world projects and case studies.
Course Benefits: By the end of this Tableau Fundamentals course, you will have the skills and confidence to transform raw data into meaningful insights and communicate your findings effectively through compelling visualizations. This course will equip you to fully utilise Tableau for data visualisation and analysis, whether you're trying to enhance your career and make data-driven choices for your organisation.
Enrollment: To enroll in this course, please visit our website or contact our admissions department for more information on upcoming course dates and registration details.
Course Instructors:
Experts in both Tableau as well as data visualisation methodologies teach our Tableau Fundamentals in Data Visualisation course. They ensure that you receive the greatest instruction possible in this profession by bringing a wealth of real-world experience as well as business insights to the classroom.
Career Support:
We are committed to helping our students succeed not only in their coursework but also in their careers. As part of our commitment to your professional development, we offer career support services, including resume workshops, interview preparation, and access to job listings in the data analytics and business intelligence sectors. We understand that your success is our success, and we are dedicated to supporting you in achieving your career goals.
';
}});
Course Start Date and Orientation:
The upcoming Tableau Fundamentals for Data Visualization course is scheduled to begin. There is going to be an orientation session before the start date to get you acquainted with the course format, expectations, and resources accessible to you.
We're Here to Support You:
We understand that embarking on a learning journey like this is a significant commitment, and we're here to support you every step of the way. Any inquiries or issues you may have may be addressed by our committed staff.
We look forward to having you in our Tableau Fundamentals for Data Visualization course and witnessing your growth and success in the field of data analytics. Get ready to unlock the power of Tableau and transform data into actionable insights.
Conclusion:
In conclusion, the Tableau Fundamentals for Data Visualization course offers a comprehensive curriculum to equip individuals with the skills and knowledge needed to excel in data analytics and visualization. The course focuses on transforming raw data into visual insights, fostering connections with industry professionals, and preparing for data-driven roles. Whether you're a data analyst, business professional, or simply interested in enhancing your skills, this course will help you unlock data potential and make informed decisions.
Introduction
Introduction about Tableau
Lets Know more in detail about Tableau
Tableau Architecture
Basic Charts of Tableau
Organizing & Simplifying Data
Data Connections